Daily Mail front page: Newspaper tells critics of sexist Theresa May and Nicola Sturgeon coverage to 'get a life'
'Is there a rule that says political coverage must be dull or has a po-faced BBC and left-wing commentariat lost all sense of humour,' says tabloid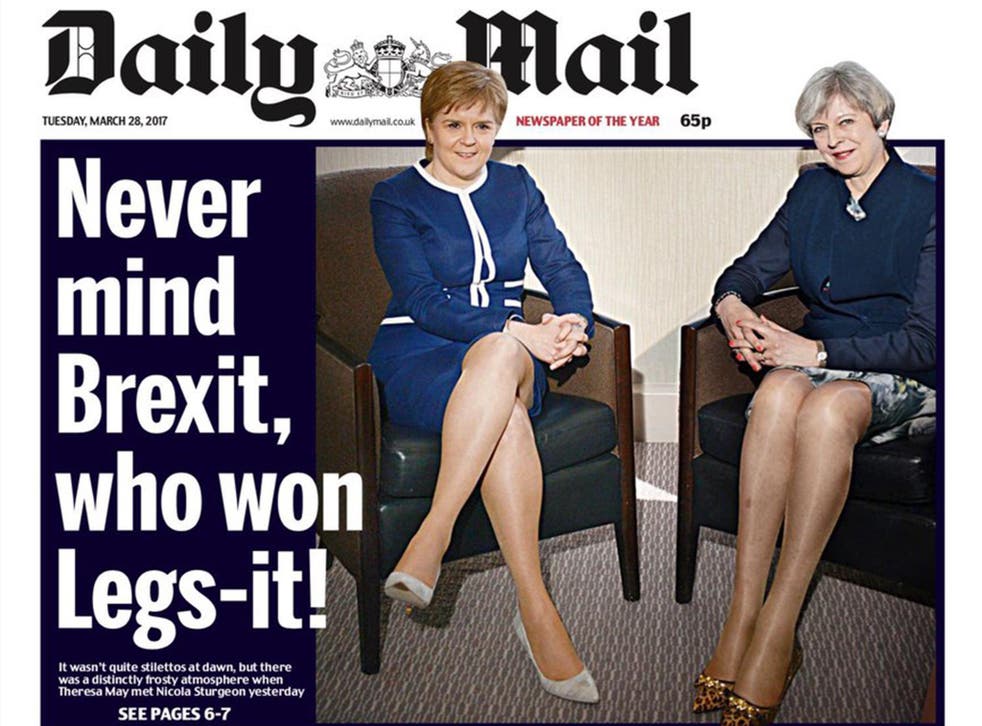 The Daily Mail has told critics of its front page comparing Theresa May and Nicola Sturgeon's legs to "get a life".
The tabloid was accused of sexism after its front page focused on the British Prime Minister and Scottish First Minister's appearance rather than their meeting about the process that will see the UK leave the European Union.
The leaders met for an hour in Glasgow on Monday to discuss the triggering of Article 50 on Wednesday.
The front page drew immediate criticism from politicians, commentators and members of the public after it first appeared on Twitter on Monday night. Conservative MP and former Education Secretary Nicky Morgan accused the paper of "appalling sexism" and Labour leader Jeremy Corbyn argued such representations of women should be relegated to history.
A representative for the newspaper told The Independent the backlash to the front page, which was titled "Forget about Brexit, who won Legs-it!", had been overblown.
Theresa May in quotes

Show all 10
"For goodness sake, get a life! Sarah Vine's piece, which was flagged as light-hearted, was a side-bar alongside a serious political story," the spokesperson said.
"It appeared in an 84-page paper packed with important news and analysis, a front page exclusive on cost-cutting in the NHS and a health supplement devoted to women's health issues.
"For the record, the Mail was the paper which, more than any other, backed Theresa May for the top job. Again for the record, we often comment on the appearance of male politicians including Cameron's waistline, Osborne's hair, Corbyn's clothes – and even Boris's legs.
"Is there a rule that says political coverage must be dull or has a po-faced BBC and left-wing commentariat, so obsessed by the Daily Mail, lost all sense of humour… and proportion?"
The piece written by Vine, long-time columnist and wife of Conservative politician Michael Gove, was headlined: "Finest weapons at their command? Those pins".
It referred to Ms Sturgeon's legs as "altogether more flirty, tantalisingly crossed, a direct attempt at seduction".
Ms May has dismissed the row over the front page, suggesting the coverage of her legs is "a bit of fun".
"You will notice that I am wearing trousers today!" she told the Wolverhampton Express and Star newspaper during a visit to the West Midlands.
"As a woman in politics throughout my whole career I have found that very often, what I wear – particularly my shoes – has been an issue that has been looked at rather closely by people. Obviously what we do as politicians is what makes a difference to people's lives.
"I think that most people concentrate on what we do as politicians. But if people want to have a bit of fun about how we dress, then so be it."
The tabloid has been reported to the press regulator for its controversial front page. Amelia Womack, deputy leader of the Green Party, accused the paper of breaking the editors' code and treating women with "contempt" in a submission to the Independent Press Standards Organisation (Ipso) which the paper is signed up to.
In her submission to Ipso, Ms Womack said: "To bring the politicians' appearance into this story is not only entirely irrelevant but incredibly disrespectful.
"This headline and the further derogatory comments inside the paper would not have even been considered, let alone published, if the two politicians in question had been men."
The front page was condemned by a number of Labour MPs. Yvette Cooper joked that the clocks had "gone forward this weekend, not 50 years back", while former Labour Leader Ed Miliband wrote the "1950s called and asked for their headline back".
Join our new commenting forum
Join thought-provoking conversations, follow other Independent readers and see their replies