Dalai Lama: Buddhists set to protest against spiritual leader over alleged human rights abuses
The Dalai Lama has been accused of "creating an atmosphere of hatred" towards members of the Shugden community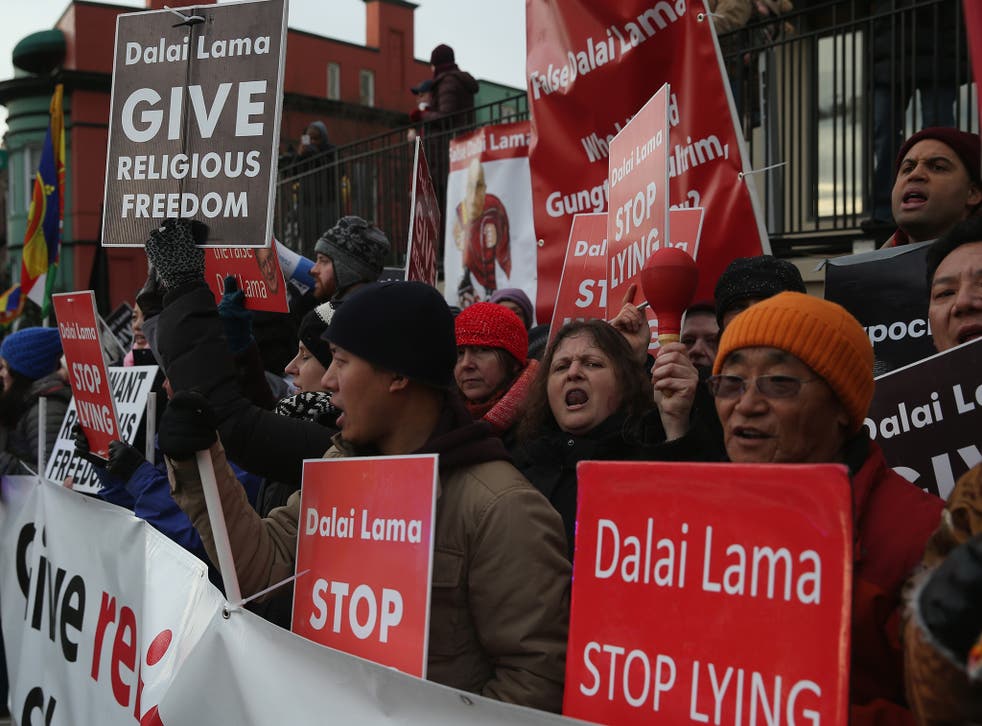 The Dalai Lama will make a special appearance at the Glastonbury festival on Sunday, but 150 miles away in central London 500 Buddhists of the Shugden community are planning to demonstrate against him over claims of religious persecution and human rights abuses.
The exiled Tibetan spiritual leader has been accused of "creating an atmosphere of hatred" towards members of the Shugden community, a small 300-year-old Buddhist sect that worships the Dorje Shugden deity.
The group is associated with the same Gelug branch of Buddhism as the Dalai Lama but tensions have risen over claims by the International Shugden Community (ISC) that Shugden Buddhists have been excluded and marginalised in exiled Tibetan communities, with examples of shops and medical practices refusing to serve or treat Shugden Buddhists.
In the South Indian town of Bylakuppe, home to a Tibetan settlement, 37 of the 40 shops contain signs telling Shugden worshippers they are not welcome, according to the ISC.
Shugden Buddhists place the blame for their persecution directly at the feet of the Dalai Lama, pointing to the declaration on his own website that "strongly discourages" Tibetan Buddhists from worshiping the "fierce spirit" of Shugden.
However representatives of the Dalai Lama insist his words are advice to Buddhists and not dictats. A spokesman said examples of Shugden Buddhists being barred from entering shops are "actions of individuals" and are not associated with the Dalai Lama. "Some individuals may have put those posters up but His Holiness has not encouraged those practices, nor has he condoned them," a spokesman said. "His Holiness cannot be responsible for actions of individual Tibetans."
Supporters of the International Shugden Community plan to highlight the alleged persecution of Shugden Buddhists by staging a protest at London's King's Cross station on 27 June and also plan to confront the Dalai Lama directly when he makes a public talk at Aldershot Football Club on 29 June.
Meanwhile, in a Somerset field on 28 June, the Dalai Lama will be taking the opportunity to "spread his message of harmony to the predominantly young audience of Glastonbury".
His representatives confirmed he would be attending the 45-year-old festival to deliver his message of "compassion, non-violence and the oneness of humanity" after being invited by the festival's co-organiser Emily Eavis. She said his appearance marked a "special moment" for the Glastonbury festival.
Join our new commenting forum
Join thought-provoking conversations, follow other Independent readers and see their replies