David Cameron links British jihadist killed in Syria drone strike with series of UK terror plots
Two men were killed as Britain's role in the war against Isis escalated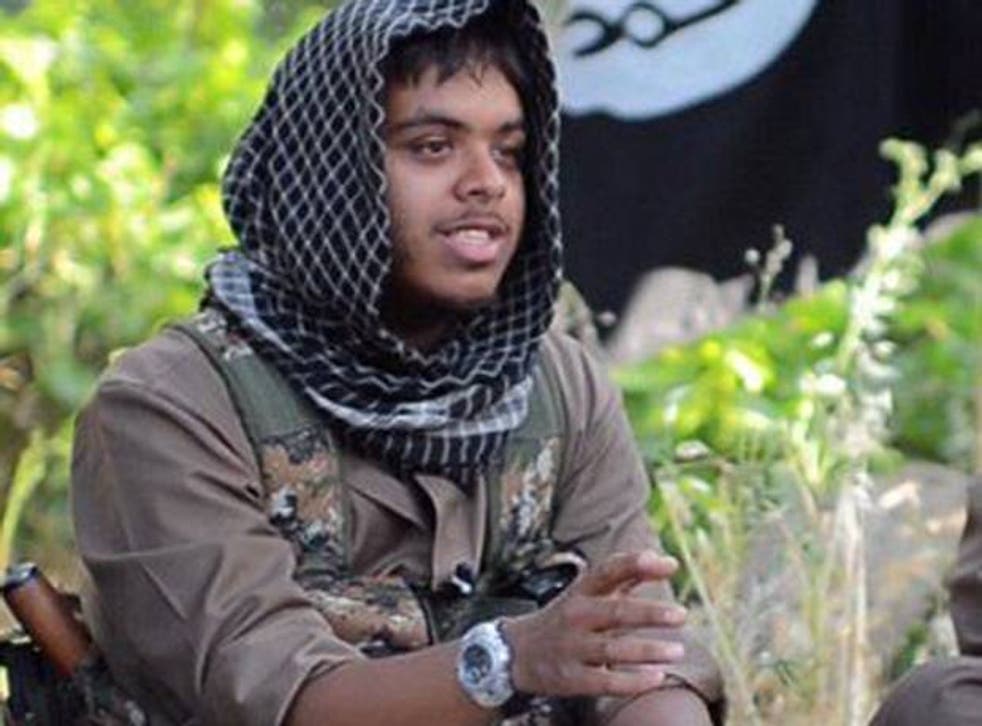 Two British jihadists have been killed in the first air strike carried out by the RAF in Syria in a significant escalation of the UK's role in the war against Isis.
Announcing the attacks in the House of Commons, David Cameron directly linked one of those targeted, Reyaad Khan from Cardiff, with a series of terrorist plots which were foiled in Britain this Summer. The second Briton to die was Ruhul Amin, from Aberdeen.
The Prime Minister insisted that the killings, using Reaper drones flown from a base in Lincolnshire, were "entirely lawful, necessary and proportionate" and that Government had exercised Britain's "inherent right to self-protection".
"We took this action because there was no alternative," he told MPs. The Attorney General had been consulted and agreed there was a "clear legal basis" for the action, Mr Cameron added.
However, the extension of Britain's military mission from Iraq to Syria raises legal questions - with the attacks coming two years after the Commons specifically voted against carrying out air strikes in Syria.
Downing Street said that the full details of the Attorney General's legal justification will not be published - echoing the controversy over the legal justification for the 2003 invasion of Iraq given by Tony Blair's government.
Commentators also questioned whether domestic politics played a part in the decision to order the 21 August strikes in Raqaa, the main Isis base in Syria. The Government has pledged another Commons vote on any larger scale operations in Syria, but the likely election of Jeremy Corbyn as Labour leader combined with the continuing opposition of some Tory backbenchers means the consent of MPs is far from certain. By ordering these strikes on known Isis fighters said to be planning attacks on the UK, the Government makes it harder for Labour to oppose a wider air campaign in Syria.
The Independent revealed in October last year that the Reaper drones were being readied for flights over Syria. The Government stressed subsequently that there was legal cover for them to carry out attacks on anti-terrorist operations - such as on targets plotting attacks on Britain - without need for a parliamentary vote.
Labour's acting leader, Harriet Harman, called for "independent scrutiny" of the air strike, asking: "Why didn't the Attorney General authorise the this specific action rather than merely 'confirming there was a legal basis for it'? What was it about this individual and his actions that singled him out from all that has gone before? Did he represent an ongoing threat or was the threat based on a specific act he was plotting?"
Kevin Brennan, Khan's constituency MP, said there were "many questions" about the drone strike and a full explanation would be needed.
According to defence sources, Khan had been linked to a number of plots in the UK including ones to target a number of commemorations and a planned attack on an US airbase during celebrations of American independence.
The Prime Minister stated that Khan and another Briton, Junaid Hussein, from Birmingham, who was killed in an American strike on 24 July, were implicated in terrorist plots. He said: " Junaid Hussain and Reyaad Khan, were British nationals based in Syria who were involved in actively recruiting Isil sympathisers and seeking to orchestrate specific and barbaric attacks against the west including directing a number of planned terrorist attacks right here in Britain, such as plots to attack high profile public commemorations, including those taking place this summer."
"My first duty as prime minister is to keep the British people safe. There was a terrorist directing murder on our streets and no other means to stop him. I am not prepared to stand here in the aftermath of a terrorist attack on our streets and have to explain to the House why I did not take the chance to prevent it when I could have done."
Professor Michael Clarke, director-general of RUSI (the Royal United Services Institute) said: "The point is not so much that this man was British but that he was targeted in an area that the UK does not currently regard, legally, as an operational theatre of war for UK forces. Drones were used for lethal strikes in Afghanistan but only where UK or ISAF forces were threatened by fighters on the ground.
"The Prime Minister's announcement will be regarded as jumping the parliamentary gun in announcing the fact that UK airpower was used explicitly to bomb something on the ground inside Syria."
Profiles
Reyaad Khan
The 21-year-old from Penarth, about five miles south-west of Cardiff, adopted the name Abu Dujana when he left the country in November 2013 to join Isis. He was one of three British men to appear in a propaganda recruitment video called "There Is No Life Without Jihad".
Khan appeared in a very different video five years previously when he spoke of his ambitions on becoming prime minister of the UK. In the recording, which emerged last year, Khan said that the government wasted resources on "illegal wars" and that evil needed to be removed from the world.
Former schoolmates at the Catholic Cantonian High School in Cardiff remembered Khan as a talented pupil who had moderate views. He left there to attend St David's Catholic sixth-form college in the city. Parents Nazeem, 46, and Rukia, 41 had pleaded for their son to come home at the time of his disappearance.
After travelling to Syria, Khan posted a series of messages on his Twitter account, including "Executed many prisoners yesterday..." and "Probably saw the longest decapitation ever. And we made sure the knife was sharp."
Ruhul Amin
Amin, 25, also known as Abdul Rakib Amin, is thought to have been the third British man in the Isis propaganda video, along with Khan's school friend Nasser Muthana. The former St Machar Academy pupil moved to Aberdeen from Bangladesh with his family when he was aged 10. The family moved back to Bangladesh after just two years of secondary school. Amin returned to Aberdeen two years later. He had grown a beard and become much more religious. Friends described him as a changed man. He studied at Aberdeen University.
Junaid Hussain
The 21-year-old hacker, aka Abu Hussain al-Britani, from Kings Heath, Birmingham, is believed to have escaped to Syria in late 2013 while on police bail. Shortly afterwards he appeared in a video calling for Westerners to fight in Syria and Iraq. He had previously been jailed for stealing personal information about Tony Blair and posting it online.
US officials believe he was behind the online radicalisation of at least one of the two gunmen who opened fire at a Prophet Mohamed cartoon competition in Garland, Texas, in May.
Profiles by Paul Gallagher