David Cameron points at fish in familiar holiday photos as Ed Miliband snubs 'photo-op culture'
PM is regularly pictured at fish markets and professes a love for angling
Lizzie Dearden
Wednesday 06 August 2014 10:09 Comments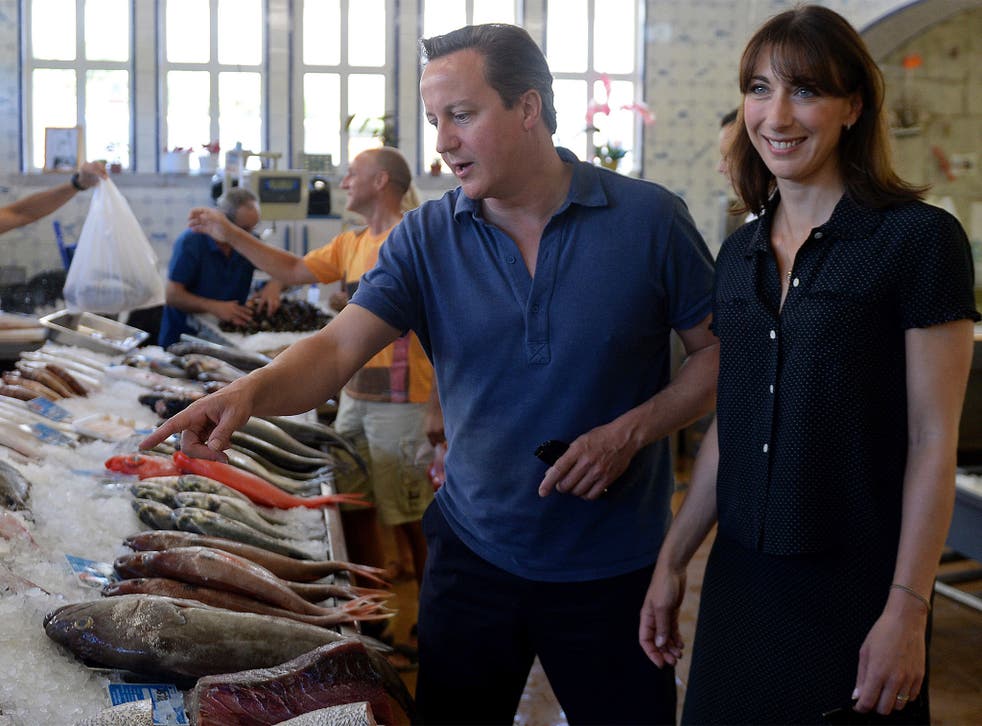 While Ed Miliband has denounced "photo-op culture" in politics, there is something distinctly fishy about David Cameron's latest holiday snaps.
The Prime Minister and his wife are seen browsing a fish market in Aljezur during their family holiday in Portugal in the pictures released, coincidentally, on the day Baroness Warsi announced her resignation over the Government's policy on Gaza.
But anyone familiar with the Camerons' holiday photos will notice remarkable similarities to last year's album, when Mr and Mrs Cameron visited another seafood market 160 miles away in Cascais.
They were seen similarly browsing the counters, pointing at the produce and talking to stallholders in the stage-managed shots.
The Prime Minister was even wearing a near-identical blue shirt on both occasions.
The similarities did not go unnoticed on social media, when political rivals took to Twitter to ridicule the latest pictures.
Lord Wood of Anfield, a Labour peer, wrote: "To be fair: 2013, king prawns; 2014, clams."
In pictures: David Cameron's fishy PR stunts

Show all 10
After falling foul of his own food photo-op with a bacon sandwich earlier this year, the Labour leader has vowed to steer clear of publicity stunts, conceding that Mr Cameron was more "successful" managing his image.
"I am not from central casting. You can find people who are more square-jawed. More chiselled. Look less like Wallace [from Wallace & Gromit],"Mr Miliband said.
"You could probably even find people who look better eating a bacon sandwich. If you want the politician from central casting, it's just not me, it's the other guy."
It was the second holiday abroad for the Camerons and their children Nancy, Elwen and Florence after a break in Lanzarote at Easter.
Mr Cameron is becoming something of a regular at fish markets, admiring seafood on breaks in Devon in 2012 and Cornwall in 2011 and in 2008.
While campaigning before the 2010 General Election, the Conservative leader posed with a huge halibut at a market in Grimsby and ate fish and chips for the cameras in Cumbria.
Perhaps the tide of fishy PR should not be a surprise considering Mr Cameron's "good fishing heritage", as described to the Angling Times in 2010.
The then Leader of the Opposition spoke of his grandfather's fly fishing talent, recounting a holiday in Wales when he caught a young Mr Cameron's sock as it floated down a river.
"I still do a bit of fishing, but not as much as I'd like to," he added.
"I went mackerel fishing with the children this summer and we ate everything we caught, I'm pleased to say. I do a very good smoked mackerel paté."
Register for free to continue reading
Registration is a free and easy way to support our truly independent journalism
By registering, you will also enjoy limited access to Premium articles, exclusive newsletters, commenting, and virtual events with our leading journalists
Already have an account? sign in
Join our new commenting forum
Join thought-provoking conversations, follow other Independent readers and see their replies