Day of Rage: Protesters march on Downing Street demanding Theresa May resignation
The event was marked by calls for peace and love, as well as an overhaul of the Government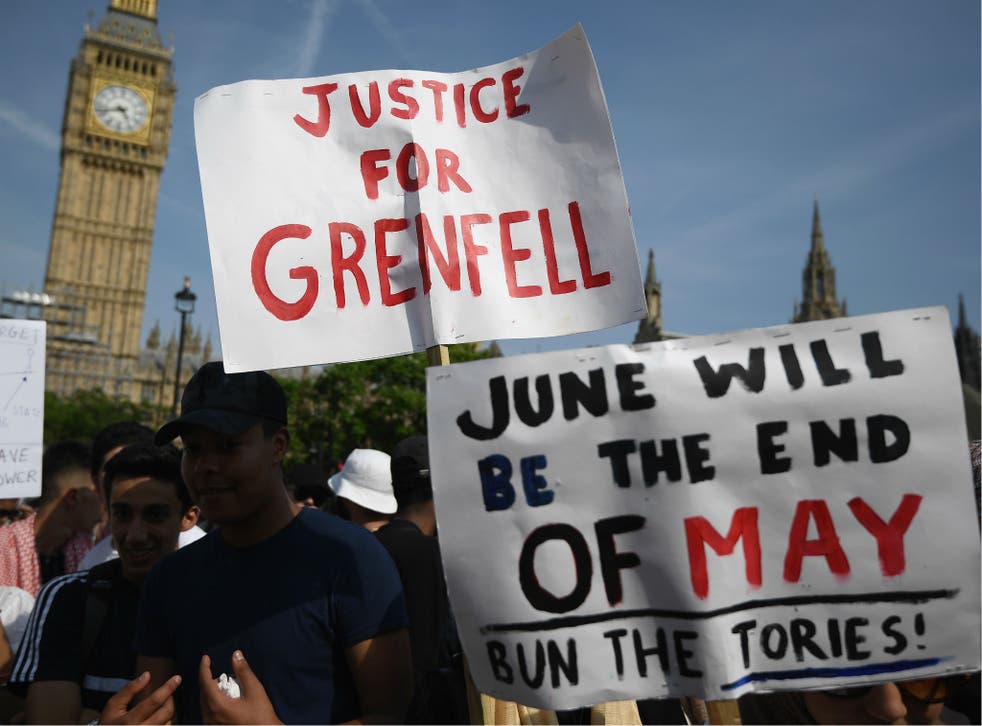 "Express your anger," said the speaker, as the first marchers assembled on Shepherd's Bush Green in west London. "Don't tone it down. Because this is how we win!!!"
But of course, everyone wanted to hear from members of the community around Grenfell Tower, that charred, tragic monument to "Tory austerity".
So the megaphone was handed to Wade Bayliss. He too lived in a tower block, one just a few hundred metres from Grenfell, one also subject to the control of the now notorious Kensington and Chelsea Tenant Management Organisation.
"The TMO are utter c***s," said Mr Bayliss, 50, a film maker.
So far, so angry. This was, after all, the "Day of Rage" march on Parliament, called by the Movement for Justice By Any Means Necessary (MFJ): "A day we shut down London, a declaration that there will be no peace until this rotten government is brought down."
But after the applause for his swearing, Mr Bayliss went off-script.
"What the community doesn't want," he told the protesters, "Is rage."
"They want the chance for justice to work," he added. "Don't f*** that up for them! We appreciate your support, but don't f**k it up for the people in the neighbourhood.
"Peace and love."
He wasn't the only community member to have expressed such sentiments.
The day before, in a much-reported tweet, the Clement James Centre charity, which has provided shelter for Grenfell residents, declared: "There has been a 'Day of Rage' announced.
Grenfell Tower fire: What do Kensington residents think of rehousing victims in luxury block?
"We cannot emphasise enough how many of the affected residents we've spoken to are against this and they do not want their grief hijacked for any violent or destructive means."
Away from the crowd, Mr Bayliss did his best to express the emotions swirling around a community in the throes of raw grief.
However much some newspapers might have wanted him to, he wasn't unequivocally condemning the march:
"We appreciate the support. We appreciate the love. It's really nice."
But yes, he was worried. He feared that the cause of the people of the Grenfell Tower was being hijacked:
"There are people pushing their agendas ahead of those guys, a community that is grieving, where people have lost their lives."
"We don't need a circus," he added. "Everyone in the community is about holding it down, not firing it up. It's going to be a hot summer…"
And if rage did turn to violence, all might be lost:
"Let's not give them - let's not give Theresa May - the chance to shut us down, to start a reverse campaign."
He gazed at the crowd.
"I can't see many community faces here…"
Grenfell Tower survivors to be housed in 375 Kensington High Street

Show all 10
In fact, he was standing beside a banner adorned with the Scottish Saltire, and many signatures.
Louise Robertson, 67, was indeed from Dumbarton, not west London.
But there was no questioning the retired charity worker's sincerity. Nor that of her 13-year-old granddaughter Molly who had made the banner. Or the 174 Dumbarton locals who had signed the banner in solidarity with the people of Grenfell Tower.
"Grenfell Tower," said Ms Robertson, "Symbolises everything that is wrong: the rich getting richer, the poor getting poorer, and not just getting poorer, getting less and less respect. Their lives don't seem to matter."
So Ms Robertson wanted an end to Theresa May's government. And yes she was happy with the idea of a 'Day of Rage'.
But she was also a veteran peace protester. For her, rage was all the more powerful when channelled into non-violent protest.
"Used in a positive way," she said, "Rage can be a very positive energy."
They set off towards Parliament as a mixture of 'Justice for Grenfell' T-shirts and 'F*** The System' tops, of home-made cardboard signs and MFJ's more-professional-looking 'Bring Down the Government' placards.
If you wanted, you could focus on the usual suspects distributing anarchist newspapers, or on the demo waiting to merge with the MFJ march in Parliament Square - organised by the Socialist Party, formerly known by the 1980s 'hard-left', fear-inducing name of Militant.
Or you could look at the sincerity of Ms Robertson, and many others.
Clive Beckford, 37, a personal trainer living in a tower block in Stonebridge, Brent, about two miles from Grenfell, had never been on a demo before. But he felt he had to be on this one:
"Absolutely every single thing in this country," he said, "Is governed by business, by an ethos that has nothing to do with humans."
You could also note that among those talking to the marchers were some who said they had lost loved ones in the Grenfell Fire – albeit that they did not want to talk to the Press.
Rage, it seems, is rarely entirely focussed. And for all those shouts of "We are one", has there ever actually been a demo where everyone is singing from exactly the same hymn sheet?
(Talking about singing, the chants of 'Justice for Grenfell' far outnumbered those of 'Oh Jeremy Corbyn'.)
When they arrived outside Downing Street, the rage was expressed in different, possibly revealing ways.
The first scuffle was between demonstrators, with the Police left bemused bystanders. It seemed that someone had tried to do something inappropriate, and was restrained by a crowd of other protesters.
The men with masks pushed themselves in front of the police cordon, but there weren't many of them. Flares were let off, but there were only two and not near the police lines.
There was some hostility to the coppers. One was told to "F*** off" when he asked to borrow a megaphone to tell the marchers to move on to Parliament Square.
But the first arrest was actually of a man accused by the crowd of shouting something racist at them.
Towards close of play, The Independent made it a 3-3 score draw: three protesters led away by police for obstructing the road, or nicking the hat of a cameraman from a hard-right internet news channel; two police "chats" with people allegedly saying something abusive to the crowd, plus a hard-right news presenter led away for reasons that might have included her own safety.
The ambiguity about where the 'rage' line should be drawn came into its own in Parliament Square.
The Police wanted to clear the road of protesters.
"Do not comply with authority," shouted a blonde woman with a megaphone. "Don't listen to the Police. Stay here. Justice for Grenfell!"
The chant started up: "What do we want? Justice!
"How are we going to get it?" came a lone cry from the crowd, receiving the enthusiastic answer "Fight for it!"
Maybe they were talking metaphorically, because all this came moments after the demonstrators had been told: "Anyone throws a punch, we all lose. Because that's what gets the headlines."
The warning had come from John Seward, 44, from Oxford. Working in the construction business, he had been "so ashamed by the process at Grenfell, it made me sick."
The 29-year-old blonde with the megaphone, "sort of an anarchist … no, a feminist", and distrustful of the media to the point of withholding her name, had also been deeply affected by the Grenfell story.
She, like Mr Seward, knew that violence didn't work. But she didn't think peaceful really worked either.
"The Grenfell residents," she said, "Had been asking nicely for fire safety for years, and they never got it. I feel conflicted in a way…"
Who knew what the night would bring, but by early evening it seemed we had been treated to a modicum of argy bargy, with one arrest providing a moderately entertaining rolling maul in the direction of Whitehall.
UK news in pictures

Show all 50
But it was all very much rugby match, not riot.
And, of course, Theresa May was still Prime Minister. Although given how she was getting on across the road in Parliament, it's possible she doesn't need the help of any protesters to bring down the government.
No matter.
Karen Doyle, 40, from south London, one of the MFJ organisers, considered the march a good start.
She insisted to The Independent that there had been no hijacking of the Grenfell community's agenda, or its grief.
"We never claimed to speak for the survivors," she said. "We absolutely respect their grief and their need for time to recover. We deliberately avoided starting the march in the community.
"People there have been telling us 'Thank you for doing this'. But we are not pretending to speak for the families."
Yes, she said, there was deep anger, about "the abuse and neglect that people have suffered for generations".
But it was focussed: "This Government has to go, and we have to build a movement to achieve that."
As the bulk of the crowd started to disperse, peacefully, she told them: "I just want to say how f***ing proud I am of everyone who marched today."
She delivered her thanks leaning against a sound system adorned with stickers, one of them reading: "Space Invaders against Law and Order".
Join our new commenting forum
Join thought-provoking conversations, follow other Independent readers and see their replies