Death sentence for British pensioner accused of blasphemy in Pakistan
The man was given the sentence despite having a history mental illness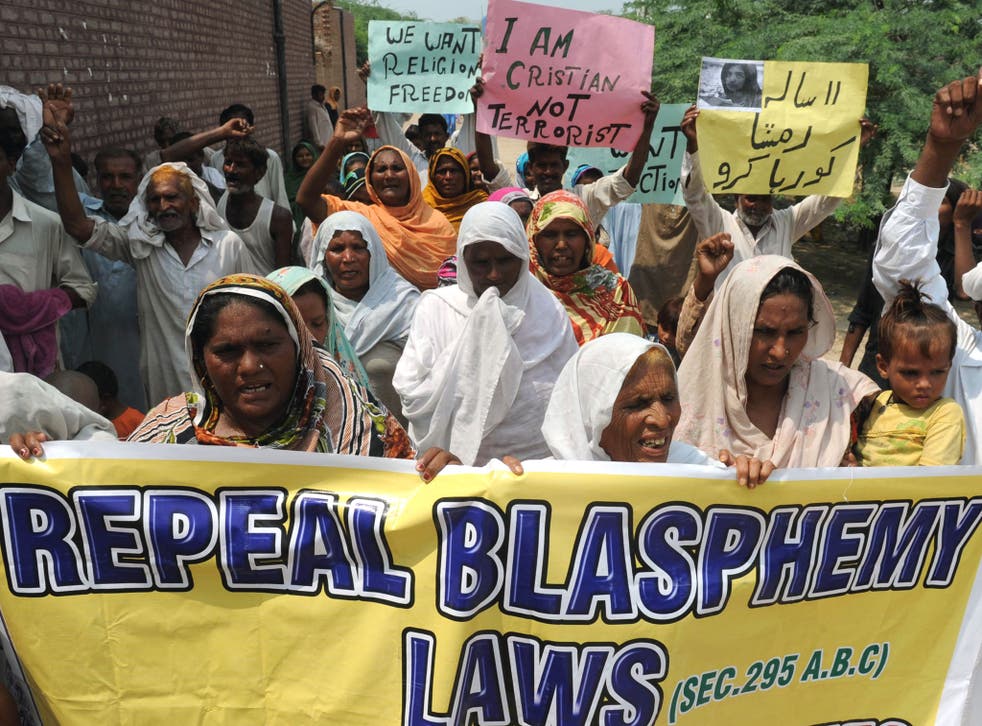 A British pensioner with a history of severe mental illness has been sentenced to death in Pakistan after being found guilty of breaching the country's draconian blasphemy laws.
Muhammad Asghar, 69, from Edinburgh, who suffers from paranoid schizophrenia and is unaware that he is ill following a stroke, was convicted at the end of a trial in Rawalpindi in which it was alleged he claimed to be the prophet Mohammed.
During the case, which was heard without a jury, the judge forcibly removed his independent lawyers from the court and appointed a state counsel on the defendant's behalf.
A sworn affidavit written by a leading British consultant psychiatrist confirmed that Mr Asghar's grandiose claims were consistent with his deteriorating mental health but it was not considered as evidence.
His treatment has been severely criticised by human rights organisations which have long campaigned against Pakistan's anti-blasphemy legislation which, according to Amnesty International, has created a climate of fear and murderous vigilantism in the devoutly Muslim country where allegations of religious crime are routinely used to persecute minorities.
Experts said the laws forbidding the repeating of blasphemous statements make it impossible for him to be accurately clinically assessed.
Mr Asghar's lawyers and his doctor are desperately concerned for his wellbeing after he attempted suicide following his incarceration in 2010. His condition is getting worse and he requires complex daily medication as well as psychological and social care but is instead sharing a crowded cell with other prisoners.
The conviction is now being appealed although it could take five years before it is heard. There have been no executions in Pakistan since a 2008 presidential moratorium although this expired last year.
Among his fellow inmates in Adiala jail is Mumtaz Qadri who became a hero among extremists after he shot dead the governor of Punjab province for speaking out against the mandatory death sentence for insulting Islam. The judge who convicted him was later forced to flee the country after receiving threats
As well as being paralysed on the left side of his body, Mr Asghar is said to be depressed, physically weak and barely lucid. He had lived in Britain for 40 years and run a number of successful businesses. He is married with two daughters – who are believed to be still living in Scotland - and a number of grandchildren.
Mrs Asghar, who is also said to be in very poor health, is in Rawalpindi. He was sectioned under the Mental Health Act in Edinburgh in 2010 after developing psychotic symptoms following a stroke in 2000.
He started to believe the British and Pakistani governments were monitoring his activities through his satellite decoder and claimed he was being bugged after writing to Tony Blair and George Bush to oppose the war in Iraq.
Following his release from hospital in Scotland it is believed he stopped taking his medication and travelled to Pakistan where he had a number of properties. There, it is claimed he entered into an eviction dispute with a local man.
After returning from a pilgrimage to Mecca, he was arrested when the man handed in letters he had discovered written to a lawyer and a politician claiming to be a prophet.
His lawyer, who is now under guard after receiving threats for defending the Briton and who asked not to be named, said the letters had never been intended for distribution.
"They were never posted as far as we know. These are essentially the views of a madman. They are private diaries which were taken by someone else," she said.
"He is receiving no care for his mental condition or receiving prescribed medication. He was taken out of his individual cell and stuffed in with several other people in a very cramped cell. He keeps threatening to commit suicide and we are very worried about him," she added.
In January 2012 Mr Asghar was found unconscious in his cell and was taken to hospital where he was treated in the intensive care unit.
When news of his presence there leaked out local militants demonstrated outside the hospital and made threats against doctors, the lawyer claimed. During his stay in hospital he was given a 20 minute examination which made no reference to his history of psychiatric illness, she said.
Following a change of judge and the removal of his lawyers, the state-appointed defence offered no further medical evidence and did not challenge a report based on the brief examination which concluded he was sane.
A clinical assessment of his condition seen by The Independent written by his former consultant Dr Jane McLennan of the Royal Victoria Hospital in Edinburgh – a leading authority on psychiatric illness in older people - said it was "entirely consistent with a relapse of his schizophrenia that he would make utterances and act in a manner which would attract criminal charges in Pakistan."
She added: "It is my professional opinion that such statements and behaviour would be very consistent with his mental illness and his symptoms of grandiosity and behavioural disinhibit ion would be very consistent with the alleged criminal behaviour.
"During his time in hospital, he often referred to himself as being a very holy man, in ways that were grandiose and clearly a reflection of his mental illness. If his condition worsened, as it seems to have done, he may have described himself in more exaggerated terms, while not meaning to commit blasphemy."
Dr McLennan said that to properly analyse his behaviour she would be required to repeat her patient's claims – potentially running the risk of being considered blasphemous herself.
"Thus the very nature of the charges in Pakistan make it difficult for a mental health professional to indulge in a full discussion of the proper diagnosis," she concluded.
A 72-year-old British homeopathic doctor, Masud Ahmad, is also in prison in Pakistan, charged with blasphemy after a mullah used a mobile telephone to film him reading from the Koran. Mr Ahmad is a member of a minority group forbidden from calling themselves Muslims.
A Foreign Office spokesman said: "We strongly object to the use of the death penalty and will continue to provide consular assistance to him and his family during this difficult time.
"We have continuously made representations to the Pakistan government on behalf of Mr Asghar and we will continue to do so. We are opposed to the death penalty in all circumstances and we are dedicated to doing all we can to prevent the execution of any British national."
Join our new commenting forum
Join thought-provoking conversations, follow other Independent readers and see their replies