Disabled woman became 'recluse in her own home' after Government cut her benefit despite worsening condition
Trudy Appleby says she has been left relying on food banks after Tory cuts saw her disability allowance slashed despite medical advice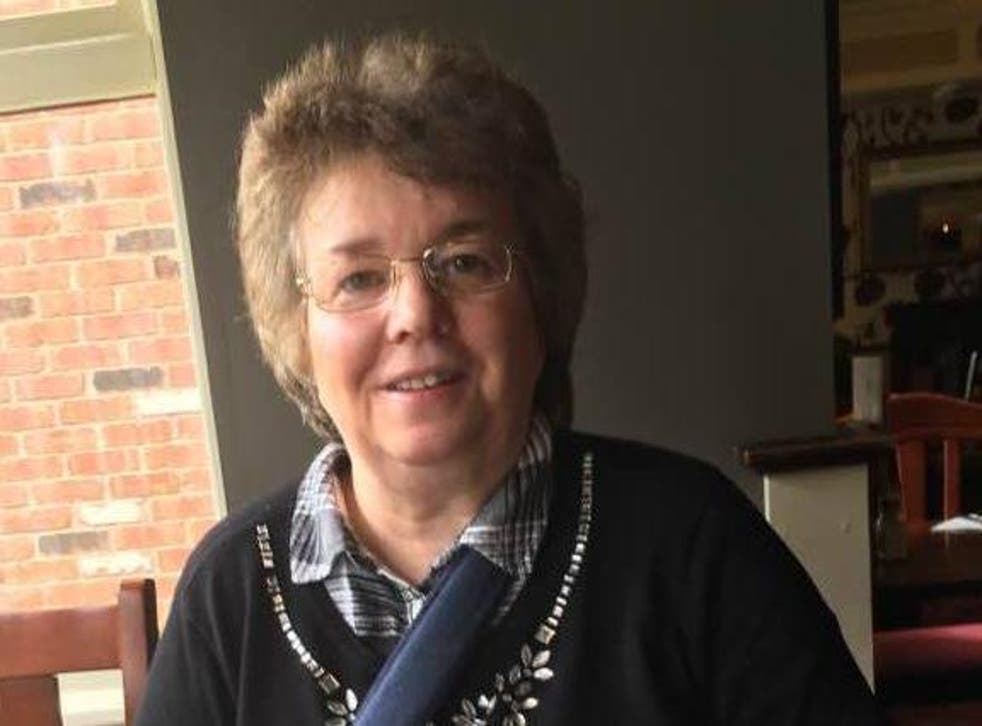 A disabled woman has become a "recluse in her own home" and forced to rely on food banks after changes to disability benefits introduced by the Conservatives saw her mobility and financial support cut, despite her condition worsening.
Trudy Appleby, 57 from Mansfield, developed degenerative arthritis and bursitis in 2013. Last year she was diagnosed with more serious condition osteoporosis, which weakens bones and makes them more likely to break.
She was initially offered Disability Living Allowance (DLA) on the highest rate and given a car as part of her mobility support — but her benefits were cut shortly after she was diagnosed with osteoporosis last summer.
The decision was made by the Department of Work and Pensions (DWP) following an assessment by Capita, a company sub-contracted by the DWP to assess the needs of people receiving disability payments.
The 57-year-old was subsequently moved from the highest level of DLA to the lowest level of Personal Independence Payment (PIP), slashing her weekly finances by £100 and reducing her mobility benefit, meaning her car was taken away.
Ms Appleby, who worked in advertising before she fell ill, was subsequently left unable to leave the house independently. She also had to use food banks in order to get by financially.
She now lives alone in her Bungalow in Mansfield, where she feels unable to venture out because of the risk that if she walks anywhere she will fall over.
"I fell down some steps and broke my shoulder in May, and by June I realised that I couldn't do anything for myself. I was really depressed, and then they sent me a letter from PIP saying they were going to take the car and the money back," she told The Independent.
"I was suicidal for that month. I phoned the Samaritans. I told family that I didn't want to be here, and I was really, really low. I've developed anxiety on top of my depression. I don't understand why they gave me support before, and now have taken it away, when actually my condition has gotten worse. It's degenerative.
"Before, I used to get out. I got in the car and I went places and did things. I got out and I was seeing people and doing things, and now I don't. I'd have to walk, and the chances are I'd fall over and hurt myself and break a bone. When I try to do something I end up failing. That's what scares me the most. It's a fear now, and it grows every day.
"My sister comes round to see me when she can, but I don't see many people. I'm a prisoner to my own home. I feel like a recluse. I feel like I've been thrown to the back of the queue and neglected and forgotten about."
Ms Appleby said the cuts to her financial support has put her in a position in which she is unable to manage.
"That £100 I had helped me to manage," she said. "I've been using food banks. The church has also been buying me food and bringing it to my house. My brother-in-law had to take me — it's about five miles away. I wouldn't be able to get it myself."
She sent a number of medical notes to the DWP from her GP urging that an assessment of her disability benefit requirements is undertaken in her home. The notes, seen by The Independent, confirm that she suffers from Arthritis and Osteoporosis as well as a "long history of depression", and states that her mobility is worsening.
One letter, signed by Orchard Medical Practice, states: "Trudy is a patient very well known to the practice who has been quite physically disabled since she fractured her proximal humerus… She was subsequently found to have Osteoporosis."
Another letter from the practice, dated January 2017, stated: "[Ms Appleby] has loss of mobility which has been worse recently and has resulted in her falling when she has been trying to walk outside.
"She suffers from chronic weakness in her legs which seems to have been a little worse recently… She is struggling to look after herself and attend tto her activities of daily living. I would be grateful if any assessment of this lady could take place within her home environment."
Ms Appleby said the DWP had informed her in February that an assessor would visit her for an assessment within the next four weeks, but it wasn't until 1 June, shortly after The Independent had put in a call to Capita about her case, that she was informed an appointment had been scheduled for later in the month.
A DWP spokesperson has told The Independent Ms Appleby requested to be assessed in her home, and that due to delays in her providing the medical evidence required for this service it took longer. According to the DWP, Ms Appleby's request for an assessment was sent to Capita to be processed on 31 March.
"I don't think they would have done it unless the media had got involved. There are loads of other people out there like me in the same situation. I know of disabled people who have commit suicide because they've been so neglected," Ms Appleby said.
"Why give someone a car if you're going to take it off them? Do you know what it does to someone when they do that? At the time I had just broken my shoulder, I'd got very bad depression, and they took the car off me and reduced all my money down.
"I'd love to go out. I'd love to get on a scooter or in a car and just go to the park and sit in the sun. But I can't. I've become a recluse in my own house."
Ms Appleby is now relying on a small disability charity to fundraise the money required to buy her a mobility scooter. Mobility Trust, which operates only through donations and grants to raise money for people requiring mobility support, has identified her as an individual who requires support to obtain a mobility scooter.
Denise Valentine, Chief Executive of the charity, said there has been a rise in the number of people approaching the charity who have had their mobility equipment withdrawn with the introduction of PIP to replace DLA. The number of people that Mobility Trust have supported in the last year has almost doubled from previous years.
"Although these figures are not a direct response to the changes from DLA to PIP we've noticed an increase in the number of people who, like Trudy, had mobility equipment on the Motability Scheme which was then withdrawn from them in the switch over to PIP. That's obviously hugely detrimental to their independence," she told The Independent.
"Many of the people who approach us have been housebound for years and have failed to receive any help at all. But then there are those who were managing to lead quite independent lives with their equipment and have now had that equipment removed from them."
Disability cuts: People with mental health problems left behind as benefit changes take effect
The Mobility Trust has a rigorous process for identifying applicants' need, requiring professional letters and a GP certificate proving the disability, and then carrying out a full assessment of the individual by an independent occupational therapist, to ensure everyone they support truly needs it.
"It's not a quick process. We need to obviously make sure we're helping the right people with the funds that we do have. There are a whole load of people who are being moved from DLA to PIP and the full extent of their illnesses is not being recognised and it's simply a way to get them off certain types of benefits," Ms Valentine added.
Alan Meale, Labour MP for Mansfield, has met with Ms Appleby a number of times to discuss her situation, and said the cuts to her support had left her with "no life", adding that the Labour Party was committed to reversing the cuts.
"When I met Trudy last year, she was in a terrible state. I saw her again a couple of days ago and I have to say, if anything she's deteriorated even further," Ms Meale told The Independent.
"If she doesn't have mobility, she's got no life. She's got a front living room and a bedroom. You can't confine people to that. There is no way that she can have a normal life is her mobility is taken away.
"The Labour manifesto states that in the first year, a billion pounds would be committed to reversing benefit cuts, and high on his agenda is the abolition of PIP. Jeremy Corbyn has said that he wants to get not only the payments back for disabled people, but also their mobility."
The Government re-designed disability benefit in 2013 to replace DLA, which it called an "outdated" system, with PIP, a system that includes a new face-to-face assessment and regular reviews of a claimant's ability to wash, dress, cook and get around as well as reading and communicating.
But the new system has come under fire on numerous occasions, accused of denying benefits to those who need them, including thousands of people who have been denied Motability as they transfer over from DLA to PIP.
To qualify for the higher level of the mobility component of PIP, which is needed to get a Motability vehicle, a person must be unable to walk unaided for 20 metres, compared with the previous distance of 50 metres under DLA.
The latest figures from the Motability charity show 51,000 people have been taken off the scheme after a reassessment for personal independence payments (PIP) since it launched in 2013 – 45 per cent of all cases.
UK General Election 2017

Show all 47
DWP figures show that since PIP launched, more than 160,000 people have had their original rejection overturned at mandatory reconsideration or at appeal. Some 65 per cent of decisions are now overturned at tribunal in the claimant's favour, according to the latest Ministry of Justice statistics.
The DWP was recently accused of setting an "outrageous target" that staff should turn down four out of five benefit appeals, after it emerged staff conducting mandatory reconsideration reviews were held to a "key performance indicator" that said "80 per cent of the original decisions are to be upheld".
A DWP Spokesperson said in response to Ms Appleby's case: "Decisions for PIP are made after considering all the information provided by the claimant and their GP or medical specialist. Most people leaving the Motability scheme are eligible for a one-off payment of up to £2,000 to help meet their needs."
A Capita spokesperson said: "We endeavour to schedule both clinic and home assessments as soon as possible. We apologise for the delay on this occasion, and have now scheduled a home assessment.
"The Department for Work and Pensions (DWP), not Capita, decides on the level and length of award, taking assessments into consideration alongside all other evidence submitted by a claimant."
Join our new commenting forum
Join thought-provoking conversations, follow other Independent readers and see their replies