Drones are filling Britain's skies: Look up now to see what is looking back down at you
MPs are calling for a debate about privacy and safety. Jamie Merrill and Oliver Troen report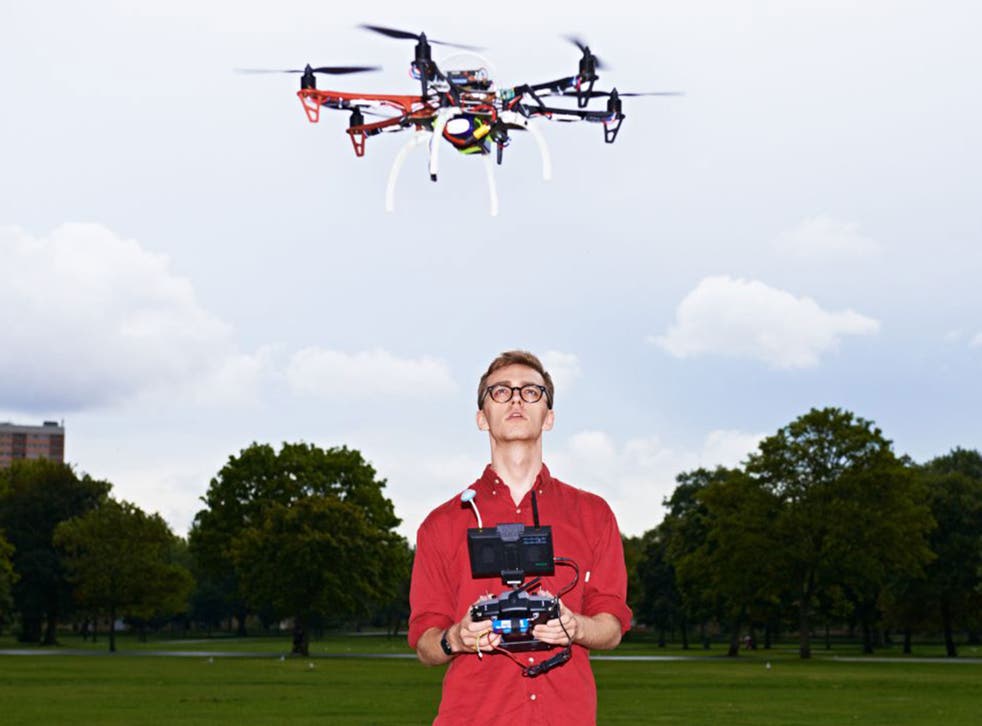 The number of drones operating in British airspace has soared, with defence contractors, surveillance specialists, police forces and infrastructure firms among more than 300 companies and public bodies with permission to operate the controversial unmanned aircraft.
Operators of unmanned aerial vehicles (UAVs) must apply to the Civil Aviation Authority to gain "permission for aerial work", or face prosecution. An analysis of the latest CAA figures shows that numbers of authorised drone operators in the UK has risen by a third in the past year. This has prompted politicians and campaigners to call for a comprehensive review of civil drone use.
"The past few years have seen an almost exponential growth in the number of UAV operators, primarily because it is actually very cheap for former pilots to set themselves up on a very low-cost business model," said Phil Williams, head of robotics at the Knowledge Transfer Network advisory group. "It's an incredibly exciting area and the UK should push to take the lead, as globally there is a very open marketplace. However, we need to be careful to take privacy and data protection concerns into account so as not to create a backlash against the technology," he added.
The majority of the 301 UAV operators in the UK are photography firms and production companies, which includes the BBC and ITV, as well as independent production firms working on television projects ranging from Top Gear to filming the cricket at Lords.
However, three police forces have permission to operate drones as well as several firms with links to the surveillance industry. Many drone operators also boast of offering "surveillance" services and list infrastructure firms, insurance companies and council planning departments among their clients. Other high-profile users of drones include the League Against Cruel Sports, which plans to use small drones to monitor hunt meetings for illegal activity. They are also popular with wedding photographers.
Other organisations able to operate drones in UK airspace include the Defence Science and Technology Laboratory, a research arm of the Ministry of Defence, and Marlborough Communications, which supplies UAVs and other equipment to the British military. The Home Office and Defra have used drones, as have 11 other state bodies.
Civil rights groups have called for a major overhaul of legislation covering civilian drones. They argue that the framework governing photographic material gathered by civil drones – the same framework that governs CCTV camera use – is not robust enough. Such concerns have prompted the Information Commissioner's Office to assign full-time staff to examine Data Protection Act breaches by drone operators.
"We need a comprehensive review of civil drone use in the UK," says Tom Watson MP, chair of the influential All Party Parliamentary Group on Drones. "Public bodies using drones should report to Parliament and we must have an inclusive debate about the need for new regulation to address privacy and safety concerns."
Rachel Robinson, a policy officer for the human rights group Liberty, said: "As the use of domestic surveillance drones rapidly expands, public knowledge and understanding of this shadowy industry remains practically non-existent. Where was the public debate?
"The implications for our privacy are clear, the safeguards obscure."
Members of a House of Lords EU subcommittee on the internal market, infrastructure and employment and European Commission officials have both launched separate inquiries into drone use. Baroness O'Cathain, the Lords committee's Tory chair, said: "The rise of civilian use of drones across the EU is staggering. In the UK alone, the number of permissions granted for civilian use of drones in congested areas went up 40-fold between 2006 and 2013. With this increase comes a raft of issues that need to be addressed, such as whether safety considerations are and should be standard across Europe and whether they need to be changed; the issue of correct controls being in place to protect European citizens' privacy and data."
Others are more openly critical of the industry. Chris Cole, founder of Drone War UK, which provides information on the use of armed drones, said: "Behind the scenes, lobbyists are piling enormous pressure on MPs and air safety regulators to relax the rules in order to open up UK skies for the drone industry. There are huge risks to both our privacy and our safety. As the number of operators slowly but surely increases, it's vital we don't allow the industry to make these massive changes almost by default, or we are likely to wake up in a few years to thousands of drones flying over our heads."
Last week, the CAA warned social landlords they could face prosecution for using drones to inspect their properties, as it emerged that three housing associations had purchased drones without permission to operate them. This follows the first ever prosecution of a man in Cumbria for illegally flying a drone near a nuclear plant earlier this year.
CAA rules state that flying an unmanned aircraft within 50 metres of any building is prohibited, as is flying in "congested areas" or near airports and restricted military bases.
The CAA's Richard Taylor said: "We can't keep track of every unmanned aircraft. We're asking everyone to use them sensibly and advising operators these are not toys and are subject to aviation rules."
Join our new commenting forum
Join thought-provoking conversations, follow other Independent readers and see their replies