Duct tape challenge: What is the YouTube craze that left a teenager with serious head injury?
The trend hit the media this week following a serious injury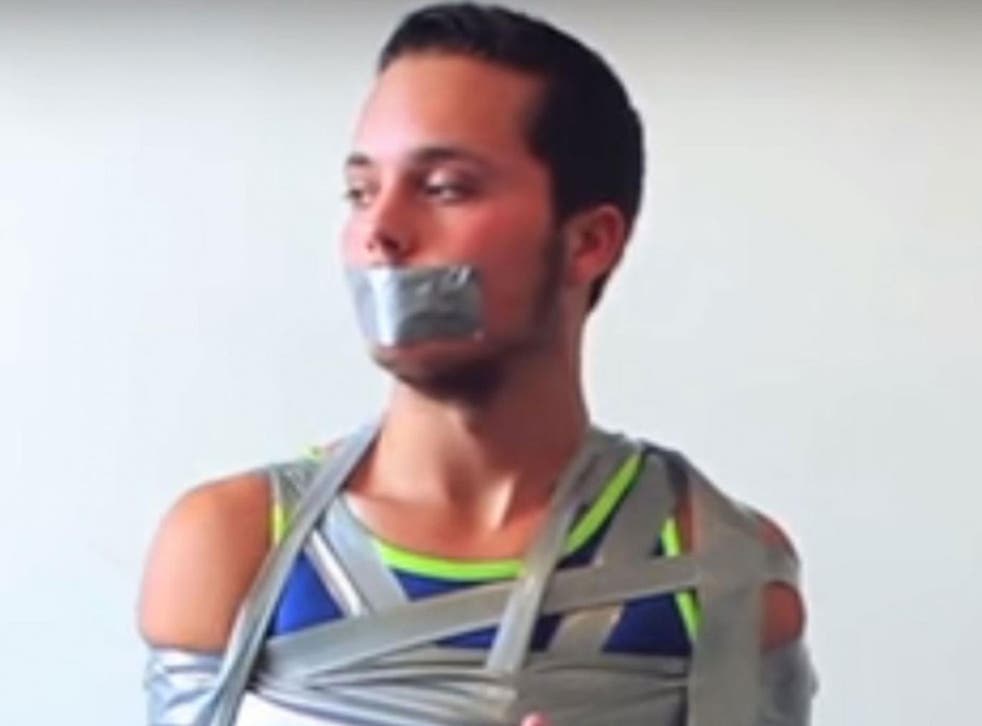 A teenager left badly hurt after taking part in the 'duct tape challenge' ensured the internet craze made headlines across the world.
Fourteen-year-old Skylar Fish suffered severe head injuries, a brain aneurysm and damage to his eye socket - prompting serious questions as to the potential risks associated with the 'challenge'.
What is the duct tape challenge?
Participants are tied with the strong adhesive up for three minutes, and then have three minutes to escape. The challenge and reaction is recorded and the video posted to social media, where it is often widely shared using the hashtag #ducttapechallenge.
It is a more extreme example among a series of internet trends that involve people embarrassing themselves on video while completing various uncomfortable challenges.
Less contentious examples include the 'ice bucket challenge', which saw people such as Bill Gates and Steven Spielberg being soaked with freezing cold water to raise money to fund research into Amyotrophic Lateral Sclerosis, a neurodegenerative disease. The duct tape challenge appears to involve no fundraising element.
How popular is it?
Some YouTube videos have received millions of views, and a search for 'duct tape challenge' on YouTube brings up 239,000 results. That is not counting the unknown number of school children who have played it just for fun, without posting to social media.
Is it meant to be dangerous?
Seemingly not, although while many appear to have taken part in the challenge without suffering any harm, Skylar Fish's injuries show the potential for the game to go wrong.
He was standing unrestrained when taking part and accidentally fell onto a window frame, severely damaging his eye socket. A crowd-funding campaign is now helping to raise money for his medical bills.
Has anyone else been hurt by one of these internet challenges?
A 'gun selfies' craze, in which posters pose for photos with firearms was not only a trend of questionable ethics but also resulted in the death of 19-year-old Deleon Alonso Smith in Houston, Texas. Mr Smith accidentally shot himself in the throat while taking the pictures. A 21-year old woman in Russia also wounded herself doing the same thing.
Are there some less extreme internet crazes?
Yes. Planking, in which participants are photographed lying face down vertically in random places, appears entirely harmless.
However, some more extreme devotees took to planking across railway tracks and other unsafe places. In 2011, 20-year-old Australian Acton Beale fell to his death from the balcony of a seven-storey building after a night out.
Join our new commenting forum
Join thought-provoking conversations, follow other Independent readers and see their replies