Ebola in the UK: Nurse who contracted Ebola thanks 'incredible' NHS team that cured her
Military reservist and NHS intensive care nurse Anna Cross said that medical staff at the Royal Free were 'the best in the world'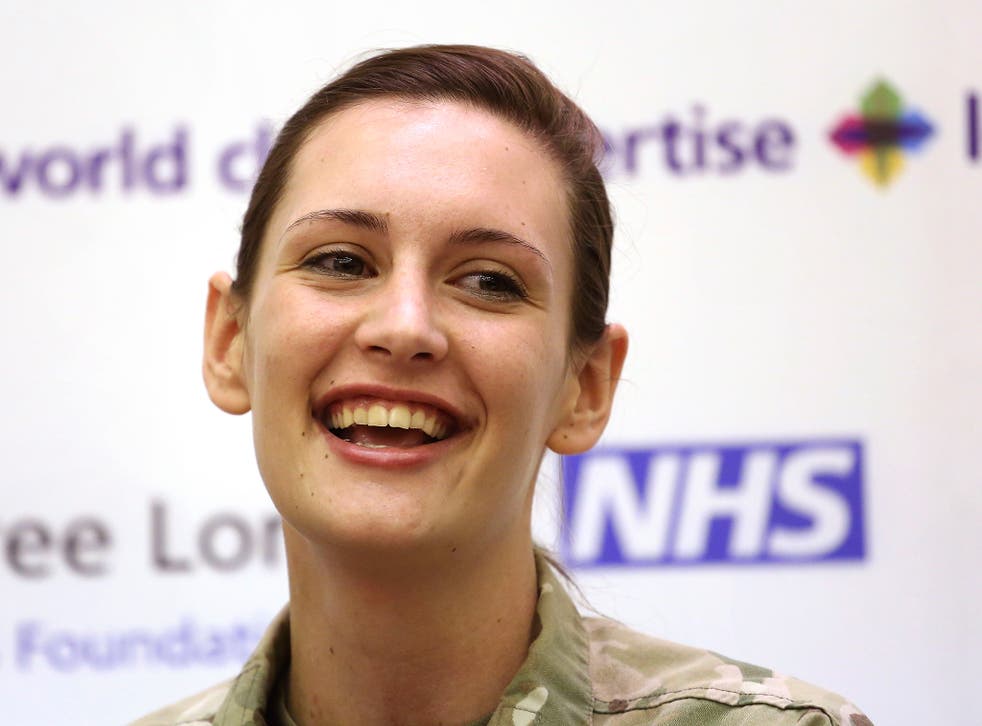 A British military nurse who contracted Ebola in Sierra Leone has paid tribute to the "incredible" NHS team that cared for her, after making a full recovery at London's Royal Free Hospital.
Corporal Anna Cross, 25, a military reservist and NHS intensive care nurse from Cambridge, said that medical staff at the Royal Free, who have now successfully treated three British Ebola patients, were "the best in the world".
She is the first Ebola patient in the world to have been given an experimental new drug, MIL 77, which doctors said may have aided her recovery.
During her treatment, in the Royal Free's specialist isolation tent, she was provided with an iPad on which she says she watched numerous David Attenborough documentaries. After two weeks in isolation, she said she was now looking forward to returning to normal life.
"Just going out to a restaurant will be the most exciting thing," she said.
Corporal Cross, of the 254 Medical Regiment, volunteered to join the UK's response to the Ebola outbreak in West Africa, which has claimed more than 10,300 lives in the past year.
She arrived in Sierra Leone in February, but contracted Ebola while treating patients earlier this month. She was evacuated to the UK by RAF jet. It is still not known exactly how she became infected.
Hailing both the military team who cared for her in Sierra Leone and evacuated her, and the NHS team responsible for her care, she said: "If it wasn't for both those institutions I wouldn't be here today," she said.
"I was diagnosed in the treatment facility I had worked in and was looked after by the colleagues I had worked with," she said. "That gave me such confidence because they're total professionals."
She said the team at the Royal Free were "incredibly skilled, incredibly intelligent and incredibly professional".
Dr Michael Jacobs, infectious disease consultant and head of the team that treated Corporal Cross, said the MIL 77 drug had been acquired from the Chinese company Beijing Mab-Works.
The drug, which is similar to ZMapp, an experimental treatment that was given to the nurse Will Pooley, the first British Ebola patient, is one of a range of new medicines that have been fast-tracked into trials by doctors responding to the worst Ebola outbreak in history.
The men and women on the frontline against Ebola and other hazards

Show all 6
Dr Jacobs said it was impossible to know for certain whether the drug had played a role in Corporal Cross's recovery, but that treatment had gone "very well".
Corporal Cross said she had lost 10 kilos during her illness and was still far from recovering her full strength. She said she intended to return to fitness slowly, with a view to re-joining the military as soon as fully fit. It is unlikely she will be able to return to the frontline of the fight against Ebola, with the UK now winding down its military mission in the country as the number of new cases slowly declines.
While the virus is now spreading much more slowly than at the peak of the epidemic, there are still dozens of new cases every week in the three affected countries: Guinea, Sierra Leone and Liberia. However, the week to 22 March saw only 79 new cases, the lowest weekly total in 2015, according to the World Health Organisation.
England's chief medical officer, Dame Sally Davies said: "It is wonderful to hear that Corporal Cross has recovered from Ebola. This is thanks to the world class care she received at the Royal Free and I want to thank them for their incredible work. I am grateful for Corporal Cross' bravery and all those who have selflessly helped out with the crisis in Sierra Leone."
Join our new commenting forum
Join thought-provoking conversations, follow other Independent readers and see their replies