Ecuadorean officials invite Swedish authorities to London to interview Julian Assange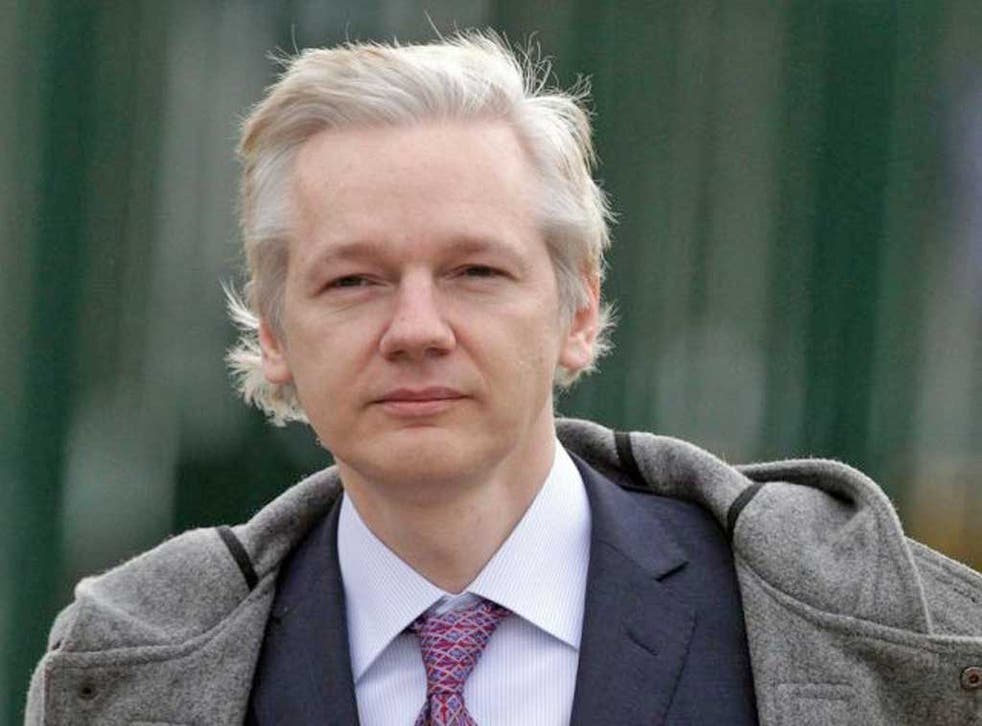 The Wikileaks founder Julian Assange could yet avoid extradition for questioning over sexual assault allegations after Ecuadorean government officials invited the Swedish authorities to London, offering to host an interview there instead.
Senior Ecuadorean government sources said today they have sent a formal request to Sweden and would be happy to facilitate questioning between Mr Assange and the Swedish prosecutor in their west London embassy, where the Wikileaks founder has been staying for the more than a month after claiming asylum.
The embassy, a grand building which sits behind Harrod's in London's chic Knightsbridge, would be the perfect setting, senior officials said today.
His supporters have expressed fears that the American authorities are seeking to prosecute Mr Assange for his involvement with Wikileaks and would use his extradition as an opportunity to pounce. But Ecuadorean officials said they were also seeking assurances that, in the event of his extradition to Sweden, Mr Assange would not later be sent on to the USA.
A senior legal advisor to the Ecuadorean government said they would protect Mr Assange from that prospect for as long as it takes and would be writing to the US authorities in the coming days to ask whether they have any intention of seeking Mr Assange's forward extradition.
He added that they have already asked the British government, which must agree to the extradition, for assurances it would not do so and for information on what contact about a potential extradition – if any - they have had with their American counterparts.
"If Ecuador could be assured that the evil it wishes to prevent: the extradition to the USA of Julian Assange, could be [avoided], then that would be a just solution," the advisor said today.
He acknowledged that the Ecuadorean government has little realistic chance of getting an answer from America on the question of whether or not it plans to seek Mr Assange's extradition. But he added: "The litmus test will be the contact from the UK. If they have no problem giving assurances [that they will not allow it], then we can assume that there has been no request [from America]."
He said the Ecuadorean authorities in London have held around 20 meetings with their UK counterparts and around 10 with the Swedish government in the last month. No contact has been made with the US authorities.
The advisor said today that Quito was seeking the answers from the British, Swedish and American governments before it made any decision on Mr Assange's asylum claim. "We will ask of the Americans: is there an investigation which has identified [Julian Assange] as a target and will there be an extradition request in the future," he said.
Of the British government, he said they asked whether or not it would agree to Mr Assange's forward extradition and what discussions British officials have had with their US counterparts on the issue, in a bid to ascertain America's intentions.
He added: "we have asked the Swedish authorities why they want him in Stockholm and not in the UK; and whether they have had any contact with the USA about possible extradition."
The offer to Sweden was made yesterday and the Foreign Office was informed immediately, said a senior Ecuadorean government political advisor. He said they have not yet received any formal responses yet but Quito will base its decision, which will not come before the Olympic Games end in any case, on those they eventually do receive.
He added that Ecuador has not yet discussed the issue of safe passage with their British counterparts and did not intend to try to get Mr Assange out of the UK. Officials said they hoped to find a solution "which suits all parties, including Mr Assange" before they considered that possibility.
Mr Assange walked into the Ecuadorean Embassy in London on 19 June and claimed asylum. In doing so, he breached bail conditions requiring him to stay at a specified address each evening. He faces being arrested if he leaves the embassy.
His Swedish lawyer told the Independent that the questions posed by the Ecuadorean authorities must be answered by the Swedish prosecutor. Per Samuelson said: "I have on behalf of my client asked the prosecutor to go to London to do the interview but have so far not received an answer. I hope she does come this time."
Join our new commenting forum
Join thought-provoking conversations, follow other Independent readers and see their replies