Ed Miliband writes First World War Centenary letter to Unknown Solider
He was among 20,000 other people to memorialise those who died in the war by writing a letter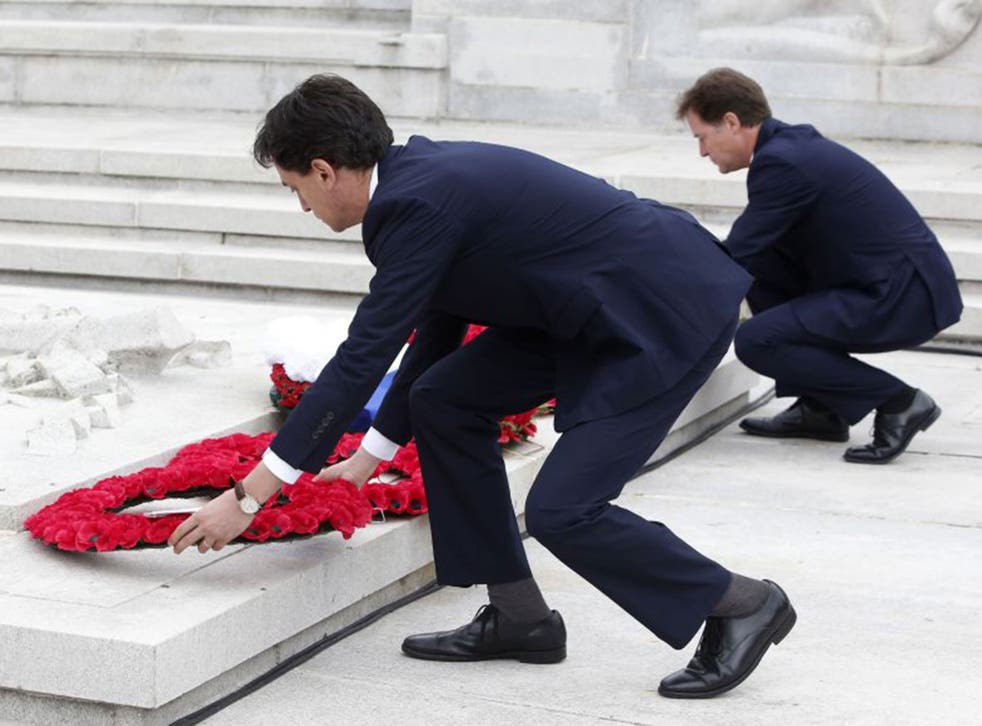 Ed Miliband was among over 20,000 men, women and children to mark the centenary of the First World War by writing a letter to the Unknown Soldier.
On the same day in which the Labour leader was accused of writing an insensitive message on a wreath laid at a service in Glasgow to honour the servicemen and women killed during the Great War, Mr Miliband joined commemorations organised by the WW1 Centenary Arts Commission, in which people were invited to submit a letter to the Unknown Soldier – whose figure stands reading a letter on Platform One of Paddington Station in London.
"On the hundredth anniversary of the declaration of war – in this year crowded with official remembrance and ceremony – we're inviting everyone in the country to pause, take a moment or two, and write that letter," reads the Centenary Arts Commission website.
The letters, from across the world, are a mixture of digital messages; black and white photos of loved ones; and short letters written and illustrated by children. They can be viewed on the 1418-Now website, will become part of an online memorial house on the British Museum website.
"In 1914, you, along with hundreds of thousands of others, volunteered to protect our freedom – and 100 years on, we will remember your bravery and your sacrifice," reads Mr Miliband's letter.
"When you volunteered, you could not have known anything of the intensity of the combat and the miserable conditions that you would endure in the trenches: nobody did," he wrote, referring to the horrific conditions soldiers endured during the conflict.
He went on to praise often-forgotten troops from Commonwealth nations who fought in the conflict, as well as women who served on the Western Front.
"You fought valiantly with troops from across the UK and across the world – from the Indian sub-continent to Africa, from Australia to the Caribbean.
"You will have witnessed immense bravery, not just from men, but from women too. Thousands of women served on the Western Front – including the nurse Edith Cavell who sacrificed her life to save hundreds of soldiers," he said.
Echoing the comments of world leaders paying tribute to those lost in the war, he concluded: "The Great War will continue to serve as a reminder of the brutality of conflict for future generations to come – we remember you and the horrors that you experienced.
"It is also an enduring warning to those in power to avoid entering into war unless it is absolutely necessary."
People who wish to write a letter to the Unknown Soldier have until 11pm on Monday night to do so.
Join our new commenting forum
Join thought-provoking conversations, follow other Independent readers and see their replies