Faith leaders demand that detention period for immigrants is limited to maximum of 28 days
Britain is the only country with no time limit on how long migrants are held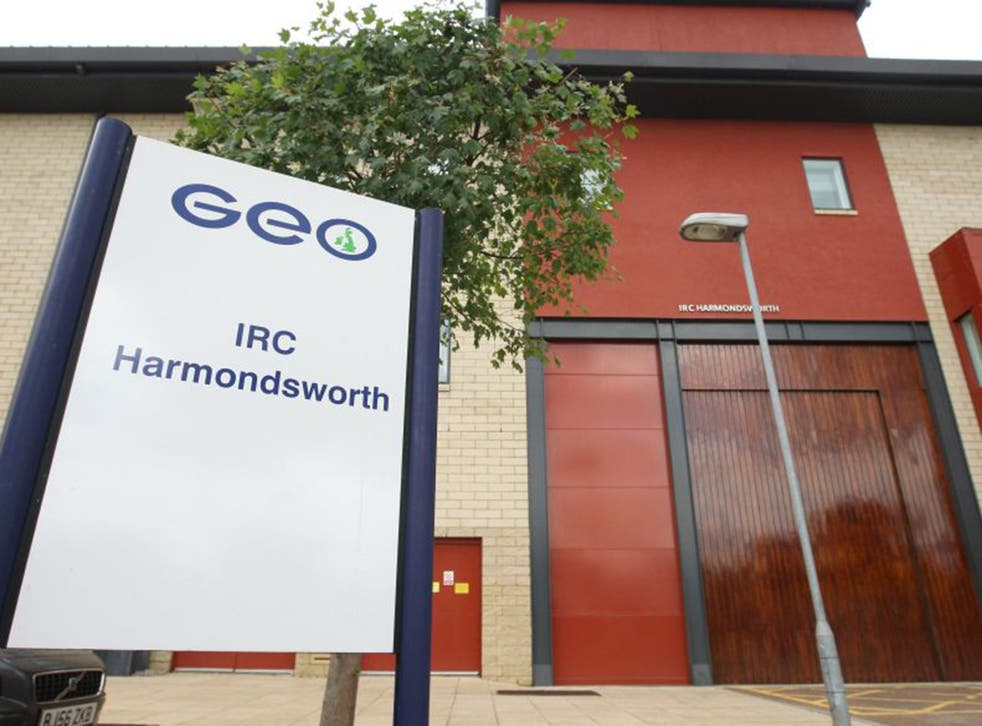 Leading members of the Jewish, Muslim and Christian communities are joining forces to demand that the Government end its controversial policy of indefinite detention for immigrants, and limit detention to a maximum of 28 days. Britain is the only country in Europe not to have a time limit on how long immigrants can be held.
The policy leaves often vulnerable people routinely locked up in a legal limbo, which campaigners have described as a "black hole at the heart of British justice".
A protest organised by René Cassin, the Jewish human rights charity, will take place next to the largest immigration detention centre in Europe, at Harmondsworth Moor, in London.
Harmondsworth Immigration Removal Centre houses more than 600 detainees, one of whom has been there for more than five years; several others have been detained for more than a year.
Some of those held at the centre have gone on hunger strike to protest at the length of time taken to decide their fate, according to the latest annual report by the Independent Monitoring Board (IMB), released earlier this year.
"That detainees are driven to such extremes, with such poor health consequences, often as a result of delayed decision-making by the Home Office, continues to concern the IMB," says the report.
In one case, a man sewed his lips together in protest, something which "provides a shocking example of the effect this has on detainees".
The IMB report calls for an independent review of those detained for more than a year.
The issues are not confined to Harmondsworth. There have been a series of damning reports into other immigration removal centres in recent months.
One report cited the case of a Chinese woman held for more than two years at Yarl's Wood, Bedfordshire. During her detention, she repeatedly self-harmed and attempted suicide. "We cite her case as an example of the extremely harmful effects of long-term and indefinite detention," according to the IMB report.
At another centre, Colnbrook in London, at the end of 2014, one individual had been in detention for more than three and a half years.
Tens of thousands of people are put into detention each year, with 30,902 entering detention in 2014, the highest in five years. And there were 3,483 people in detention as of 31 March 2015, an increase of 16 per cent since 31 March 2014.
Earlier this year, a joint inquiry by the All Party Parliamentary Group (APPG) on Refugees and the APPG on Migration called on the Government to limit the amount of time people can be detained to 28 days, and recommended a fundamental reform of Britain's "expensive, ineffective and unjust" asylum system.
The Government is under mounting pressure to change the way it deals with migrants. Hundreds of people detained under the controversial "fast-track" detention system, which accelerates legal hearings and appeals while keeping the individual detained at all times, are likely to be freed or have their cases reviewed, after the immigration minister, James Brokenshire, suspended the system last Thursday.
The decision came after the Court of Appeal ruled it was unlawful and that its limit of seven working days for appeals was "structurally unfair".
An independent review of immigration detention, commissioned by the Home Secretary, Theresa May, will report later this year.
Mia Hasenson-Gross, director of René Cassin, said: "We demand a limit of 28 days detention – justice must not be denied or delayed any longer."
One of those speaking at Sunday's event, the Most Rev Kevin McDonald, Emeritus Archbishop of Southwark, said: "The people in Harmondsworth may only be 200 metres from us, but in terms of the rights that every human deserves – justice, equality and liberty – they are a million miles away."
Another speaker, Rabbi Natan Levy, chair of the Jewish Social Action Forum, said: "Our history obliges us to call for change. It means nothing if we do not choose to act when the stranger cries out for our help."
And Imam Dr Mamadou Bocoum, director of Interfaith through the Arts, described Britain's detention centres as "counterproductive and ineffective".
In a statement, the Home Office said: "Detention is used as a last resort and for the shortest period necessary", adding: "Decisions to detain an individual are reviewed regularly to ensure they remain justified and reasonable."
Join our new commenting forum
Join thought-provoking conversations, follow other Independent readers and see their replies