New Year's Eve drinkers across UK warned over vodka that can cause vomiting, blindness and death
Rogue traders 'playing roulette' with customers' health selling potentially dangerous counterfeit spirits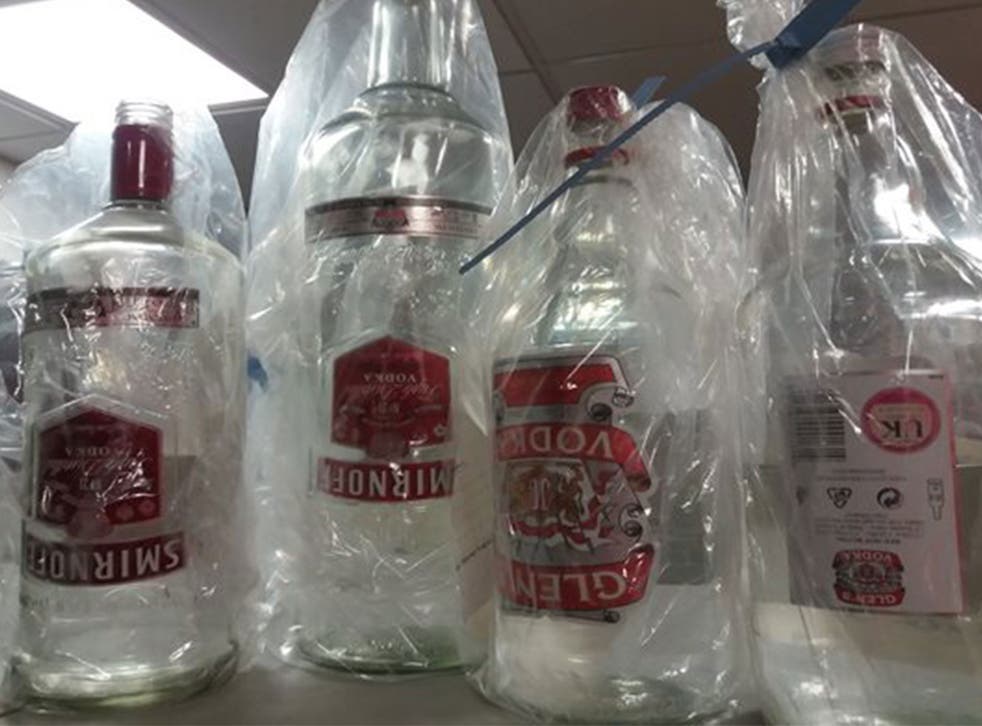 New Year's Eve drinkers are being warned to avoid potentially fatal counterfeit vodka likely to be available at a cut price during the night of celebrations.
Multiple batches of the fake spirit have been seized from home sellers, shops and pubs across the country in recent weeks, according to the Local Government Association (LGA).
Inspections of bottles confiscated in raids found some contained industrial levels of alcohol capable of causing vomiting, permanent blindness, kidney and liver problems and, in extreme cases, death.
Morris Bright, vice chairman of the LGA's safer and stronger communities board, accused rogue traders of "playing roulette" with the health of consumers, warning councils would prosecute those found selling the counterfeit products.
"We want people to enjoy their New Year's Eve celebrations, but anyone buying alcohol needs to look out for signs it could be fake because it could leave them seriously ill and, in extreme cases, cost them their life," he said.
"People are advised to only buy alcohol from reputable outlets and be wary of any items being sold at suspiciously cheap prices, as they could be counterfeit.
"Anyone selling illegal alcohol should think twice about stocking these dangerous drinks as we will always seek to prosecute irresponsible traders and encourage the public to report any suspicious business activities.
"Counterfeit alcohol is not only a serious danger to health, it harms legitimate traders and threatens livelihoods, with the counterfeit market funding organised criminal gangs."
Some of the fake vodkas discovered on sale in the UK by council trading standards officers in recent weeks were identifiable due to their unfamiliar names, while others were counterfeits of well-known brands.
Support free-thinking journalism and attend Independent events
The LGA advised shoppers to watch out for crooked labels, spelling mistakes, different fill levels, sediment in bottles or "too good to be true" prices when trying to identify fakes.
Those planning to ring in the new year at parties in pubs and nightclubs have also been warned to steer clear of spirits if they smell similar to nail varnish.
Alcohol fraud is reported to cost the UK around £1bn a year in tax avoidance and retailers caught selling counterfeit drinks can face a fine of up to £5,000 and a prison sentence of up to 10 years.
New Year's Eve celebrations as world welcomes 2018: in pictures

Show all 27
Councils across Britain have prosecuted a number of retailers in recent months over the sale of illicit vodka products.
In November, workers at a convenience store in Ilford, east London, were fined £2,450 for selling counterfeit bottles of Glen's Vodka after customers reported the spirits had a "chemical smell" and "weird taste".
A month prior, a couple were fined £3,700 after serving fake spirits to drinkers at their pub in Tweedmouth, Northumberland, including copies of both Glen's and Smirnoff vodka.
Join our new commenting forum
Join thought-provoking conversations, follow other Independent readers and see their replies