Families win landmark ruling on £600m asbestos compensation
Supreme Court victory for IoS campaign to force insurance industry to honour victims' claims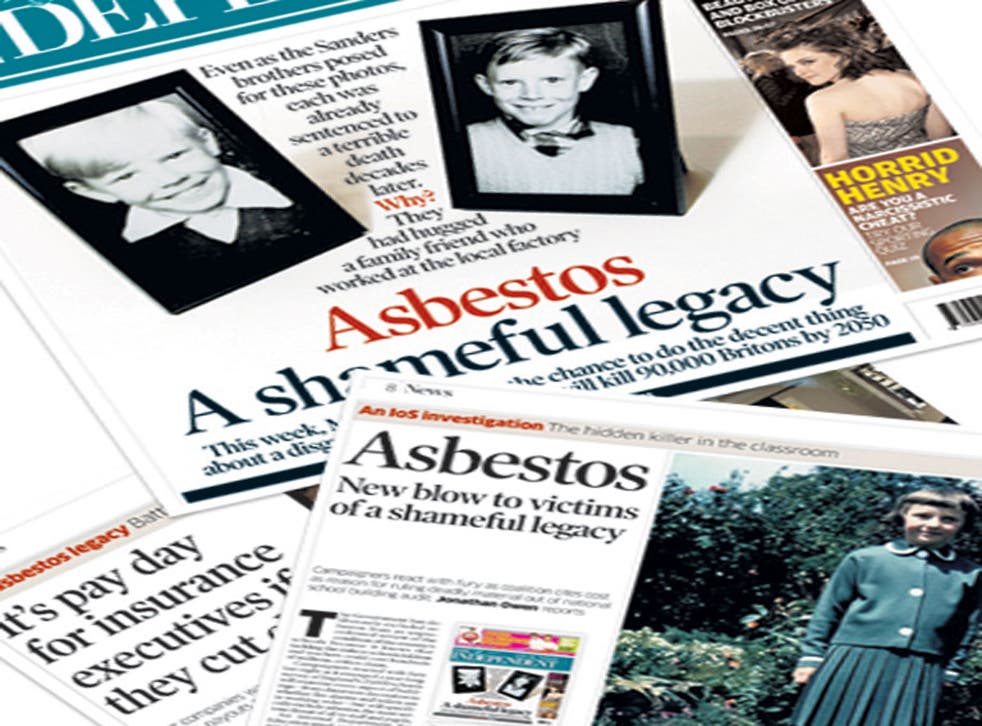 Thousands of families whose relatives were killed by asbestos cancers will win a landmark compensation victory this week, sources have told The Independent on Sunday. The Supreme Court will rule on Wednesday that insurers who offered cover at the time victims inhaled the deadly fibres will have to pay compensation.
Four insurance companies have been fighting to minimise payouts to 6,000 families who have a member who has died or is suffering from mesothelioma, a cancer resulting from exposure to asbestos. Once the court rules against the insurers, the compensation bill could be in excess of £600m. If you include future claims that will be brought, up to 25,000 families could be affected by the ruling, pushing the potential bill to £5bn.
The Independent on Sunday has been campaigning since 2009 for insurance companies to pay out to victims whose firms they supposedly covered when they were negligently exposed to asbestos dust.
The test case, which has gone to the High Court and the Court of Appeal, has been running since 2006 and is one of the most protracted in legal history. Most of the cancer patients affected by its ruling have now died, and it is their relatives who have been waiting on the result.
Asbestos exposure is the biggest killer in the British workplace, causing more than 4,000 deaths every year – more than road traffic accidents. The fibres can be in a person's lungs for half a century before causing cancer, so that deaths in the UK are not expected to peak until 2016.
It has been known that asbestos dust caused fatal lung cancers since 1955, and its "evil effects" were observed in factories as early as 1898. Because of this, employers – or if they no longer exist, their insurers – are liable to compensate those needlessly killed by it.
The insurers argued that an employer's liability was restricted to when the cancerous tumours started to develop, instead of when victims were exposed to the dust. Decades can pass before the cancer develops.
Many building firms that employed people to work with asbestos fibres in the 1960s and 1970s no longer exist. As a result, if the families had lost the court battle they would have been left with no compensation at all, despite their employers having paid insurers to protect against worker injury in good faith.
MMI, Builders Accident, Excess and the Independent Insurance Company are the four firms that brought the litigation. The move was seen as so controversial that most insurers distanced themselves from the case, including the Association of British Insurers.
Insurance executives are paid extra for saving their company money in asbestos payments. Ian Willett, an executive at MMI, even admitted the successful outcome of this case was likely to affect his bonus.
Carolann Hepworth, a solicitor for John Pickering acting for one of the families in the test case, said: "Millions of pounds have been wasted chasing this case when families could have just been compensated. [Insurance companies] were meeting the claims before this cynical attempt to avoid them. They took huge premiums for many years."
Compensation payments for the aggressive cancer mesothelioma, which can be triggered by inhaling a single fibre of asbestos, are usually in the region of £200,000. It is likely the court will make an order that the payment of damages have to be made to the families at the heart of the case within two weeks.
Ian McFall, the head of asbestos policy at Thompson's solicitors, said: "It's the most important test case in the history of asbestos litigation. There's a huge amount riding on it for the victims and their families, who have suffered immeasurably and waited so long."
From 1967 until 2006, insurers had been paying out routinely on cases such as these. But an unrelated case, which said that people with mesothelioma only "suffered injury" at the time tumours started to develop, gave them a loophole to bring a case.
The IoS understands that, unlike the Court of Appeal judgement in 2010, which left it very ambiguous as to who would receive compensation, the Supreme Court will make a clear ruling returning the law to the status quo which operated before the case was brought.
The ongoing battle has become known as the Trigger case, since it centres around whether a person should claim from the insurer in place at the time of the exposure which 'triggers' a cancer or at the time of the later onset of illness.
Tony Whitston, of the Asbestos Victims Support Groups Forum, said: "A judgement in favour of mesothelioma sufferers in the Trigger case would avert a potential disaster for mesothelioma sufferers and their families. It would end years of heartache and misery for thousands of families who are still grieving their loss and enduring the stress of this case being dragged through the courts by insurers.
"It is time to nail the lie that insurers simply wish to pay compensation to mesothelioma sufferers without delay: their only concern is to limit their liability to pay compensation, and they don't give a damn if thousands die uncompensated while they drag grieving families through the courts year after year."
This ruling will also pave the way for government measures on asbestos compensation, which have been on hold pending the result of this case. Proposals were made under the Labour government for a "fund of last resort" for all asbestos cancer victims who could not trace the insurance policies that their employers took out. The coalition told campaigners that no progress would be made on this policy until the Trigger case was concluded.
Betty Tolley, widow
Betty, 72, from Eastbourne, lost her husband Bob to mesothelioma six years ago and still hasn't received compensation.
"This case is about getting somebody to take responsibility. I'd never heard the word mesothelioma until Bob said he'd been diagnosed with it in 2006. We were looking forward to retiring together and him giving up work, but it didn't work out that way. He was diagnosed in July and died in September. In the 1970s he was working with blue asbestos sheeting, putting it on boilers in people's airing cupboards for a company called Humphreys & Glasgow. They didn't have any masks or protection. The company doesn't exist any more but it was insured for its workers by Excess. We were told we'd get compensation from them. Then they told us about this court case and refused to pay it. I only get my pension and a small pension of about £20 from Bob's job."
Join our new commenting forum
Join thought-provoking conversations, follow other Independent readers and see their replies