British far right 'becoming more racist' after Black Lives Matter protests, report finds
Exclusive: Growth of new Patriotic Alternative group suggests 'shift towards more openly racial politics'
Lizzie Dearden
Home Affairs Correspondent
Saturday 15 August 2020 21:19 Comments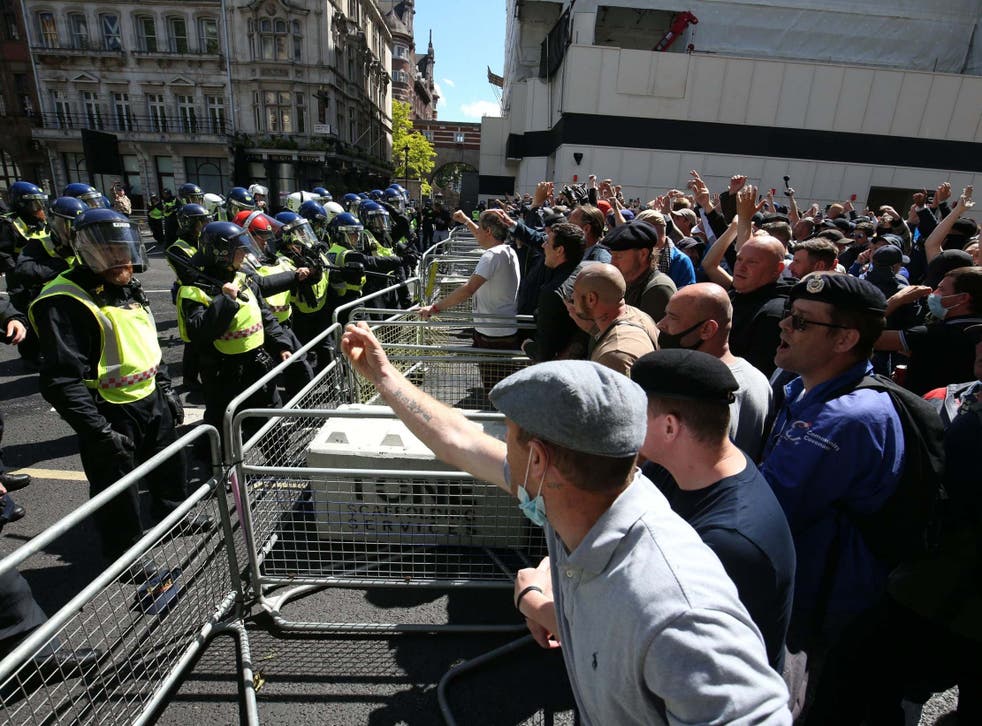 The British far right is becoming more openly racist in the wake of a backlash against international Black Lives Matter protests, experts have warned.
A report by Hope Not Hate, seen exclusively by The Independent before its release, said that years of dominance by Tommy Robinson and other figures focused on Muslims was giving way to rising white nationalism.
It found that the growth of the new Patriotic Alternative group, which openly calls for non-whites to be ejected from the UK, suggests a "shift towards more openly racial politics".
Author Simon Murdoch said far-right activists were becoming "much more extreme ideologically".
He said the increase in migrant boat crossings over the English Channel and anger over so-called "cancel culture" had an impact.
"The biggest backlash has been to the Black Lives Matter movement," the researcher added. "There is more willingness to discuss race generally across the far right now."
Large protests following the police killing of George Floyd in the US city of Minneapolis in May sparked a deluge of racism and anger on far-right social media networks.
Claims that demonstrators were to target the statue of Winston Churchill and other monuments in London, after a slave trader's figure was torn down in Bristol, culminated in a violent protest by groups claiming to "defend" them.
Police and journalists were attacked and some protesters appeared to perform Nazi salutes, following smaller clashes elsewhere in the UK where demonstrators were filmed making "white power" gestures and shouting: "Why don't you go back to Africa?"
Mr Murdoch said that dominant groups and activists in the British far right, such as Robinson, have focused on Islam in recent years and left overt racism to the "extreme fascists" like banned terrorist group National Action.
Thugs attack riot police at BLM counter protest in London
But the rise of the Europe-wide Identitarian movement and spread of a conspiracy theory claiming that white people are being "replaced" by non-whites has influenced extremists in the UK.
"There's this move from people previously focused on other topics like Islam, and alongside that is a contingent of the young British far right who have been embracing more extreme and traditionally fascist, white nationalist and antisemitic ideas," Mr Murdoch said.
He warned that the younger group are active in online networks that have greater reach than the "old guard" of National Front and British National Party (BNP) supporters.
Patriotic Alternative was formed last year by the BNP's former director of publicity, Mark Collett, and has been attracting activists from across the far-right spectrum.
Its growth has sparked concerns it may unite competing factions from the fractured extreme right-wing scene in Britain.
Last weekend, it held publicity stunts displaying "white lives matter" banners across the UK to to tie in with the International Day of the World's Indigenous Peoples, and leaders are planning a third national conference in September.
On its website, Patriotic Alternative claims that "native British" people are being eradicated and proposes extreme measures to protect "the indigenous peoples of the United Kingdom".
It says it would call a "complete halt" to immigration and pay people "of immigrant descent … to return to their ancestral homelands".
Patriotic Alternative claims that children are being exposed to pro-LGBT and anti-white "propaganda" and advocates home-schooling using its own package of hateful material on "history and culture".
Mr Murdoch said the group had attracted support from figures previously active in neo-Nazi groups, but also those with backgrounds in "more moderate" movements.
He warned that Patriotic Alternative was "trying to give the friendliest possible face to extremely fascist ideas" by using veiled terminology.
But Hope Not Hate's report found that private online chats between members were "awash with extreme racism, Holocaust denial and open veneration of fascism".
It said Patriotic Alternative had "antisemitism at its core" and played into conspiracy theories claiming Jews are orchestrating the "replacement" of white Britons.
One post by a supporter seen by The Independent reads: "British people are white. They aren't brown, black, Asian or Jew."
Hope Not Hate also found Patriotic Alternative had links with the UK-based Hundred Handers group, which incites people to spread racist stickers around the world with slogans including "Western civilisation is white civilisation" and "Stop immigration, start repatriation".
Mr Murdoch said it appeared to be capitalising on a "sense of rootlessness" in the British far right during the coronavirus pandemic.
"Black Lives Matter, the anti-government elements of coronavirus and the economic downturn are grist to the mill for them but they've lacked a sense of direction," he added.
"Despite grossly exaggerating their size and influence, Patriotic Alternative could be the group that unites the fractured, ageing UK far right, injecting it with young activists.
"They could present a real threat given their extreme views."
Register for free to continue reading
Registration is a free and easy way to support our truly independent journalism
By registering, you will also enjoy limited access to Premium articles, exclusive newsletters, commenting, and virtual events with our leading journalists
Already have an account? sign in
Join our new commenting forum
Join thought-provoking conversations, follow other Independent readers and see their replies