Fergus Wilson: The landlord who wants to put 200 families out on the street
Fergus Wilson has grown rich on the benefit recipients who rent some of his 1,000 properties. So why does he want to evict them?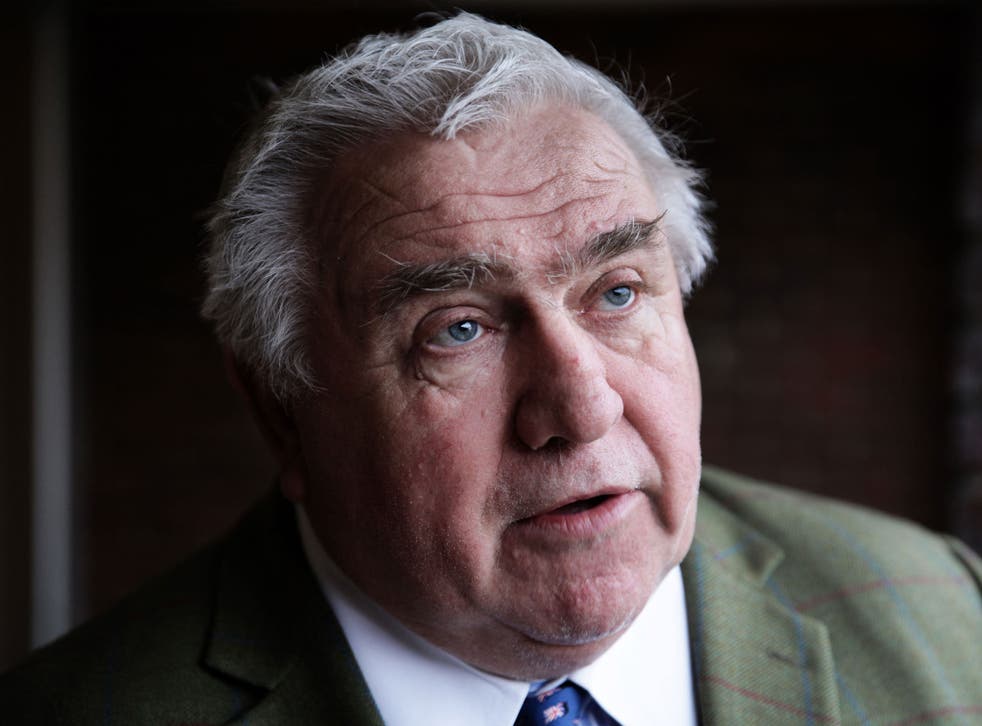 Gemma Jupe, a 25-year-old single mother from Ashford, had just got home from hospital after giving birth to her second child when she discovered she was facing eviction.
Her landlord is the now notorious Fergus Wilson, who said this week that he was kicking out 200 families on benefits from his properties to replace them with Eastern European migrants. Mr Wilson said coldly of his decision: "We've found [migrants] to be a good category of tenant who don't default on their rent."
Along with his wife Judith, Mr Wilson owns around 1,000 properties in Kent, giving him an estimated of fortune of around £240m, making them among the richest private landlords in Britain. It appears, however, their wealth has not made the couple any more inclined to give their hard-up tenants an easier ride.
In an interview that went viral, Mr Wilson told Channel 4: "I feel sorry for battered wives who have come to us because we're very much consigning them to go back to their husbands to be beaten up again." When asked if he had exercised any moral judgement over the eviction of impoverished tenants from his homes, he said: "The only judgement we exercise is a financial judgement".
Ms Jupe was one of the people who Mr Wilson refers to as a "casualty" of his decision to remove all tenants who paid with housing benefit.
The mother of two recalls the conversation which took place just 11 days after giving birth. She told The Independent: "I had recently got home from hospital and realised the radiator in my bedroom wasn't working. I emailed him and within half an hour he phoned me and said 'Are you on benefits?' I said, 'I do work but I'm on maternity leave and I do get [state] help'. He said: 'I'll let you stay there over Christmas but in January you're out'."
"Jane", a 35-year-old single mother, who is between jobs and on housing benefit, is another casualty of Mr Wilson's catch-all policy of booting out tenants on benefits. She did not want to be identified as she was worried about getting her deposit back.
Speaking among the packing boxes of her freezing home in Ashford, she said she has been emailing back and forth about mending her boiler since the end of November, but that it is still not sorted. She was forced to travel to relatives to take a shower and since the nights have got colder has had to go with her toddler to sleep elsewhere.
"I stayed at my dad's for Christmas because the temperatures got colder and with a toddler it's just been awful," she said. She got an email telling her she would have to move out just two days before Christmas. "It just said, 'You're on housing benefit and I want you to leave'." After taking advice, she decided to hand in her notice so Mr Wilson would not have the opportunity to formally evict her. "I can't work out how someone can be that horrible," she said. "I could understand it if I'd been a bad tenant but I always paid the rent and kept the house in a good condition."
She added: "I do know where he's coming from and I don't like people sponging off the system who don't need to, but there are people who need support. I just think he should have targeted the ones that are trouble and not paying the rent."
Chris Coffey, head of community services at local homeless charity Porchlight, said: "We're really disappointed to see any landlord – particularly a landlord on that scale – reach that decision [to evict those on benefits]... I really believe more people will become homeless [as a result of Wilson's decision]. The number of landlords letting to housing benefit tenants is going down."
However, Mr Wilson said this was "nonsense" and that the majority of the 200 had already left their homes last year, leaving just six who are leaving now.
Mr Coffey believes the Wilsons' decision could be a result of changes to Government policy. He said: "It looks like this is a response to Universal Credit coming in over the next few years and there are a lot of fears about rent arrears building. The pilots have shown that arrears do build and landlords are not reassured that the government has protection in place."
A Department for Work and Pensions spokesman said Universal Credit did not change the situation for landlords. "Landlords always complain about direct payments and always have done. We say it's better for tenants to pay their own rent because it's good to get in that habit for when they have a job."
It is not just tenants who have found themselves on the wrong side of Mr Wilson. A self-employed gas safety engineer who had the temerity to issue a safety warning about a flue in one of Wilson's properties is embroiled in a court battle with the property mogul. Multi-millionaire Mr Wilson took small-time heating technician Paul Masterson, 43, to the county court for loss of earnings because he could not rent the flat out. The case was thrown out by a judge last May, but Mr Wilson decided to launch an appeal and says he is waiting for a new court date. He said the case was sub judice and that he could not comment further.
Despite rapidly forming a reputation as one of Britain's most obnoxious landlords, he remains defiant. Speaking to The Independent in the lobby of a Mercure hotel off the M20, where he says he conducts all his meetings, he said: "The situation is there aren't enough homes to go around.
The eastern Europeans have come over and there has to be displacement and the people being displaced are those on benefits." He added: "Of those on housing benefit, slightly less than 50 per cent have been paying their rent and slightly more than 50 per cent are in arrears. In 2008, 7 per cent of those on benefits were in arrears; it's now over 50 per cent."
It seems his reasons may not be entirely financial, however, as he admits that in some cases the council has asked him not to evict tenants and offered to pay for the arrears. Describing one case, he says: "The council said we will pay for the arrears if you let her stay...but I think it's wrong to reward wrongdoing, and not paying your rent is wrongdoing."
Last year he stood down as a candidate to be Kent's first elected Police and Crime Commissioner, claiming it was because the budget he would have to work with was too small. When asked if it was perhaps because he was too hated to get the votes, he smiles grimly before saying with a straight face: "No. I'm very popular with the public."
Register for free to continue reading
Registration is a free and easy way to support our truly independent journalism
By registering, you will also enjoy limited access to Premium articles, exclusive newsletters, commenting, and virtual events with our leading journalists
Already have an account? sign in