Fiona Woolf quits as chair of abuse inquiry - 30 minutes after Home Office expressed 'full confidence' in her
Victims groups declared her "unsuitable" for the task earlier today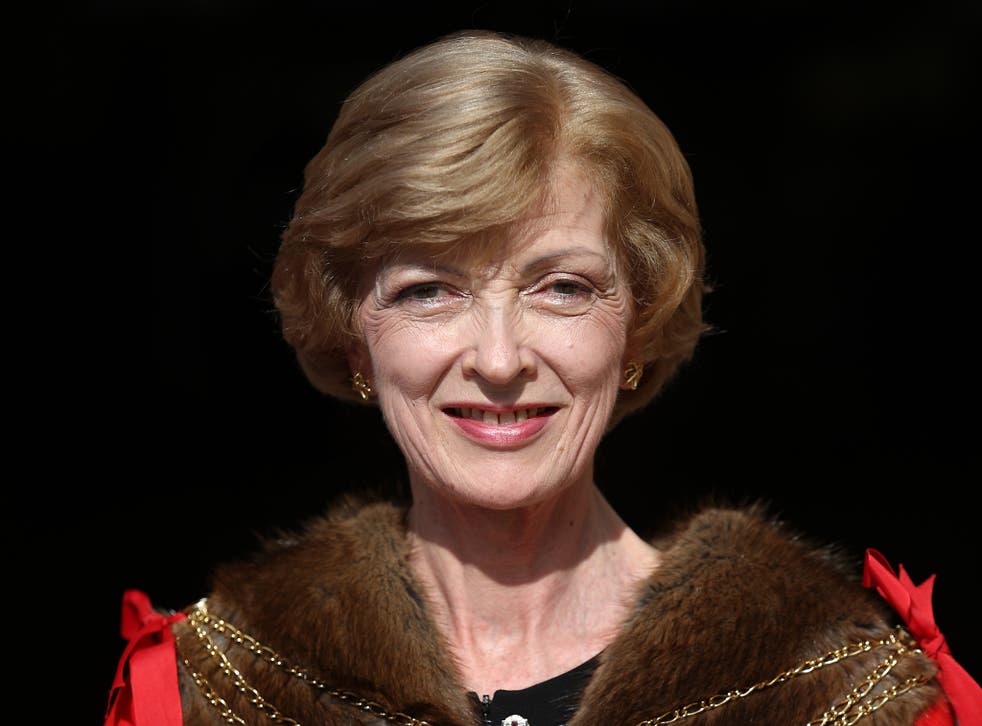 Fiona Woolf this afternoon became the second head of the Government's inquiry into historical child sex abuse to be forced to quit over links to key figures in the scandal – just half an hour after the Home Office said they had "full confidence" in her.
Ms Woolf announced that she was stepping down after it emerged that she failed to declare that she lived on the same street as Lord Brittan and his wife and attended five dinner parties with the former Conservative minister.
She also admitted to allowing the Home Office to help redraft a letter explaining her relationship with Lord Brittan seven times in a ways that appeared to distance herself from the couple.
Lord Brittan was Home Secretary in 1984 when ministers were handed a dossier on alleged high-profile paedophiles. The files have disappeared, leading to allegations of a political cover-up. He was expected to be called to give evidence to the inquiry.
Mrs Woolf was chosen to lead the inquiry following the resignation of Lady Butler-Sloss in July. Lady Butler-Sloss's brother, Sir Michael Havers, was attorney general in the 1980s.
Ms Woolf's position came untenable after victims representatives have unanimously called for her to be replaced following a meeting with the panel's secretariat.
Campaigners said the entire process would be "a dead duck in the water" if the corporate lawyer and Lord Mayor of London was allowed to remain in post. The Shadow Home Secretary Yvette Cooper also called for her to stand down.
But 30 minutes before her departure was announced the Home Office appeared to be in the dark about her resignation. A Home Office spokesman told The Independent that they had full confidence in Mrs Woolf to lead the inquiry.
Mrs Woolf said she believe she had to go after losing the confidence of the victims.
"it's about the victims," she said. "If I don't command their confidence I need to get out of the way".
Mrs Woolf's links to Lord Brittan appear to have escaped the Home Office vetting team despite the links being clearly in the public domain.
A Google search reveals that they were both on the Board of Patrons of this year's City Week.
However a Home Office spokesman said Mrs Woolf failed to declare her links with Lord Brittan when Home Office officials asked her if she had any conflict of interests that might prevent her from chairing an inquiry before she was appointed.
Mrs Woolf's links to Lord Brittan came under scrutiny because he is likely to be called to give evidence to the inquiry about his handling of child abuse allegations.
The former Cabinet minister denies failing to act on a dossier of paedophilia allegations he received while in office in the 1980s.
Documents published last night showed that a letter setting out Mrs Woolf's contacts with Lord Brittan and his wife was redrafted seven times, with guidance from Home Office officials, before being sent to Home Secretary Theresa May.
The chair of the Commons home affairs select committee, Labour MP Keith Vaz, claimed the final one suggested "a greater sense of detachment" from her near neighbours than initially stated.
Before she resigned he said that Ms Woof had been asked return to the Committee next Tuesday to give further evidence.
Labour former home secretary David Blunkett heaped further pressure on Mrs Woolf by questioning her future in the job.
"I have never come across a situation where somebody being appointed to a critical independent panel of this sort has had their letters vetted, altered or suggestions made," he told BBC Radio 4's The World at One.
"I'm not sure whether Fiona Woolf asked for advice in helping that draft or whether it was, if you like, offered to her. But either way, I think it has put a very different complexion on the situation and a very substantial cloud over whether she can do the job.
"I'm verging on believing that she is now in the kind of very difficult position that we saw before where somebody simply feels that they themselves cannot continue to do it."
The Shadow Home Secretary Yvette Cooper has also called for her departure.
"Theresa May has twice failed to consult with victims groups and carry out sufficient background checks on her appointed chair to ensure they would have the confidence to do the job," she said.
"Having failed once, it is incomprehensible that she could then fail a second time to consult widely enough to ensure Fiona Woolf would have the support needed to carry out this vital role. The inquiry cannot go on like this, lurching problem from problem without any proper leadership from the Home Secretary.
"Theresa May has put Fiona Woolf in an impossible position. We had hoped the Home Secretary would be able to sort this out, so that the inquiry could get going this month, but she has failed to do so. Sadly it is now impossible to see how Fiona Woolf can carry on in this position."
"It should not be beyond the wit of the Home Secretary to establish a credible inquiry. There have been difficult and sensitive inquiries before that have required public confidence and have delivered extremely important results - from the Bishop of Liverpool's inquiry into Hillsborough to Michael Bichard's inquiry into the Soham murders. Theresa May needs to urgently sort this out and reestablish the inquiry on a firm footing so it can get on with its work on child protection."
Join our new commenting forum
Join thought-provoking conversations, follow other Independent readers and see their replies