First Costa, now Waterstones could be final straw for sleepy Southwold
Book chain opens 'incognito' store but says it will fit in with Suffolk town's traditional old-world feel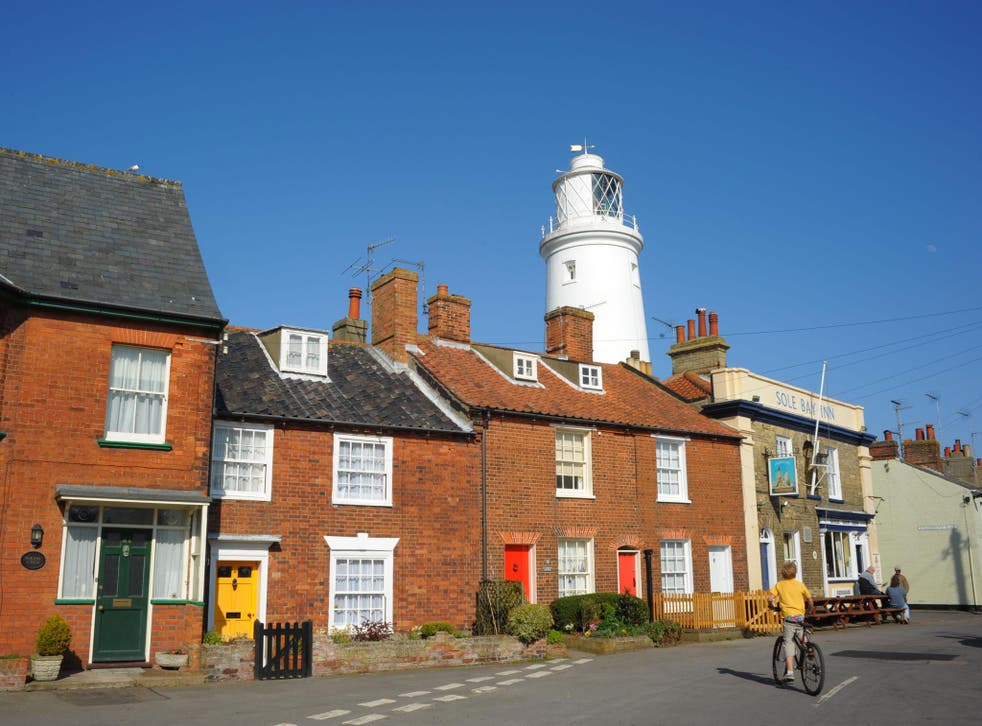 Southwold prides itself on being a quintessentially English seaside resort, with the smell of malt from the Adnams brewery drifting across the beachfront, just a short walk from a high street of traditional shops in buildings that date back centuries.
Yet residents of the picturesque Suffolk town, dubbed "Kensington-on-sea", fear it may lose its unique flavour as chain stores and restaurants target its traditional high street – they fought bitterly against the arrival of Costa Coffee two years ago, but now another big brand looks set to sneak in to the street in disguise.
The opening of the Southwold Bookshop next month should be welcome for a town that hosts an annual literature festival but has had no book store since 2011. But what looks like an independent shop is actually a branch of Waterstones, the first time the national chain has opened a store incognito.
Inquisitive locals have been peering through the window on the site of the old tourist information office, wondering what the builders are up to.
One resident, Jenny Pope, backed the move, saying: "It would be very nice to have a bookshop again. I have no problem with Waterstones coming in." Another said the move was "a bit disingenuous, but I could think of more offensive businesses".
The issue could yet prove controversial, however. John Perkins, secretary of Southwold and Reydon Society, said of mainstream chains moving in: "You're unpicking the high street, driving local people out and driving up rents. You'll get national chains and that's it.
"There's a gradual erosion of what gives this town its unique flavour. The small shops and businesses will disappear. Waterstones is just the latest ramification of that."
But Waterstones managing director, James Daunt, promises it would be a "quintessentially local bookshop" adding it would be designed to fit in. "We're not trying to hoodwink people," he said. "We aren't pretending it's something else. Can a chain run a truly independent shop? I think it can."
Mr Daunt knows the area intimately and regularly holidays in the town. He even signed the petition protesting against Costa. "I don't actually like the identikit chain and absolutely sympathise with that resistance. I hope everything I'm doing is about making our shops more individual," he said. "If we put a bog-standard Waterstones in there it would be pretty dispiriting. As a quasi-resident I wouldn't welcome that."
The town's population swells from fewer than 1,000 to as many as 8,500 with summer day-trippers, and the local community is keen to preserve the appeal. Simon Tobin, deputy town mayor, said: "We're passionate about keeping it as traditional as possibly but you have to move forward. I like that Waterstones have understood the importance of a traditional market town."
The independent shops lining the 800 yards of high street, often marked by a "My Southwold" sticker, are among the most popular in town, – from the clothes shop Collen and Clare to the delicatessen, Nutters of Southwold.
Yet chains have been creeping in. Beyond the high-street banks and supermarkets, such stores as Jack Wills and Crew Clothing are visible. The old department store is now a Fat Face clothing shop.
Many saw Costa as the final straw. Almost 75 per cent of locals wrote to the council to protest, and their defeat runs deep. Many refuse to use it and Costa can hardly be described as doing a roaring trade.
The scrabble for desirable shop space has indeed seen rents hiked and independent businesses forced out. The site of the Blue Lighthouse family-run restaurant now sits empty after they were priced out. The All Pets Pet Supplies shop saw its rent triple, and now Brian Bensley and Wil Cook run operations from a market stall twice a week.
However, it appears Waterstones is being cautiously welcomed for now because there is no competition – whereas Costa marched into a town with 19 other coffee shops.
Guy Mitchell, the chairman of the local Chamber of Commerce who also runs the post office, said: "Waterstones have taken on board the fact that the residents don't want big brands. We should feel pleased that at least the chains are recognising that."
Join our new commenting forum
Join thought-provoking conversations, follow other Independent readers and see their replies