Ceramic poppies: Thousands sold at Tower of London to raise funds for armed forces charities
Each of the 888,246 poppies which will be planted represents a life lost in the war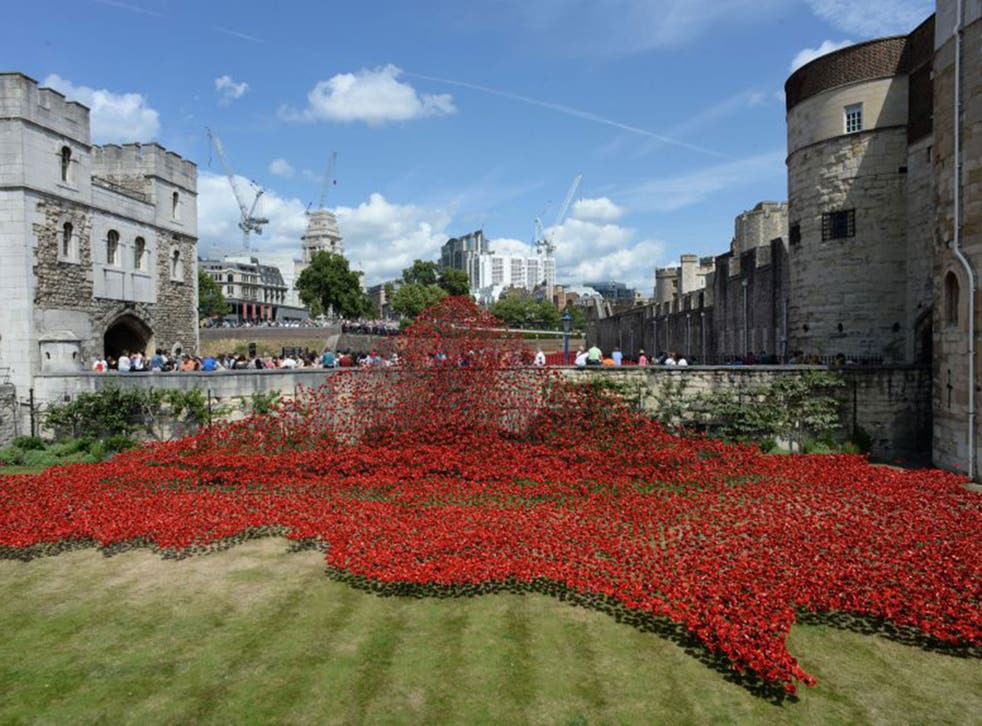 The tens of thousands of blood-red ceramic poppies, blanketing the lawn outside the Tower of London to mark the centenary of the First World War, have been bought two days after going on sale.
The installation called 'Blood Swept Lands and Seas of Red' is currently comprised of 120,000 ceramic poppies - each representing the life of a solider from Britain or the Commonwealth lost in WWI.
By November, some 8,000 volunteers will help raise the number of poppies embedded outside the iconic monument to 888,246 - reflecting the staggering loss of life in the four-year conflict.
"I'm literally trying to represent people because a number is a number, but if you see it all like this it is a visual idea of how many people were there," said Paul Cummins, who created the installation.
The flowers, which each took three days to make, were put up for public sale on Tuesday, and have been sold for £25 each.
A website and hotline dedicated to their sale was inundated with "several tens of thousands" of calls yesterday, Tower officials told The Telegraph.
WW1 Centenary

Show all 19
General the Lord Dannatt, constable of the Tower of London, told the newspaper: "We're absolutely delighted with the response from the public; thousands of people have already purchased poppies or directly donated to the six service charities.
"The installation, beautifully created by artist Paul Cummins, set designer Tom Piper and a team of dedicated volunteers, seems to have captured the imagination of people around the world and we are very grateful for their support."
After the last poppy is planted on Armistice Day in November, the small sculptures will be sent to buyers.
Funds from the sales will go to British charities such as the Royal Legion and Help for Heroes, which serve British veterans.
Since the First World War, the poppy has been a traditional symbol of remembrance in Britain, when a poem from the era recalled the fragile flower melding with the dead in Flanders.
Join our new commenting forum
Join thought-provoking conversations, follow other Independent readers and see their replies