UK Pegida rally met with thousands at counter-protests in Newcastle
The march was vastly outnumbered by a counter-demonstration in support of tolerance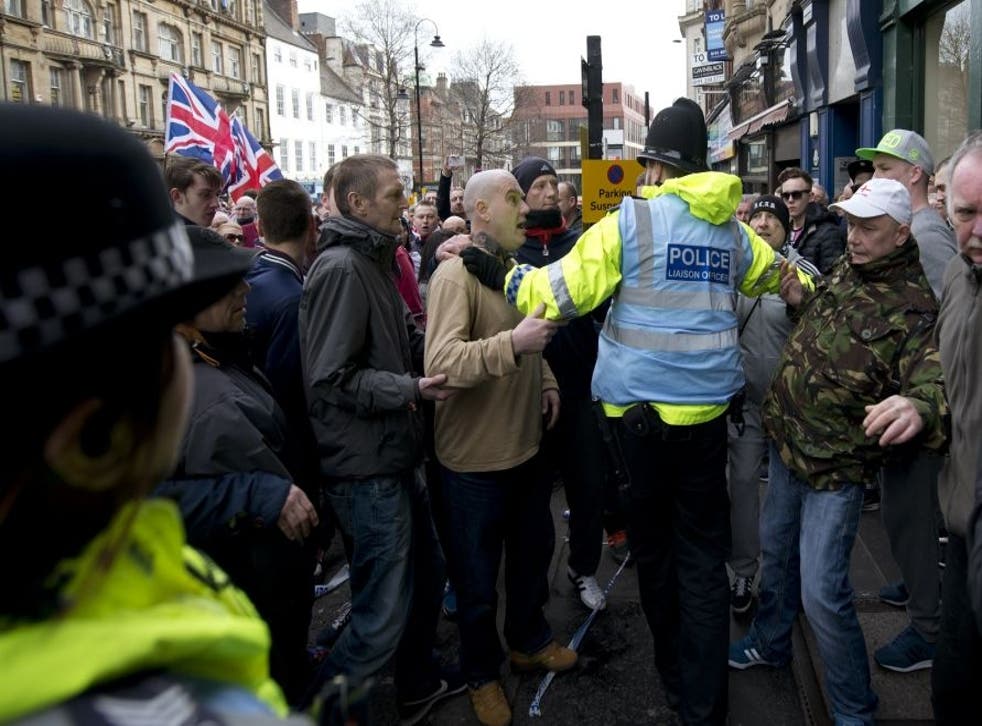 Five people have been arrested at an anti-Islam protest rally in Newcastle.
The demonstration was organised under the banner of the German anti-Islam group Pegida and was attended by around 375 people, according to police.
The march was faced down by a much larger 2,000-person counter-demonstration organised by the Newcastle Unites group, with police keeping the two groups apart.
A steward on the protest told the Press Association news agency that there had been a "brief scuffle" between members of far-right groups which had damaged the march's public address system.
Alleged offences of those arrested included assault, being drunk and disorderly, and breach of the peace, Northumbria Police said.
The Pegida movement originated in Germany and its name is an acronym for "Patriotic Europeans against the Islamisation of the West".
It held a rally in Dresden last month attended by 25,000 people attended a rally but its leadership has since faced scandal.
It is not clear to what extent the protest, which was organised on Facebook, had the blessing of the German leadership of Pegida.
Banners at the protest featured far-right insignia including that of the National Front party.
In a statement on Wednesday night the Newcastle United Football Club supporters group made it clear that far-right protesters were not welcome in Newcastle, saying the city was "famous for its tolerance, integration and warmth of spirit".
Respect MP George Galloway spoke at the counter-demonstration's rally, arguing that the anti-Islam protest was trying to "stir up trouble".
"All right-thinking people in Britain condemn the idea of a German Nazi group coming to the North East of England trying to stir up trouble," he said.
"The vast majority of British people respect that and the people who are on here on the counter-demonstration are representing millions."
Newcastle Chief Superintendent Laura Young said: "Both demonstrations passed without any problems and I'd like to thank people in Newcastle for their cooperation and support throughout.
"The vast majority of those that took part in today's events were peaceful and both groups stuck to their agreed times, routes and plans."