Flood warning: why the long-term forecast for homeowners is so alarming
With no end to the rain in sight, we report on why inadequate defences and lax building laws will put thousands of people at risk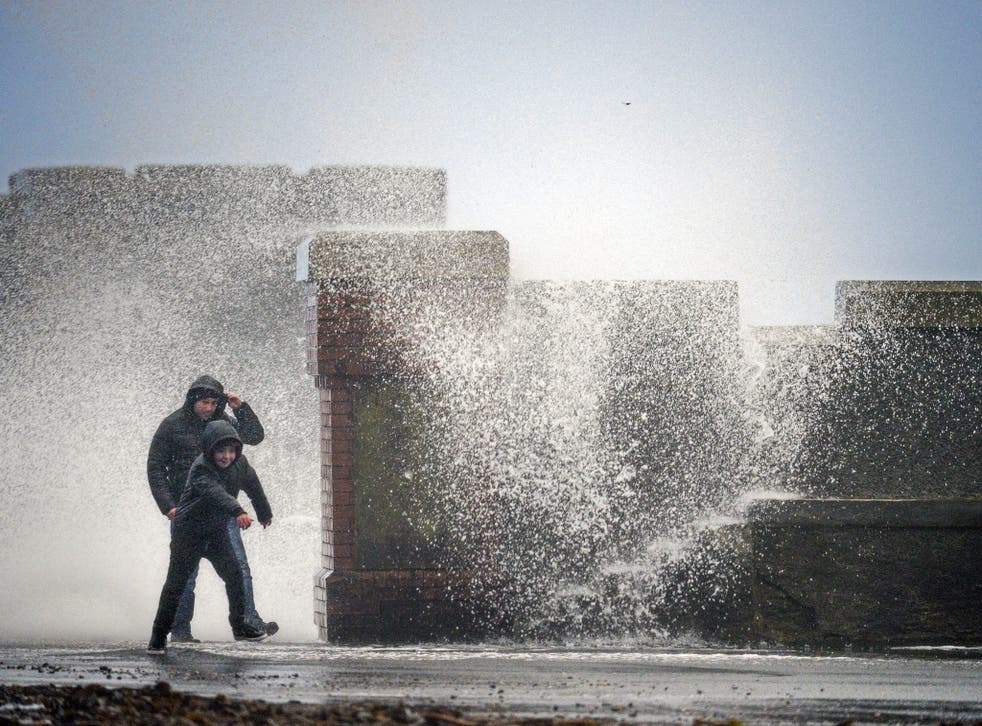 Communities in the south and north-west of England, Northern Ireland and parts of Scotland face the prospect of further flooding on New Year's Day with the Met Office forecasting that the year will begin with persistent and heavy rain across much of the country.
After a stormy week which has already flooded about 1,300 properties across England, the prospect of further flooding has fuelled fears that Britain is not adequately prepared for the increasingly heavy rainfall which campaigners and scientists expect will hit the country in the coming years.
Campaigners argue the Government is cutting the resources it devotes to tackling flooding, just as it relaxes building laws making it easier to build on land with a high flood risk, at the same time as climate change means storms are likely to become more frequent and intense.
Furthermore, they say a new fund set up to insure homes at such a high risk of flooding that they are "uninsurable" by traditional insurers is nowhere near big enough because the Government has hugely underestimated the number of properties in severe danger of flooding.
There are also short-term problems to be dealt within the next few days. The Environment Agency has placed teams on the ground "around the clock" operating pumping stations, issuing flood warnings and checking that flood banks, walls and barriers are working effectively.
"On New Year's Day, heavy rain is expected which could cause flooding to communities in the south-east and south-west of England," an agency spokesman said. "People travelling this week are reminded to check the latest flood updates ahead of making journeys and should not drive through dangerous floodwater."
Heavy rain was also expected in Northern Ireland, north-west England and Scotland this afternoon and evening and the Met Office warned there was a risk of further flooding.
Long term, opponents of the Government's flooding strategy say recent events have shone a spotlight on the inadequacy of Britain's storm defences and say the situation is only going to get worse.
Guy Shrubsole, a climate campaigner for Friends of the Earth, criticised the Government for its plan to cut 557 Environment Agency staff as part of its budget cuts.
"With Britain braced for fresh storms, the Government must urgently reverse its short-sighted plans to cut hundreds of jobs from the Environment Agency, which is working hard to defend the country from flooding," Mr Shrubsole said.
Bob Ward, the policy and communications director at the London School of Economics Grantham Institute, said the Coalition was not taking flooding seriously enough, with potentially serious consequences for insuring those homes most at risk. He accused the Government of hugely underestimating the number of households rendered uninsurable by repeated flooding after it admitted last month that it had not taken into account the effects of climate change, new development in flood-risk areas or flash flooding.
Some three million households are at risk of flash flooding, but the Government's insurance calculation is concerned only with the risk of floods due to river and coastal floods. Mr Ward said annual rainfall increased by about 5 per cent between 1981 and 2010, and the global sea level is rising by more than 3cm every decade, "posing a particular problem for coastal properties in south-east England where the Earth's crust is slowly sinking". "By ignoring climate change, [the Government] has significantly underestimated the number of homes exposed to significant flood risk and which might need to be covered by Flood Re," said Mr Ward.
Flood Re is the not-for-profit fund the Government agreed to set up with insurers four months ago that would protect 500,000 households in areas now dee med to be at such high risk that their owners are unable to get cover. Through a £10.50-a-year levy on all residential premiums due to be introduced in 2015, the plan is for the £180m raised each year to make sure properties remain insurable.
But Mr Ward and others argue that by ignoring climate change, new developments and flash flooding, the Government is underestimating by about 300,000 the number of residential properties Flood Re will need to cover. The Government says it has increased spending on flood defence infrastructure. Last month, the Environment Minister, Dan Rogerson, said: "We understand the damage and the stress that flooding can cause. That's why we're spending an unprecedented amount of money on protecting communities from flooding and coastal erosion."
However, the Government's own advisory body, the Committee on Climate Change, concluded that expenditure "remains below the amount the Environment Agency estimated in their 2009 long-term investment strategy would be required to keep pace with climate change".
In the year to 31 March 2013, 560 homes were built despite concerns raised by the Environment Agency about issues affecting them such as drainage and flooding – taking the number of such homes to 3,930 in five years. In 2012, about 70,000 properties were flooded at a total cost to the country of £600m. The way things are going, experts worry that the total cost to the country of flooding in future years could be considerably higher.
Join our new commenting forum
Join thought-provoking conversations, follow other Independent readers and see their replies