Former HBOS chief executive Sir James Crosby sold off shares in bank on the eve of crash
Ex-HBOS chief admits selling two-thirds of holding in two years before near-collapse
James Moore
Tuesday 04 December 2012 00:00 Comments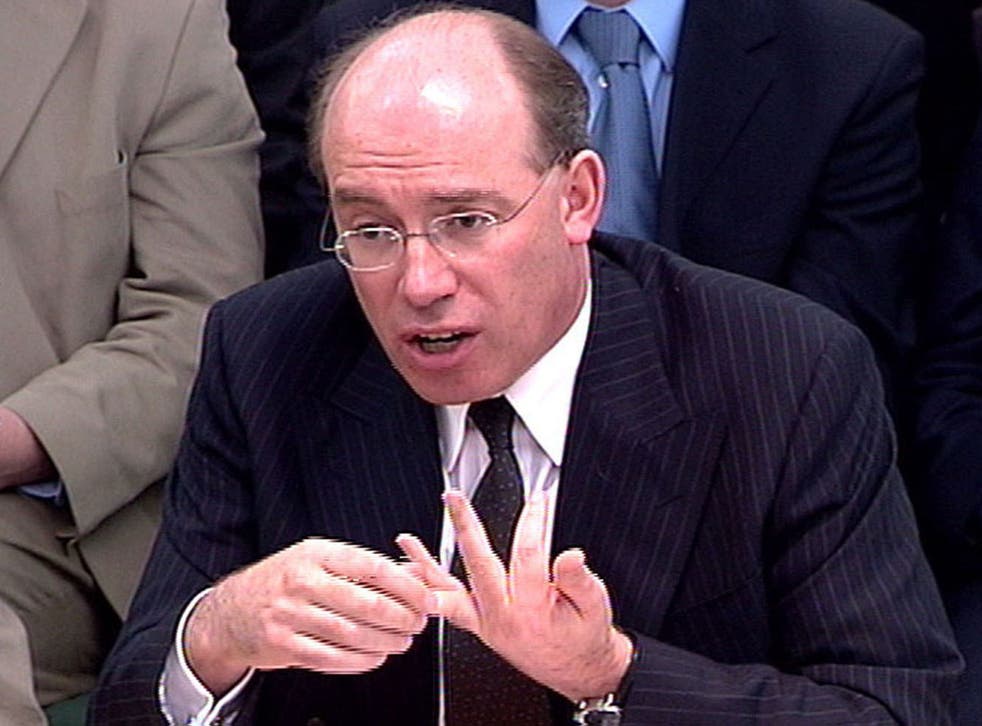 The former chief executive of HBOS has told members of the Parliamentary Commission on Banking Standards that he sold two thirds of his shares in bank in the two years before its near collapse.
Sir James Crosby also admitted that lending by bankers at HBOS was "incompetent" after a heated exchange in which he was challenged on at least 15 separate occasions by Andrew Tyrie, chairman of the Commission.
Sir James earned nearly £8m while chief executive of the bank he brought to life by stewarding the merger of Halifax with Bank of Scotland. He retired on in the middle of 2006 on an index linked pension of £570,000, Commission members were told.
His staggering admission is now likely to put him on a level of Fred Goodwin, former boss of Royal Bank of Scotland, as one of the chief villains of the financial crisis.
Mr Tyrie described the collapse of HBOS as "a terrible catastrophe" and accused Sir James of getting out before the crash.
Sir James said in response: "In effect yes, but not knowingly. I was essentially balancing my portfolio of assets."
The bank was ultimately rescued by Lloyds in a Government brokered deal, and its cavalier lending was largely responsible for Lloyds having to go cap in hand to the taxpayer for two multi billion pound bail outs.
The last available public information on Sir James' shareholding is in the 2005 HBoS annual report. It shows that he had a "beneficial interest" in 284,758 HBOS shares. However, a further 218,000 in long term awards vested in 2006 plus 50,000 more under a short term scheme bringing to the total to more than 550,000. On his last day at work in the middle of 2006 the share price stood at 946.72p. Six months after Sir James left, the shares had increased in value to more than £11 each.
Yesterday shares in Lloyds Banking Banking Group, which took over HBOS in 2009, stood at 45.74p.
Sir James for the first time apologised for the near collapse of HBOS saying: "I was horrified and deeply upset by what happened. Hugely distressing in every respect to see the impact on shareholders, former colleagues... and taxpayers.
"I'm apologising for the fact that I played a major part in building a business that failed."
But he said he hadn't followed Mr Goodwin, former chief executive of Royal Bank of Scotland who lost his knighthood as a result of the crisis, by giving up any of his index linked pension. He said this was because "I lost money because I had long term incentives sitting there". Executives often have millions locked up in long term incentive plans linked to company performance.
Asked if he grasped the public's anger about the money he made from the failed bank and his failure to give up any Sir James insisted that he did.
Mr Tyrie later pointed out that 10 per cent of HBOS loans had gone bad, twice that of the next worst bank - Royal Bank of Scotland - and more than three times more normal banks such as HSBC or Barclays.
Sir James sought to portray the financial crisis as "unprecedented" although he admitted that HBoS stress testing was inadequate. However, he said it was impossible to foresee the collapse of the international lending markets on which HBOS relied for funding.
Mr Tyrie challenged him, saying the figures suggested that the bank's lending was "incompetent".
He said: " You were a founder ceo of the merged business (of Halifax and Bank of Scotland that HBOS) and set the first strategic plan. If you look at that plan it is ambitious possibly aggressive in terms of its overall targets."
Mr Crosby said this could be true "with the benefit of hindsight".
He was then asked: "Do you recognise that this was incompetent lending."
Sir James said: "With the benefit of hindsight it wasn't good lending."
Mr Tyrie then repeatedly made the point before Sir James finally accepted that "with the benefit of hindsight it (the lending) was incompetent".
"I will agree that in the end corporate losses were excessive and the lending was very poor ," he continued.
Sir James's positions at the heart of the financial establishment have become increasingly controversial. He was Gordon Brown's banking advisor and a director of the Financial Service Authority. His role at the regulator is now being investigated to see whether he had "undue influence" in the oversight of HBoS as part of a planned report into the bank's demise.
Sir James' successor Andy Hornby later described events at the bank as "appalling" before the Commission. Mr Hornby subsequently landed a £1m a year role as chief executive of Boots which he left after less than a year. He is now the boss of Coral's, the bookmaker.
Register for free to continue reading
Registration is a free and easy way to support our truly independent journalism
By registering, you will also enjoy limited access to Premium articles, exclusive newsletters, commenting, and virtual events with our leading journalists
Already have an account? sign in
Join our new commenting forum
Join thought-provoking conversations, follow other Independent readers and see their replies