Former Isis militant describes his journey from Royal Mail postman to 'Islamic State' jihadist
Harry Sarfo joined Isis in Syria in April last year and appeared in a propaganda video that called for terror attacks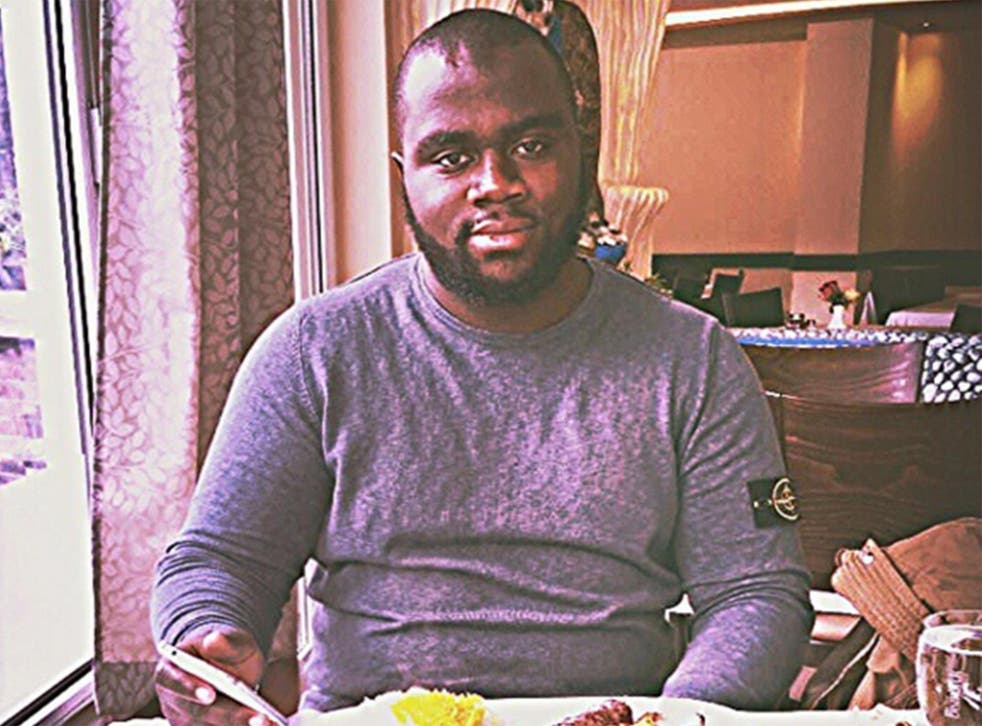 At first glance, Harry Sarfo's Instagram account could belong to many young men enjoying life in their mid-20s.
Smiling, he poses in restaurants, with friends, working out and even modelling clothes and chains in a throwback snap for an urban clothing brand.
But the seemingly carefree snapshots are interspersed with Islamic memes on prayer, sin, hell and the afterlife, hinting at the internal conflict that would eventually see him abandon Europe for Syria to live under the so-called Islamic State.
During his three months under the "caliphate", he trained as a fighter in its special forces and appeared in a propaganda video calling for European Muslims to join Isis or commit terror attacks at home.
But what caused a young German man, who grew up and studied in London, to join Isis?
Sarfo said he was lured in by videos that he then believed showed "unity under one flag...white, blacks, Asians and Arabs from all walks of life protecting the Sunni Muslims".
The message spoke powerfully to the 27-year-old, who felt alienated and victimised after being repeatedly detained in Germany and put under surveillance by intelligence agencies.
He had an unsettled childhood that saw him move from Bremen's Osterholz-Tenever district to London as a teenager after his father left the family.
Possessing only lower-tier qualifications from Year 9 at his German secondary school, he enrolled at an English course at Leyton Sixth Form College in September 2005.
Despite being brought up by his Ghanaian parents as a Catholic, Sarfo said he felt a burgeoning interest in Islam and started attending speeches on the religion during every break.
"Mr Sarfo may have listened regularly to some of his fellow students talking about Islam but formal talks and debates organised by the Islamic Society had all topics approved and monitored by senior staff, and took place perhaps twice or thrice a year," a spokesperson for Leyton College said.
When he moved on to study construction at Newham College of Further Education for three years, Sarfo said one of his best friends, of Bangladeshi origin, started to become more religious and started long debates about religion and purpose.
"I decided for myself that Islam is the religion that my heart is beating for," Sarfo said. "I accepted Islam by the age of 20, in a small mosque by Bow in east London where friends of mine regularly attended."
At the time he was working at a branch of Wickes in Edmonton and later joined Royal Mail to work as a postman in the Holloway area, while living in north London.
Sarfo, who started to go by the name Bilal, was already using his weekends to speak to Muslim youth groups "about a life in crime and the life of Muslim men – how we should behave ourselves and not become criminals".
But his former links to crime in Germany would come back to haunt him and after he completed a course in housing at the College of Haringey, Enfield and North East London (Conel) he was charged with involvement in a 2010 armed robbery, which had seen Sarfo and a group of friends steal €23,500 (£18,300) from a supermarket and jet to Gran Canaria to spend it.
Sarfo was sentenced to two years imprisonment for his part in the heist and found himself in a Bremen jail with René Marc Sepac, an al-Qaeda-linked radical jailed for spreading jihadist propaganda.
"I learned the ideology of Tawheed and Jihad, which changed my whole understanding of Islam," Sarfo said. "I served one year and after I got released, I started to visit a mosque which was known for its extreme views."
At the now-closed Furqan Mosque, Sarfo's radicalisation continued as fellow worshippers started disappearing to Syria.
In April 2014, he attempted the journey for the first time himself, reaching the Turkish city of Gaziantep before being arrested and deported back to Germany at the border.
Sarfo insisted that, on that occasion, he was not attempting to join Isis and was joining British friends who "regularly" delivered donations on charity runs to Syria as it continued to be ravaged by civil war.
German authorities failed to believe his story and confiscated his passport, put him under surveillance and ordered him to report to a police station twice a week.
"They thought I was a terror suspect," Sarfo said, but claimed he had no contact with extremists in the following months as he got married and attempted to settle down.
But rumours had spread and the couple were ostracised by neighbours, having their bell rung at night as armed police launched successive raids on their home.
As Sarfo's sense of alienation grew, the man he would later join to travel to Syria with started urging him to join Isis.
"My friend kept on telling me: 'This is what you get for being Muslim in the West...you are black and Muslim, your wife is covered, what do you expect? They think you are a bloody terrorist. You should go and live in the Islamic State, where every Muslims' rights are protected'," Sarfo recalled.
"At the time, everything he said made sense. "
After being detained again, Sarfo followed the advice.
Former London student in Isis execution video
"I didn't feel like a man anymore, my neighbours stopped greeting me in the place I wanted to start a new life for me and my wife," he said.
"The police and the authorities destroyed it. They made me become the man they wanted."
Similar arguments have been made by several convicted extremists, alongside their families, friends and supporters.
Mohammed Emwazi, the British Isis militant known as Jihadi John, was memorably described by the Cage advocacy group as a "beautiful young man" before being subjected to what it characterised as four years of "harassment" by security agencies.
Like Sarfo, he was repeatedly searched, detained and deported, feeling increasingly victimised by the UK, which failed to recruit him as an informant.
Charlie Winter, a terrorism analyst, said blaming security services has become a "standard refrain" in the current discourse on extremism, especially from "from individuals who are trying to blame others for the choices they have made".
Timeline: The emergence of Isis

Show all 40
Mr Winter, a senior research associate and terrorism analyst at the Georgia State University, said that although police treatment and alienation may have compounded existing grievances, it alone would not cause someone to embrace Isis ideology.
"There's a chance it has some impact, probably compounding existing grievances he had, but the adoption of the ideology that Isis espouses did not come about because of the security services," Mr Winter added.
"It's clear that Sarfo possibly had a terrible time. A troubled person, petty crime, prison, a charismatic radical teacher – that's a pattern that's being repeated time and time against and it's not very surprising."
Sarfo travelled to join Isis in Syria in April 2015, training in its special forces before appearing in a propaganda video that called for German Muslims to wage jihad at home and abroad.
Claiming to be horrified with its brutality and fearing for his life, he fled the "caliphate" after three months and was arrested upon his return to Europe by police awaiting his arrival at Bremen Airport.
A spokesperson for the German federal prosecutor's office said he has been charged with being an Isis member, undergoing firearms training and appearing in propaganda urging Germans to travel to Syria or launch attacks at home.
The Home Office and German interior ministry declined to comment on Sarfo's claims while the case continues.
Join our new commenting forum
Join thought-provoking conversations, follow other Independent readers and see their replies