Gandhi statue unveiled in Parliament Square – next to his old enemy Churchill
Prime Minister unveils statue of leader of Indian independence in square mainly dedicated to those who served British Empire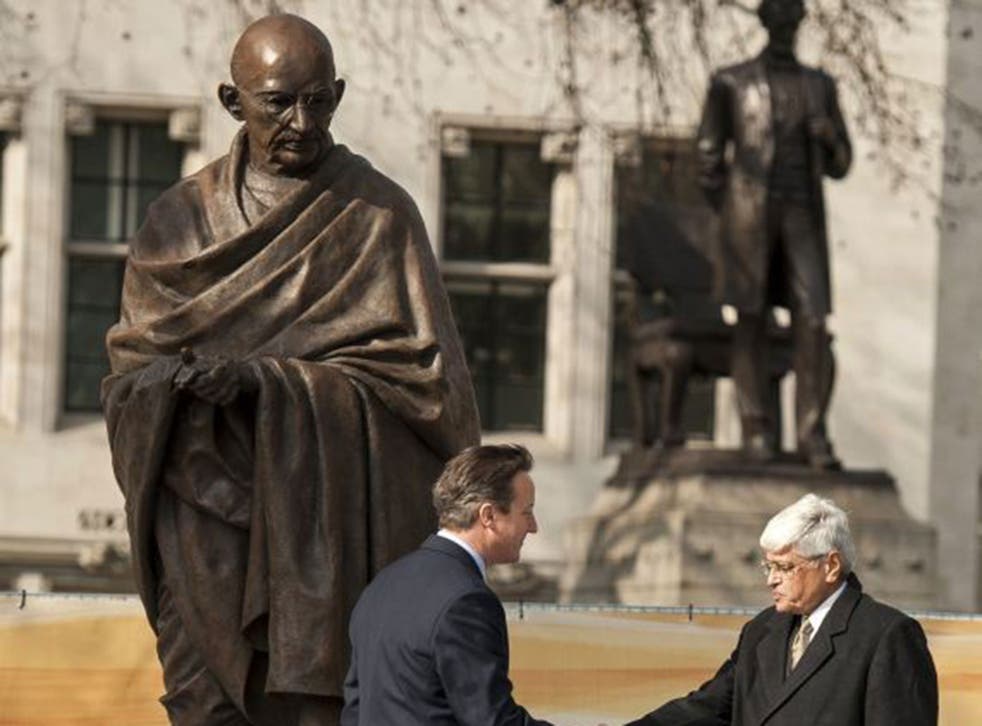 A nine-foot statue of Mahatma Gandhi has been unveiled in London's Parliament Square - dedicated mainly to figures who protected the British Empire he so vehemently opposed.
The historic square contains statues of various ex-prime ministers who helped protect the realm in times of need, including Sir Robert Peel, David Lloyd George and Winston Churchill, as well as various other prominent historic figures, including Nelson Mandela.
The new addition would no doubt be unpopular with Churchill, the former British leader who famously tried to thwart Indian Independence and despised Gandhi and his beliefs.
Churchill famously called Gandhi "a seditious Middle Temple lawyer, now posing as a fakir of a type well-known in the East, striding half-naked up the steps of the Viceregal Palace".
The statue was unveiled by Indian Finance Minister Arun Jaitley nearly seven decades after India won independence from Britain after Gandhi's civil disobedience campaign and it marks the 100th anniversary of return to India from South Africa to start the struggle for self rule.
Finance Minister Jaitley said: "It ... marks an important, historic moment celebrating the strong bond between our two nations," Reuters reports.
David Cameron watched looked on as he pulled the orange drape from the statue, crafted by British sculptor Philip Jacksonn, based on a photograph of Gandhi standing outside the offices of the British Prime Minister in 1931.
Cameron said: "India and the UK share the same values and we are a partnership of equals. This lasting friendship is just one of many legacies left by Gandhi," Reuters reports.
He added: "This statue is a magnificent tribute to one of the most towering figures in the history of world politics," said Cameron. "Many of his teachings remain as potent today as when he first made them."
Indian film star Amitabh Bachchan spoke at the event, as did Gandhi's grandson Shri Gopalkrishna Gandhi.
Join our new commenting forum
Join thought-provoking conversations, follow other Independent readers and see their replies