Gay priest defies Church of England ban on same-sex marriage as senior vicar warns of 'crisis'
Hospital chaplain Canon Jeremy Pemberton, 58, becomes the first Church of England priest to marry person of same sex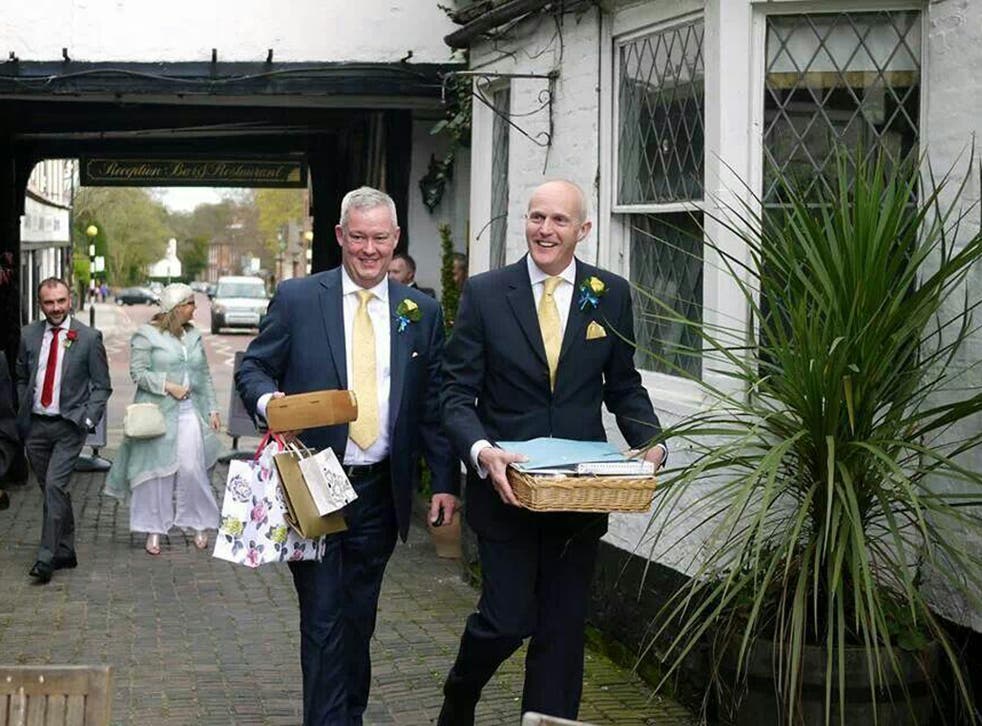 A hospital chaplain has become the first priest to defy the Church of England's ban on gay marriage after he wed his long term partner on Saturday.
Canon Jeremy Pemberton, 58, who belongs to the Church's Lincoln diocese, married Laurence Cunnington, 51, at an unknown location.
The pair would have been unable to marry in an Anglican church as the Church of England refused to support the Government's legalisation of gay marriage last month. As well as banning clergy from marrying a person of the same sex, priests are not allowed to direct same-sex marriages.
Archbishop of Canterbury Justin Welby last week claimed that if the Church of England accepted gay marriage, Christians in countries where homosexuality is illegal would be killed.
Following the change of law, The House of Bishops' guidance on same-sex marriage, signed by Archbishop Welby and the Archbishop of York John Sentamu, said: "We are all in agreement that the Christian understanding and doctrine of marriage as a lifelong union between one man and one woman remains unchanged."
In pictures: UK's first gay weddings

Show all 16
But speaking to the The Mail on Sunday Canon Pemberton, a divorced father of five said: "I love this man and I want to be married to him.
"That's what I want. It is the same as anyone who wants to get married."
Following the wedding, Canon Pemberton took to Twitter to express his delight, describing the ceremony as "very moving and very happy". He said that being the first was "accidental", adding that "we just wanted to get married".
The couple have received floods of well wishes on social media, including from some corners of the Church, including LGBT activist Rev Stephen Sorby, who said: "Congratulations lovely. Every blessing. We stand with you", and the vicar of Sedbergh in Cumbria, Drew Mac, who wrote: "Congratulations and best wishes - and may God bless you too!"
Support also came from Rev Colin Coward, director of the Changing Attitude campaign group and Dr Giles Fraser, the former canon chancellor of St Paul's.
But Rev Rod Thomas, chairman of the conservative Reform group and member of the General Synod, told The Telegraph that Canon Pemberton should be reprimanded, warning that inaction could trigger "crisis" in the Church of England.
He said: "If there is not clear discipline then it is the equivalent to saying 'we really didn't mean what we said.' It will precipitate a crisis."
The Bishop of Lincoln, the Right Reverend Christopher Lowson, said he spoke to Canon Pemberton, who is a chaplain of the United Lincolnshire Hospitals NHS Trust, after he informed him that he would be getting married, but did not say if he would now be taking disciplinary action.
He said: "I am aware that a member of the clergy who works in the Diocese of Lincoln has married a partner of the same sex.
"The priest concerned wrote to me in advance to explain his intention and we had a subsequent meeting in which I explained the guidelines of the House of Bishops."
Join our new commenting forum
Join thought-provoking conversations, follow other Independent readers and see their replies