GCHQ spies in red rain ponchos create giant poppy ahead of Remembrance Day
More than 1,300 staff were involved in the Royal British Legion event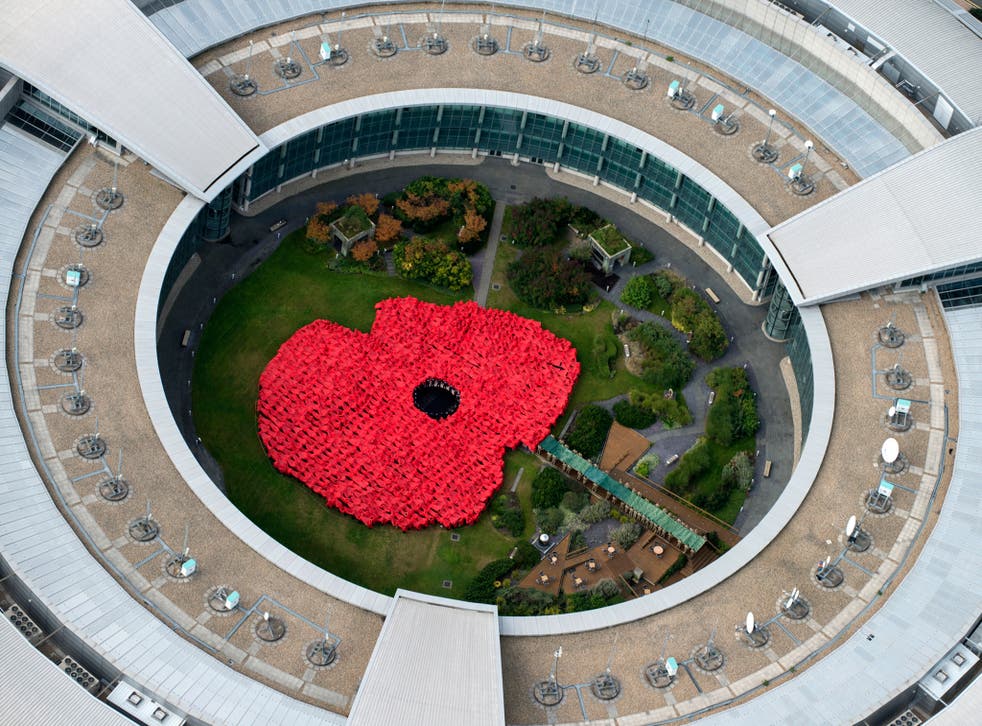 Spies at GCHQ have donned red rain ponchos to make a giant poppy launching the Royal British Legion's annual appeal.
More than 1,300 staff at the Government Communications Headquarters (GCHQ) formed the shape in the courtyard of its secure building in Cheltenham.
The intelligence agency's brass band, "Top Secret Brass", provided "rousing music" and a Mexican wave was attempted before the event took a more sombre turn for a minute's silence.
Black-uniformed Royal Navy personnel made up the centre of the poppy and soldiers in green created the 92ft stalk.
"Thanks to military planning and some loud hailers, it took just over an hour to get everyone into position," a GCHQ spokesperson said.
"The event gave all involved the chance to actively show their support to the Legion and military family."
The Gloucestershire branch of the Royal British Legion had asked for help creating an "iconic image" to launch this year's poppy appeal and GCHQ accepted the challenge.
Made on 1 October, a spokesperson said the poppy represented "remembrance of the past and hope for the future".
More than £1,700 was raised for the Legion in donations and the leftover rain ponchos are being sent to local charities.
One of the GCHQ staff, who made up part of a petal, said: "I was really proud to take part and show my support for the Royal British Legion by coming together with my colleagues, united in purpose, to honour those who have served and continue to serve this country."
Nicole Mayall, a community fundraiser for Gloucestershire's poppy appeal, said the charity was "so grateful" to GCHQ for the money raised, which will fund welfare for serving and previous members of the armed forces and their families.
"It is so moving to see so many people standing together to support the work of The Royal British Legion," she added.
GCHQ has supplied intelligence to the military since 1914 and deploys staff to warzones.
The agency, which is responsible for signals intelligence, is one of the three UK intelligence and security agencies, alongside MI5 and the Secret Intelligence Service (MI6).
It came under fire after Edward Snowden's leaks revealed it had spied on foreign politicians at a G20 summit and was secretly monitoring private online communications through Prism, a controversial American programme.
Join our new commenting forum
Join thought-provoking conversations, follow other Independent readers and see their replies