George Osborne supermarket photo: Former Chancellor papped as 'man of the people' posing with youths
New editor of the Evening Standard raises eyebrows on Twitter with latest photo opportunity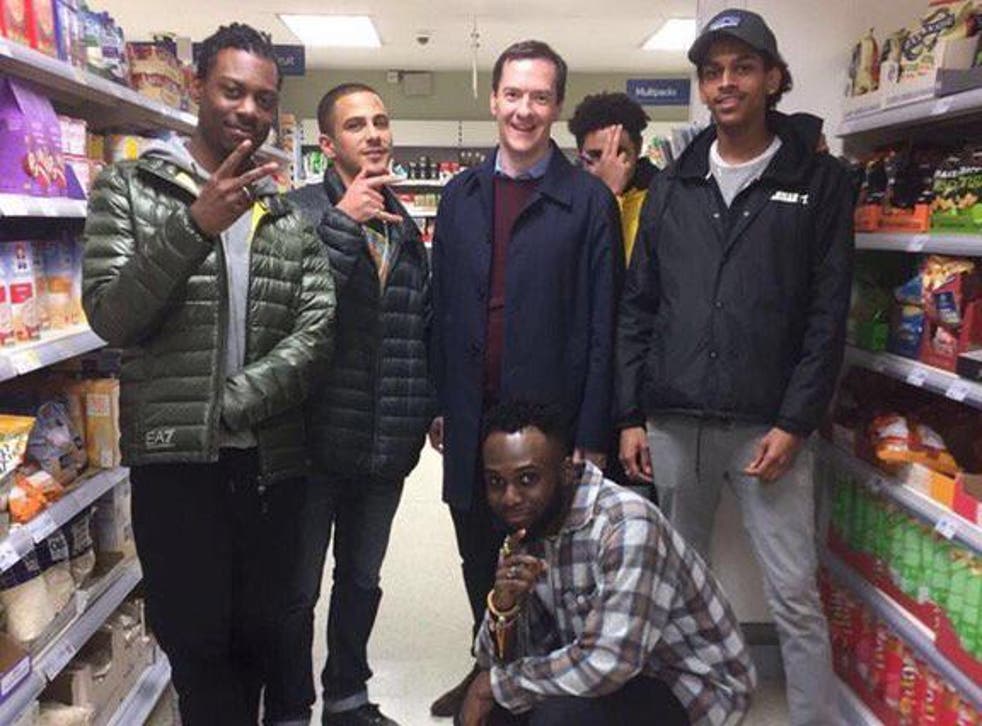 As he leaves politics to take up his new post as editor of the Evening Standard, former Tory Chancellor George Osborne seemed keen to prove he is in touch with the youth of London as he posed for a picture with a group of young males in a supermarket.
Mr Osborne is not seeking re-election as the MP for Tatton, and will instead focus his attention on his new role in charge of the daily London newspaper, which he takes up on Tuesday.
But the Notting Hill resident has got a head start on getting in touch with his London readership, sparking amusement on Twitter with his unlikely pose with five young men in what appears to be a London co-op.
The image was widely shared, with one user commenting: "I'm screaming - @George Osborne: man of the people.'"
Other comments included: "Is George finding yet another occupation by fronting a new band?" with a suggested name of "6 Jobs" in reference to Mr Osborne's various interests including his lucrative part-time role as a financial adviser for BlackRock and his public speaking engagements.
Another Twitter user suggested he had joined a boy band called "Gideon Direction" in reference to Mr Osborne's birth name, which he changed by deed poll.
Several comments made fun of the Oxford graduate's privileged background.
One user said: "How embarrassing for George Osborne. He knew he should have got Fortnum's to deliver."
Mr Osborne was frequently criticised for targeting young people during the age of austerity, during which he and David Cameron presided over abolishing housing benefit for most under 25s, upped tuition fees to £9,000 a year, reduced tax credits and child benefits and stripped back funding for youth services.
One comment said: "I wonder if they realised that was the guy who was responsible for getting rid of their EMA" in reference to the education maintenance allowance that 16-19 year olds from poorer backgrounds were able to claim until then-Chancellor Mr Osborne abolished it as part of the swingeing cuts.
Mr Osborne attracted scrutiny as the UK's highest paid MP through his various outside interests, but has stepped down from his £71,000 a year role in Parliament to take up the top job at the Evening Standard, for which he will be paid a reported annual salary of £200,000.
Join our new commenting forum
Join thought-provoking conversations, follow other Independent readers and see their replies