Girl paralysed for 11 days surprises her overjoyed nurse by getting out of her wheelchair
Bailey was suddenly able to walk again after losing all sensation in her legs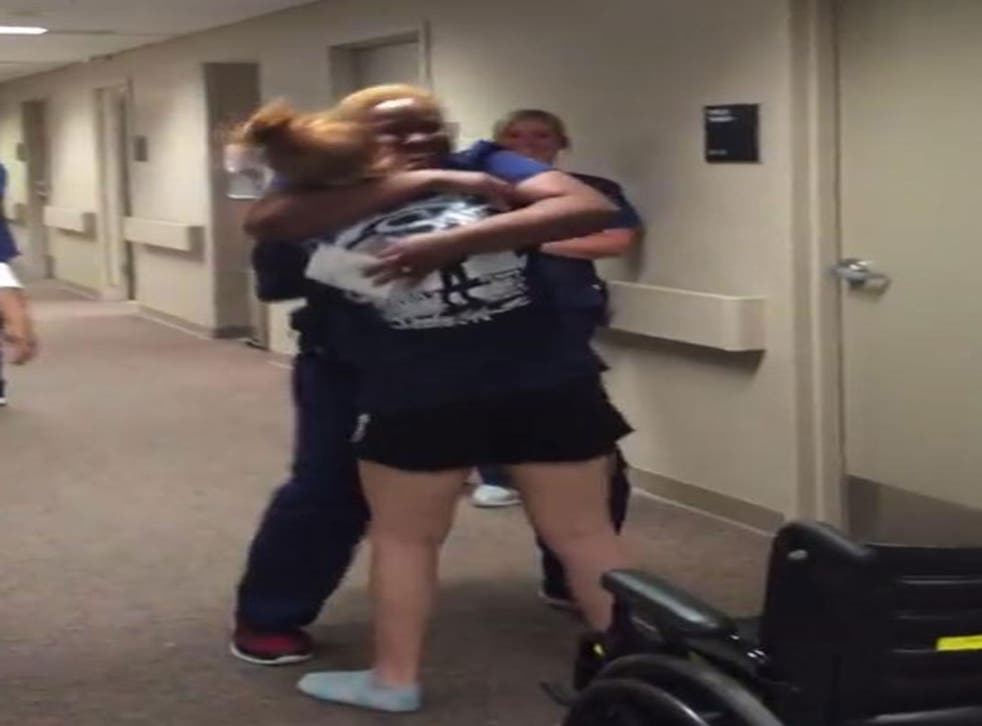 A girl who was paralysed for 11 days filmed the reaction of an overjoyed nurse she surprised by standing-up from her wheelchair after re-gaining the feeling back in her legs.
Becky Murrill said her daughter Bailey suddenly and inexplicably became completely paralysed from the waist down and remained hospitalised in this condition for 11 days.
"This video is of one of her favourite nurses coming onto her shift and not knowing that Bailey had started walking on this day," she wrote on YouTube alongside the video, 'Love our Nurses!'
"The day before Bailey still had no feeling or movement in her legs. I want to thank everyone for their prayers, blessings, and support through this."
The nurse's enthusiastic reaction has been viewed nearly one million times – with some commenting on the firm grip used as she hugs and rocks Bailey.
"Take it easy you're gonna put her back into that wheel chair", wrote one, while others joked: "Careful with those hugs or you'll re-paralyse her" , "surprise spine test" and "almost broke her back again with that hug".
Some were more sentimental about the video, writing: "My boss says I need to cut down on crying in the office" and "amazing to see how close a connection people can form through care".
The reason for Bailey's sudden paralysis is not known.
Join our new commenting forum
Join thought-provoking conversations, follow other Independent readers and see their replies