Man who befriended stray dog during extreme desert marathon launches reunion appeal
The dog ran alongside Dion Leonard for 124 kilometres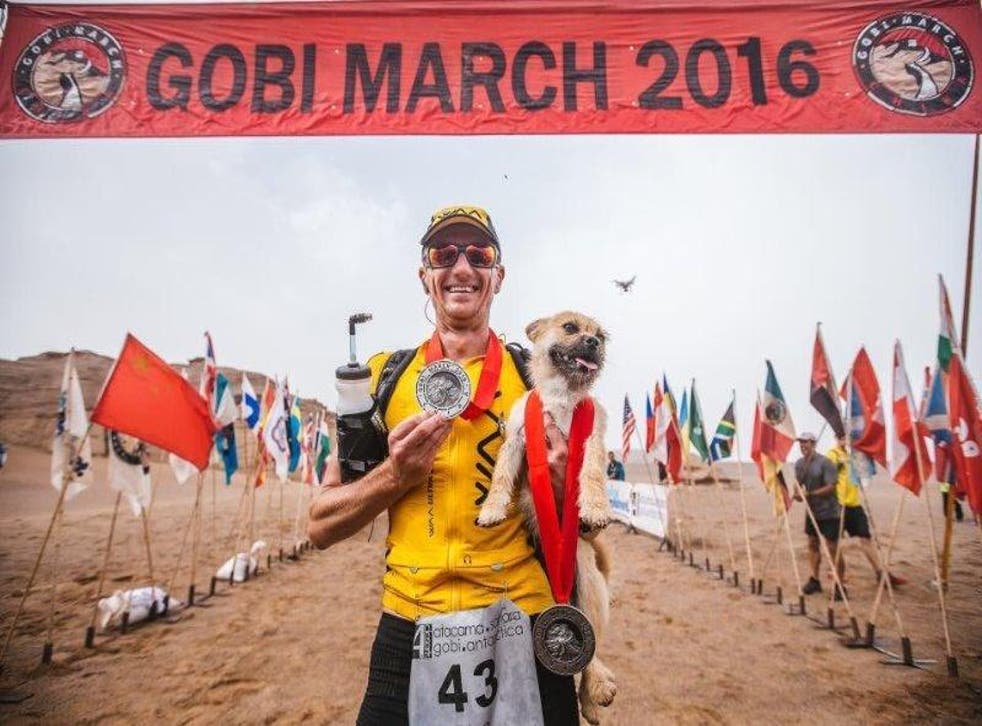 An extreme marathon runner has launched an appeal to be reunited with a stray dog with whom he formed an "unbreakable bond" during a 250-kilometre (155 mile) race in the Gobi desert in China.
Dion Leonard, 41, hopes to raise the funds that will allow him to be reunited with the dog, named Gobi, who joined him during the annual 4 Deserts Race Series in March.
Gobi began running alongside the 101 competitors as they ran through the Tian Shan mountain range. Despite her small size the dog managed to run half of the race.
Mr Leonard, from Edinburgh, developed a particularly close bond with Gobi. He told The Independent: "At the start of Day two, Gobi was on the start line next to me looking up at me.
"This was the first contact I had with her and as I ran off the line I noticed her by my side.
"I didn't speak much to her that day thinking she wouldn't stay with me, but at the finish line she followed me into the tent and we slept next to each other. That was it then."
Mr Leonard set up the crowdfunding page to raise funds towards organising for Gobi to be transported from China to live with him in Scotland.
The process will take up to four months and cost £5,000, with the dog having to be medically checked and quarantined before she can be cleared for entry.
In pictures: Animal communication

Show all 5
The £5,000 target has already been smashed, with the page having already received £7,965 in donations after it went viral on social media.
Mr Leonard said he will spend any leftover money on a dog shelter charity or dog rescue facility.
He hopes Gobi will be in Edinburgh by Christmas, adding: "She joined us on the cold side of the mountain - so I'm sure she will adapt quickly to life in Scotland."
Join our new commenting forum
Join thought-provoking conversations, follow other Independent readers and see their replies