At the going down of the sun we shall remember them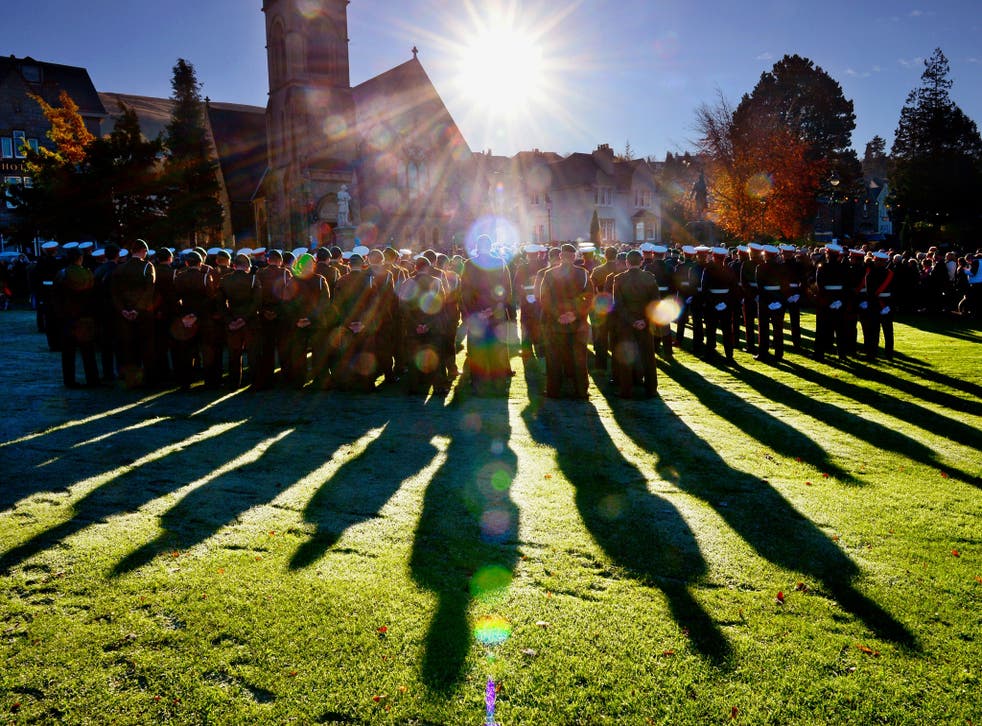 As with every Armistice Day since her birth on 11 November 1921, today's commemoration of the end of the First World War – along with conflicts before and since – will be an occasion of both solemnity and celebration for Dorothy Ellis.
The last surviving widow of a soldier from the Great War, Mrs Ellis will mark her 93rd birthday at a ceremony with a group of army cadets at the National Memorial Arboretum in Staffordshire before she lays a wreath in memory of her late husband, Wilfred, and his fallen comrades.
A day after Remembrance Sunday was marked at the Cenotaph in central London with a two-minute silence and a march past by 10,000 veterans and civilians, alongside hundreds of similar ceremonies at home and abroad, the presence of Mrs Ellis will provide a poignant direct link to the men of the 1914-1919 war ahead of next year's centenary events.
Wilfred Ellis survived being shot, gassed and left for dead in the mud of northern France to return home to eventually marry Dorothy, who was born three years after the end of the war and met her husband – 23 years her junior – when she was in her late teens after he moved to her native Devon.
His story, along with that of two other First World War veterans, formed the basis for the novel War Horse – and the subsequent play and film – after he chatted over a series of evenings to the book's author Michael Morpurgo in the pub of the Devon village where all four men were living.
Wilfred, who returned home to become first a cruise ship musician and then an antiques dealer with Dorothy, died shortly before the novel was published in 1982.
But Mrs Ellis has kept her late husband's memory alive, devotedly attending local remembrance services ahead of today's ceremony, organised by the Royal British Legion. Her niece, Pauline Smith, 59, from Highbridge, Somerset, said: "She is very proud of Wilfred and what he did and she has always felt that it was important that people, in particular the young ones, should know what the soldiers went through.
"The success of War Horse has helped tremendously with that. Wilfred of course did not see the success it would have but we think he would have been pleased as well."
Among those taking part in Sunday's Cenotaph commemorations were members of the "secret army" signed up to act as saboteurs in the event of a Nazi invasion of Britain. The men of the Auxiliary Units, as the resistance force was known, attended the parade for the first time. Their role, described by one historian as a "suicide mission", was forgotten after the war because the volunteers had all signed the Official Secrets Act, binding them to silence.
Join our new commenting forum
Join thought-provoking conversations, follow other Independent readers and see their replies