Gordon Ramsay's father-in-law jailed for six months for hacking chef's computer
Dispute between the pair dates back to 2008 and has been played out in various courtrooms and the tabloid press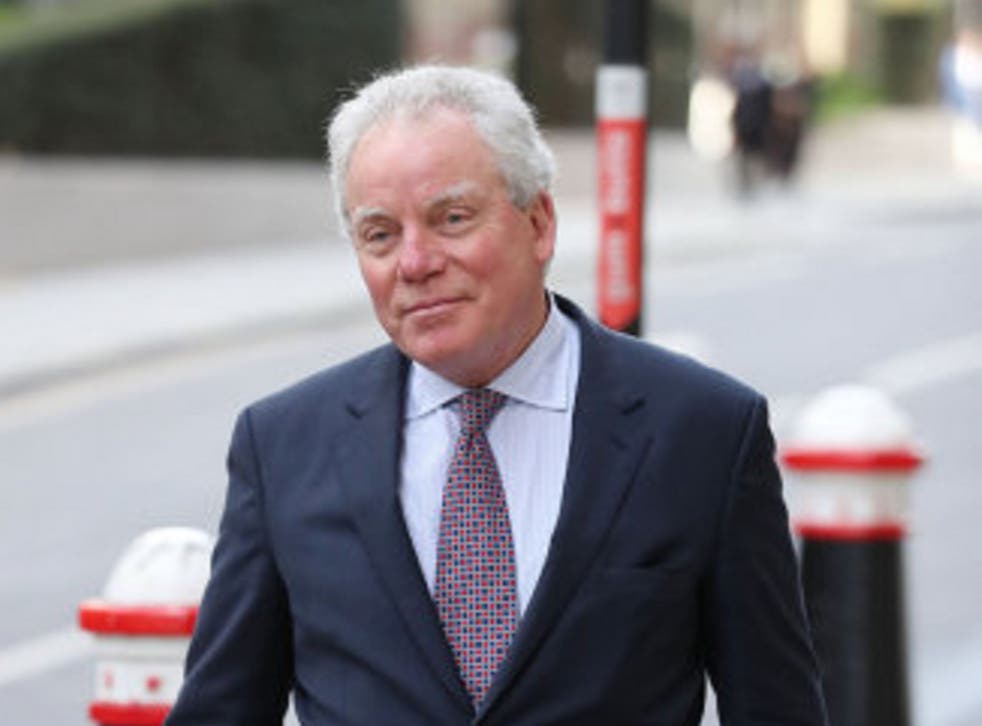 Gordon Ramsay's father-in-law has started a six-month prison sentence for computer hacking as part of a bitter feud with the firebrand celebrity chef which has lasted the best part of a decade.
The spat between the outspoken and profane restaurateur and former business partner Chris Hutcheson has been played out in very public settings, including courtrooms and the news pages.
In the latest twist Hutcheson, 69, was jailed on Wednesday for conspiring with sons Adam Hutcheson, 47, and Chris Hutcheson Junior, 37, to access the F-Word star and other Gordon Ramsay Holdings Limited staff emails hundreds of times over the space of five months in 2010 and 2011.
As well as his prison term, the almost decade-long legal fall-out from the men's feud has cost Hutcheson Senior, the father of Ramsay's wife Tana, more than £2 million in damages and legal costs, the Old Bailey heard.
The hack included accessing information regarding Ramsay's intellectual property rights and other material which might give them the upper hand in their legal spat and embarrass the star.
Stories about a "hair transplant" and a "fishing trip" later appeared in the newspapers, the court heard - something Hutcheson Senior denied responsibility for, via his lawyer.
Jailing him on Wednesday, Judge John Bevan QC said: "The whole episode of five months amounts to an unattractive and unedifying example of dirty linen being washed in public."
On one day alone in February 2011, the court heard, Hutcheson Senior accessed the system 600 times and Adam Hutcheson 282 times, the court heard.
After their actions were discovered, Hutcheson Senior told his son Chris in an email: "Guess we have been rumbled. Bit late though."
UK news in pictures

Show all 50
The dispute dates back to 2008, when the restaurant business ran into financial difficulty and 50-year-old Ramsay told the Sunday Times he was forced to sell his Ferrari to help pay debts.
Both Ramsay and his father-in-law dipped into their own pockets in a bid to keep it afloat, with accounts at the time showing the celebrity chef put £3.5 million into the business, while Hutcheson gave £1.5 million.
Hutcheson was sacked in October 2010 after 12 years at Ramsay's side, with the Scot telling Daily Mail weeks later his mother-in-law had told Tana to "get rid of Gordon", something that "tipped me over the edge".
In an open letter to the Standard he accused Hutcheson Senior of running the business as "a dictator", with the older man's friends counter-claiming the rift had been caused by the fiery Scot choosing "to lock him out of the office without notice".
In 2011, Ramsay's lawyers won a High Court ruling allowing Hutcheson Senior's computer to be searched over the hack.
Later that year, details of Hutcheson Senior's private life emerged in a separate hearing at the High Court, which rejected his bid for privacy over allegations published in tabloid newspapers that he had fathered two children by a mistress.
Prosecutor Julian Christopher QC told the Old Bailey on Wednesday that after the civil case ended in 2012 there had been something of a reconciliation and as a result Mr and Mrs Ramsay had withdrawn their support for the the criminal prosecution earlier this year.
Neither was in court on Wednesday.
Hutcheson Senior, of Earlsfield, Hutcheson Junior, from Welwyn Garden City, Hertfordshire, and Adam Hutcheson, from Sevenoaks, in Kent, admitted conspiring to cause a computer to access programmes and data without authority at a hearing in April.
Mr Christopher told the court what had been taken was items including photos "provided to the press which led to considerable intrusion into the privacy of the family".
The hack also saw Hutcheson Junior use Mr Ramsay's own email account to send out a photograph which he had earlier given a legal undertaking not to disseminate on privacy grounds, an illegal move Judge Bevan said was "close to an attempt to pervert the course of justice".
Hutcheson Senior's lawyer Michael Borrelli said the older man had already paid Mr Ramsay more than £1 million in damages and legal costs relating to the civil case, plus his own legal fees of around £1 million and other costs of more than £100,000.
He claimed his client had carried out the hack partly to obtain information about his financial interest in the company.
Mr Borrelli said Mr Ramsay had made a police statement against his client as recently as February 2016 and described the chef's contact with the Crown Prosecution Service shortly before the trio's guilty plea in April as a "publicity stunt to appear to be wanting to disengage".
PA
Join our new commenting forum
Join thought-provoking conversations, follow other Independent readers and see their replies