The Government-organised fair selling weaponry and surveillance equipment to some of the world's most repressive countries
Saudi Arabia has in the past been one of the biggest customers, spending millions on anti-riot equipment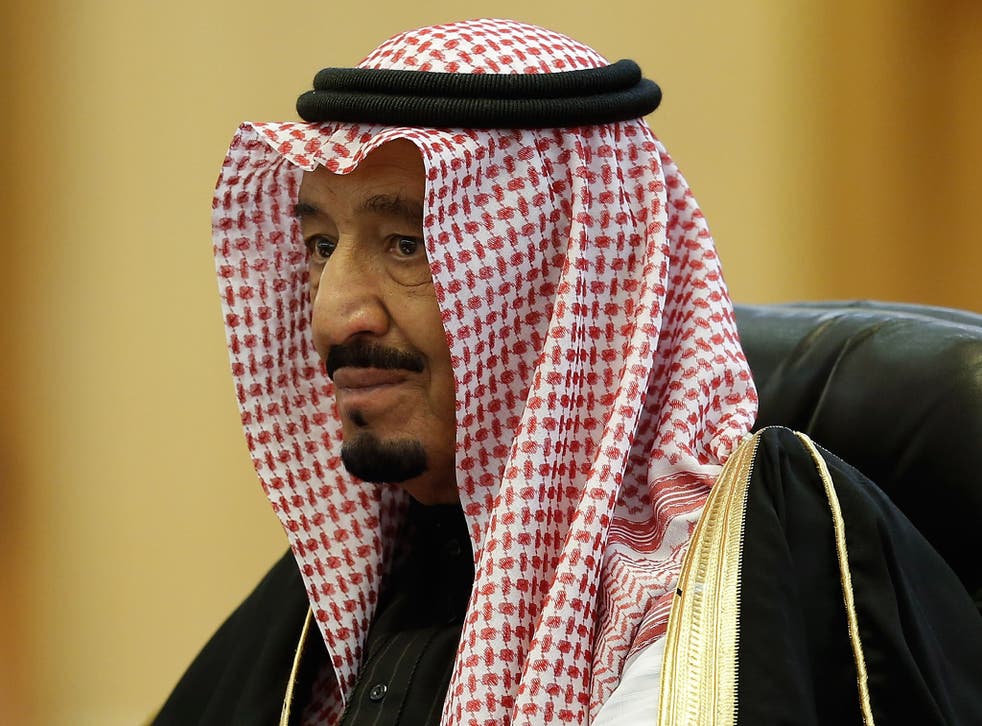 It is a shop display straight from the pages of 1984. From technology that hacks any computer or mobile phone and shredders that atomise hard drives to a "sound blaster" that incapacitates targets at 22 yards, they are products which George Orwell himself would have been proud to have dreamt up.
But far from being extracted from the pages of a fictitious dystopia, these are just some of products which will be showcased tomorrow when Britain's only Government-organised weaponry, surveillance and crowd control equipment fair opens its doors in a Hampshire exhibition centre.
Security & Policing 2015, which carries the branding of the Home Office, is described by its organisers as a vital opportunity for Britain's police and security services to meet with some 500 manufacturers to source the goods - from traffic cones to sniper rifles - needed to enable the Government to "deliver its national security priorities".
Given that much of the equipment and trade craft needed to track or stop targets from sophisticated criminal networks and terrorists to anti-capitalist protesters is on display, all participants are vetted by the authorities and the three-day event is held entirely behind closed doors.
Both the media and the public are barred in order to allow the display of - in the words of organisers - "products which would be too sensitive in a more open environment".
But while outside scrutiny is discouraged, a certain class of visitor is given a particularly warm welcome - members of the steadily-increasing number of foreign delegations.
Around a fifth of the 5,200 visitors to the event last year were from the security and intelligence services of the 81 countries invited by the defence arm of UK Trade and Investment (UKTI), the Government's overseas trade agency.
When The Independent this week asked UKTI to provide a list of the countries invited to the event it declined to do so, citing "security reasons". The agency declined even to provide a total for the number of countries invited.
But copies of the 2014 guest list released under the Freedom of Information Act suggest that among the VIPs at this year's event will be representatives of countries with unenviable human rights records. Delegations were last year invited from Bahrain, Egypt, Kazakhstan, Libya, Saudi Arabia and Turkmenistan. Of the 81 nations, four - Iraq, Libya, Pakistan and Saudi Arabia - are on the Countries of Concern list for human rights abuses compiled by the Foreign Office.
Campaigners strongly criticised the promotion of state-of-the-art internal security equipment to countries such as Turkmenistan, described by Human Rights Watch as "one of the world's most repressive countries".
Andrew Smith, of Campaign Against the Arms Trade, said: "Far from keeping us secure, events like Security & Policing only strengthen the UK's ties with dictatorships. They undermine the Government's political credibility when it comes to human rights, and it strengthens the political and military position of repressive regimes."
At stake for UK Plc is a share in the rapidly growing global market for security equipment as governments beef up their capabilities in the face of threats from terror groups and tweak the industrial-scale intelligence gathering techniques exposed by American whistleblower Edward Snowden.
According to one analysis, the market for non-lethal weaponry - from rubber bullets to water cannons - is expected to grow by at least five per cent a year to reach £4.7bn by 2020.
Among the products being launched to meet this demand is the A-WASP - a high-powered loud hailer which also comes equipped with a "sound gun" that sends a burst of sound waves at targets which is described by its Sussex-based manufacturer, Cerberus Black, as "extremely unpleasant and acts as a significant deterrent" at distances of 20 metres or less.
Other exhibitors will include Italian company Hacking Team, whose eavesdropping software kit, called "Remote Control System", is marketed for its ability to monitor "hundreds of thousands of targets" and Anglo-German company Gamma International, whose FinFisher software has been the subject of complaints that it has been used by authoritarian regimes to monitor dissidents. Both companies insist they abide by international regulations and sell only to appropriate governments.
British government sources denied the event represented an opportunity for repressive regimes to re-stock their arsenals, pointing out that any purchases required an export licence from the Department for Business, Innovation and Skills.
In a statement, the Home Office said: "This exhibition brings UK industry, law enforcement and security professionals together in a secure environment. A thriving security industry is vital to help cut crime and protect the public and so it is important these products and services can be showcased and expertise shared."
FCO Countries of Concern – crowd control exports 2010-2014
Afghanistan
£3,900 - ballistic shields
Colombia
£17,525 – anti-riot/ballistic shields
Iraq
£24,940 – anti-riot/ballistic shields
£25,940 – components for civil riot control or agent protection equipment
Israel
£950 – anti-riot/ballistic shields
£11, 420 – components for civil riot control or agent protection equipment
Libya
£380,840 – anti-riot/ballistic shields
£2,936,210 – tear gas/irritant ammunition [subsequently revoked]
£227,806 – crowd control ammunition [subsequently revoked]
Pakistan
£107,063 – anti-riot/ballistic shields
Russia
£19,920 – riot control protection equipment
Saudi Arabia
£10,796 – anti-riot/ballistic shields
£30,920 – riot control protection equipment
£2,956,449 – tear gas/irritant ammunition
Join our new commenting forum
Join thought-provoking conversations, follow other Independent readers and see their replies