The great train robbery? How rail firms make millions from running late
Franchises claim huge sums from Network Rail for delays – so where does all the cash go?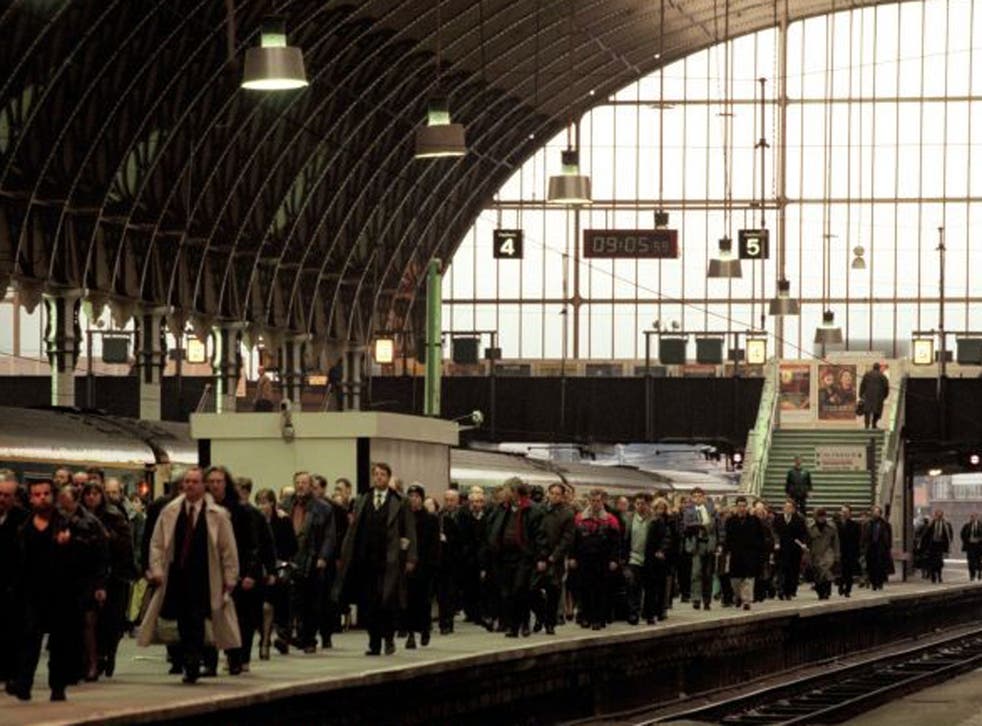 Private rail companies are raking in more than £100m a year in compensation for late trains that they are not passing on to affected customers.
Click here to view the 'Off track: Raw deal on the railways' graphic
Under Britain's complicated rail franchise system, private train operators are able to claim compensation from the state-owned track operator Network Rail for problems on the line which cause disruption to services.
But just a fraction of this money is being passed on to customers, research has revealed for the first time.
In the last year train operators received £172m from Network Rail for delays, but figures from eight of the private rail franchisees showed they only passed on £10m to passengers.
Overall there are 23 rail operating companies – suggesting that the total shortfall in customer compensation is likely to be around £150m.
The rail operating firm that passed on the most compensation to customers is the publicly owned East Coast line running from London to Scotland which paid out £6.6m. By comparison the privately run CrossCountry service, which also runs long distance trains, paid out just £1m.
On average the private firms paid out just £400,000 to customers for delays last year. The Transport Salaried Staffs Association, which unearthed the figures using the Freedom of Information act, said it had now written to the Transport Select Committee calling on it to mount an inquiry into what it described as "daylight robbery" of taxpayers and passengers. The Department of Transport said it would be contracting rail companies to ensure that they were not "deliberately exploiting" passengers and the taxpayer.
Under the current system train operating companies can claim compensation from Network Rail if their services are delayed by more than five minutes because of problems affecting the line. However, customers have to be delayed more than half an hour before being eligible for any compensation at all. In order to get a full refund the train has to be over two hours late.
Network Rail admitted that the current system "was not perfect", but said the status quo was set at the time of privatisation and could only be changed by the Government.
They pointed out that rail companies had other costs associated with delays other than customer compensation, but admitted that there did appear to be a disparity between what customers got in compensation and what was paid out to train operating companies. "When the system was first set up it was intended to be revenue neutral and designed to encourage Network Rail to minimise delays," said a spokesman. "Whether that is still the case is open to question. But this is the system that we have and it is open to Government to change it."
TSSA general secretary Manuel Cortes said the current arrangement amounted to a "rigged system" where private rail firms got millions from the taxpayer. "The fact that the publicly run East Coast line is paying out 15 times more than the average for the private operators when it comes to refunds shows that there is something seriously wrong," he said.
"If the private operators were as open and honest as East Coast, they would have paid out well over £100m rather than a miserly £10m. Private firms prefer to play Scrooge, placing as many hurdles as possible in their way before handing over any cash."
Transport Minister Norman Baker suggested the Government might be open to change the system. "I want assurances we have the correct incentive system for train operators to force Network Rail to improve the performance of the nation's rail infrastructure."
Louise Ellman, chairman of the Transport Select Committee, said she and her fellow MPs would be examining the issue in detail. "This is of great concern to us. We are currently undertaking a report into the rail network of which this will certainly be part, but we want to ensure that the system works in the interests of the passenger rather than train companies."
A spokesman for the Association of Train Operating Companies said: "This claim demonstrates a profound misunderstanding of how the railway works. Under a system regulated by the Office of Rail Regulation, Network Rail pays money to operators for problems which cause disruption to services ... As part of entirely separate arrangements, passenger compensation has become increasingly generous and easy to apply for. As a general principle, train companies will compensate anyone who has bought a ticket for a journey that is cancelled or substantially delayed."
Train delayed? How to claim
Claiming compensation can be an uncertain business for passengers with each rail company having its own terms and conditions on what can be claimed and when. Most operators have a system whereby compensation is paid for delays of more than 30 minutes when passengers can expect to be refunded half the fare. Delays of more than an hour are usually compensated with full refunds. However, most compensation is paid in the form of travel vouchers rather than cash.
Join our new commenting forum
Join thought-provoking conversations, follow other Independent readers and see their replies