Grenfell survivors condemn 'grave injustice' as leaseholders left facing huge bills to remove cladding
'Ministers have broken their promises to leaseholders who have done absolutely nothing wrong,' says group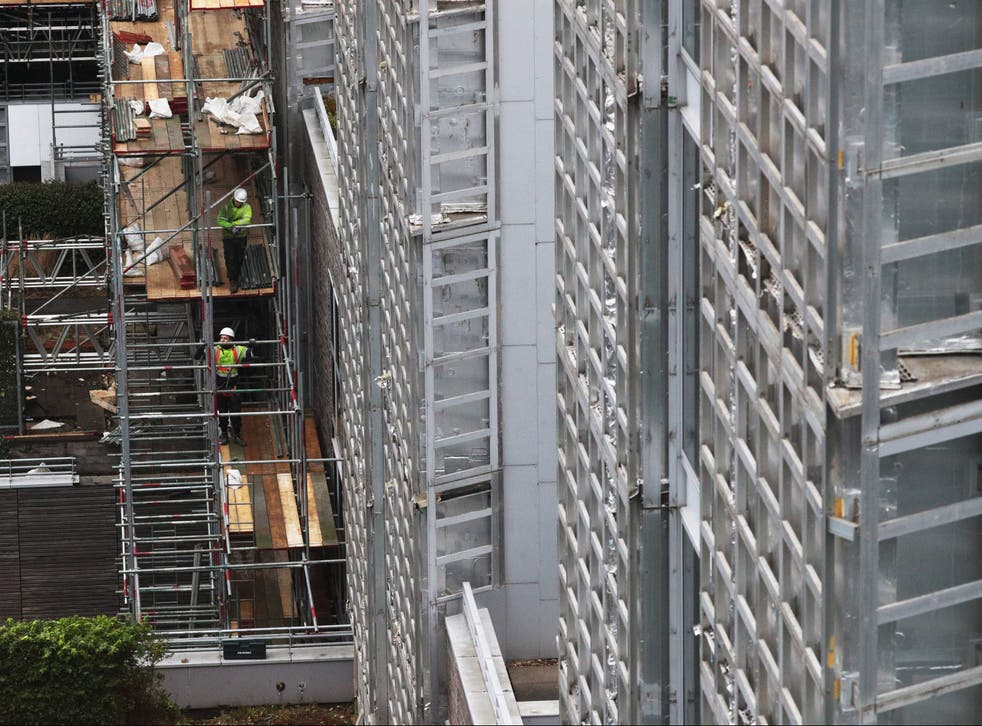 Survivors and bereaved relatives from the Grenfell Tower fire disaster say they are furious after parliament voted for measures that will leave householders facing huge bills for removing dangerous cladding from homes.
They say the new law on fire safety measures is "indefensible" because it could lead to hundreds of thousands of leaseholders shouldering costs running into tens of thousands of pounds.
After the Grenfell tragedy, thousands of blocks of flats were found to be covered in similar combustible cladding.
Last month housing secretary Robert Jenrick was accused of betraying thousands of leaseholders when he announced that £3.5bn to replace cladding would go only to towers over 18m tall, with those in smaller buildings required to take out loans.
The Fire Safety Bill, introduced in response to the 2017 blaze in which 72 people died, is set to become law after a final push to amend it to protect residents was defeated in the Lords on Wednesday night.
A loan scheme will cap costs at £50 a month for safety work on buildings between 11m and 18m high.
The government rejected calls from Labour to meet the cost and recoup the money from property developers, saying the new law strikes "the right balance in protecting leaseholders and being fair to taxpayers".
After the vote, residents' group Grenfell United said: "We're deeply disappointed that ministers have broken their promises to leaseholders who have done absolutely nothing wrong. The government's position on this is indefensible.
"It's a grave injustice that many innocent leaseholders will be financially ruined over fire safety issues that were not of their own making, while the government is letting those responsible continue to get off scot-free."
Parliament's Housing, Communities and Local Government Committee had previously called on ministers to scrap the loan scheme and pledge to protect leaseholders from all costs.
About 700,000 people in England live in buildings with flammable exterior cladding similar to that used at Grenfell Tower, according to the End Our Cladding Scandal campaign.
Emma Byrne, spokeswoman for that group, said: "The government has fought hard against amendments put forward to save leaseholders from widespread bankruptcy and financial ruin caused by bad regulations, corporate malfeasance and shoddy building work.
"If only they had bothered to work half as hard to protect us.
"This bill pulls the rug out from under a generation of homeowners. MHCLG [the Ministry of Housing, Communities and Local Government] knows it. MPs and peers know it."
Stephen Squires, a leaseholder who lives in a tower block in Manchester bearing dangerous cladding, said: "Our service charge account is running out of money whilst the freeholder delays things.
"Eventually we could end up with having the lifts switched off or the electric being cut off to a 20-storey building, which would make it uninhabitable."
A spokesperson for the Department for Housing, Communities and Local Government told the BBC ministers were prioritising making the tallest buildings with the most dangerous cladding safer, backed by £5bn.
"We have been clear throughout that owners and industry should make buildings safe without passing on costs to leaseholders – and we will ensure they pay for the mistakes of the past with a new levy and tax to contribute to the costs of remediation," he said.
"For lower-rise buildings which have a lower risk, our generous capped finance scheme will ensure bills are a maximum of £50 per month."
Join our new commenting forum
Join thought-provoking conversations, follow other Independent readers and see their replies