New figures show 1,857 properties lying empty near Grenfell Tower as fire survivors remain homeless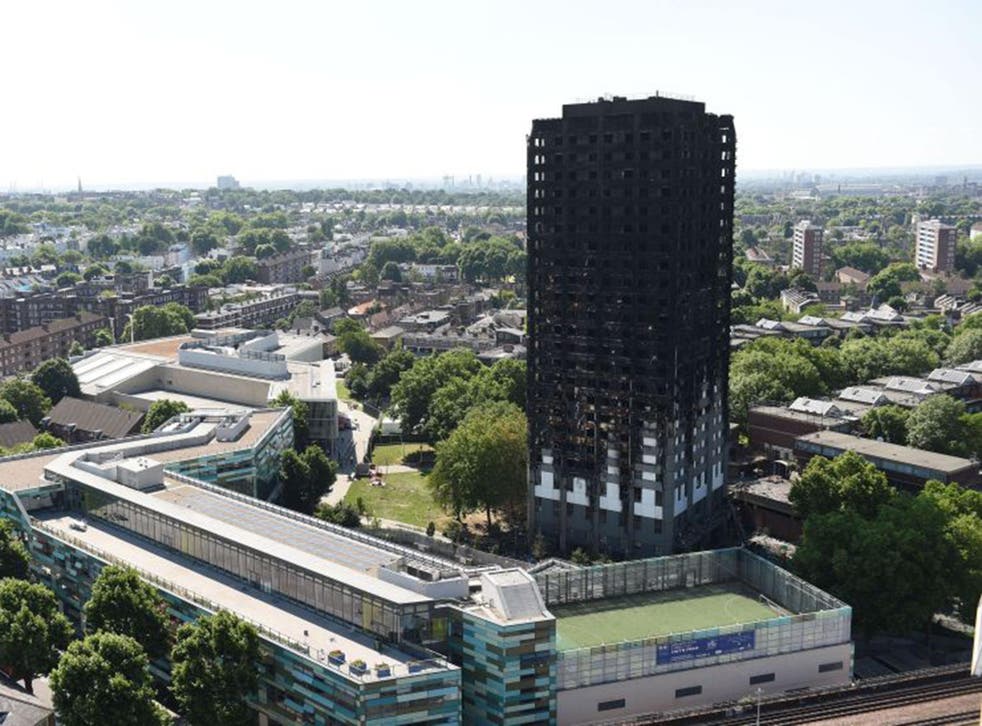 Nearly 2,000 homes are lying empty near the Grenfell Tower, amid faltering efforts to rehouse more than 100 families left homeless by the fire that gutted the high rise.
A Freedom of Information (FoI) request to Kensington and Chelsea Council, which owns the tower, prompted the authority to release updated figures showing there are 1,857 properties lying empty in the borough.
The Who Owns England? blog, which submitted the FoI request, suggested that dozens of the vacant homes may have been empty for between 11 and 15 years and many had wealthy offshore owners who regarded them as investments rather than places to live.
The revelations are likely to add to the controversy over how survivors of the Grenfell fire have been treated, in a borough considered to be one of the wealthiest in the country.
At the start of July, it was revealed that just 14 out of 158 Grenfell survivor families had accepted offers of temporary accommodation, while the vast majority remained in hotels three weeks after the fire that made them homeless and killed at least 80 people.
This was despite Theresa May's Government having pledged to ensure that homeless survivors would be rehoused within three weeks, as close as possible to the tower.
The day after the fire, Labour leader Jeremy Corbyn faced controversy when he called for Kensington homes left vacant by rich overseas investors to be "requisitioned" for survivors, calling the borough "a tale of two cities" with great wealth in the south and pockets of extreme poverty in the north.
The new information released by the Conservative-led council showed that the highest concentration of vacant properties was in one of the borough's wealthiest wards.
Brompton and Hans Town ward, where 260 properties stood vacant, incorporates parts of South Kensington and Knightsbridge and is at the opposite end of the borough to Grenfell, in the poorer north. It has also repeatedly been associated with the 'buy-to-leave' phenomenon, which usually involves super-rich foreigners buying high-end properties not to live in, but as an investment.
Grenfell tower fire

Show all 42
Who Owns England? said Brompton and Hans Town has large numbers of properties with offshore owners, and in 2014, Cadogan Square, within the ward boundaries, was reported to have been reduced to a "ghost town" by 'buy to leave' investing.
Buy to leave by wealthy investors was also cited as one of the reasons why in April a survey by Property Planner suggested that Kensington and Chelsea was the borough with the most empty homes in London, with vacant properties said to be worth a total of £664m.
In 2015 the council's own report into buy to leave also stated: "The data sets analysed for the study all show a geographical concentration of low housing occupancy in the south and east of the borough, particularly in the old Brompton and Hans Town wards."
The same report also included a map of vacant properties categorised by how long they had been empty. This suggested that at the time, about 50 properties in the borough had been empty for 4,200-5,734 days, roughly 11-15 years.
The new data released by the council showed that 696 – more than a third - of the 1,857 empty properties had been unoccupied for more than two years.
Only 50 of the empty homes appeared to be empty because of ongoing refurbishment works.
Emma Dent Coad, Kensington's Labour MP who has previously told of Grenfell survivors being reduced to sleeping rough, told The Times: "It is a disgrace that people are allowed to buy to leave, with no intention whatever of living in a property, just to park their money, when we have so many homeless people."
"We must have policies to stop this before even more parts of Kensington become a luxury ghost town."
Campaigners for Grenfell survivors say the accommodation they have been offered has mostly been entirely unsuitable.
Some are understood to have been proposed places with views over the charred hulk of the tower, and others have allegedly been told that after a year's rent-free grace period, they would be expected to pay up to triple what they were charged while living in Grenfell.
Join our new commenting forum
Join thought-provoking conversations, follow other Independent readers and see their replies