Guide Dogs for the Blind are peddling dodgy statistics, say cyclists
Allegations that guide-dog owners aren't safe from reckless bike riders are disputed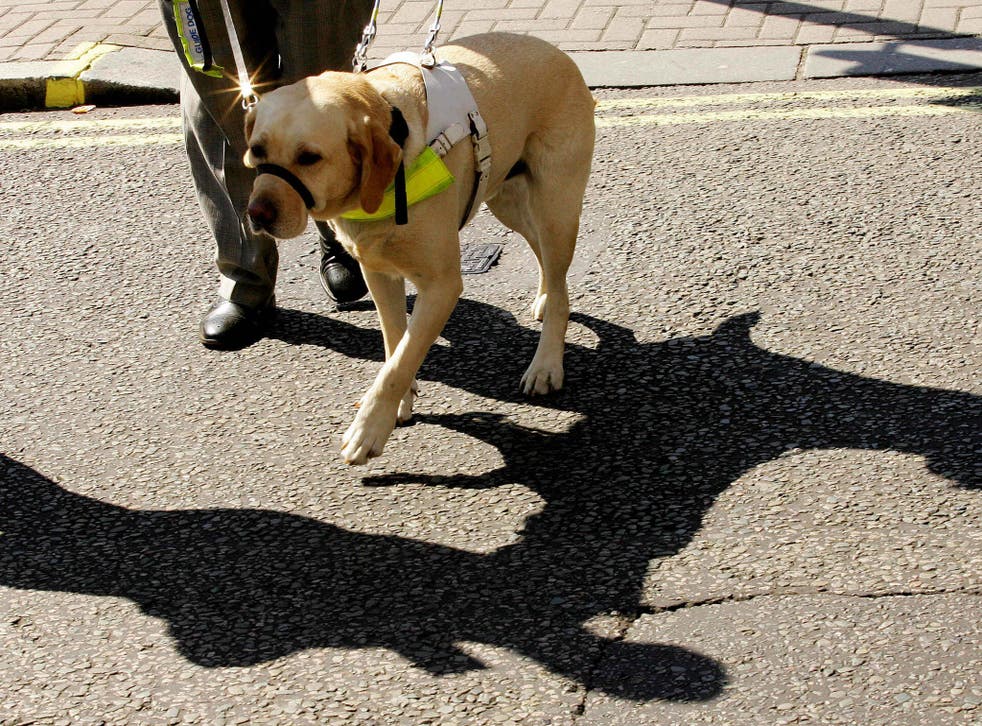 London's streets should be wide enough for cyclists and guide dogs to co-exist, one would think.
But a furious row has erupted after cyclists were accused by a charity of making guide-dog owners cower in fear.
A survey conducted by the Guide Dogs for the Blind Association claimed that cyclists are increasingly smashing into blind Londoners and their guide dogs after mounting the pavement and jumping red lights.
The charity, which helps blind and visually impaired people, said more Londoners were calling its helpline to report being hit or involved in near misses. One in four London guide-dog-owners said their dogs had been hit by cyclists, according to the charity.
Rob Harris, London engagement manager for the Guide Dogs for the Blind Association, said that "irresponsible cyclists" had made some visually impaired people "anxious and fearful" about walking the streets – which was "worrying".
The claims were widely reported and have now prompted a furious response from cyclists, who argued that "dodgy" statistics were used to launch a "fabricated attack" on them.
A blog on road.cc, "the website for pedal-powered people", complained that the survey was not representative of the 41,060 people registered blind or partially sighted in London, of whom just over 320 use guide dogs in the city.
The survey relied on just 33 self-selected guide-dog-owners in London who responded to an online appeal, with 14 saying they had been involved in a collision and 25 reporting that they had been involved in a near miss with cyclists on pavements or jumping red lights.
The Guide Dogs for the Blind Association has now withdrawn the "one in four" collision claim and admitted that information it provided was "incorrect".
John Stevenson, the blog author, wrote: "Guide Dogs clearly went looking for ammunition, having already decided to target cyclists."
Of the near-miss claims reported by 76 per cent of the respondents, Mr Stevenson wrote: "The reaction of one guide dog user I mentioned this to was: 'How did they know, they're blind?' Well, quite."
Mr Stevenson argued: "By sloshing around its deeply dubious numbers, Guide Dogs was able to get all sorts of people who should know better on board with its anti-cyclist campaign."
Charlie Lloyd, from the London Cycling Campaign, initially endorsed the Guide Dogs for the Blind Association campaign, saying: "Any crash or a close pass which frightens or intimidates a pedestrian is unacceptable. Far worse when that person is blind, partially sighted or in any way less able than we are."
He later told road.cc: "I don't know if it was a stitch-up. The absurd casualty stats were quickly withdrawn."
The Guide Dogs for the Blind Association backed up its survey with testimonials from victims of irresponsible cycling, including Deborah Persaud, a guide-dog-owner who said that she was involved in a collision with a cyclist on the pavement while she was walking home in Islington.
She said: "My dress was torn, the contents of my handbag damaged, and I was left with damage to my shoulder and hip."
Guide Dogs wants cyclists to follow five rules, including either using a bell or calling out if they see a guide-dog-user or a person with a white cane.
They also want cyclists to maintain a good distance so as not to startle a dog and allow them time to fully cross the road.
A spokesperson for Guide Dogs said: "We recognise that the sample size was small and we explained this in the materials for media. It is striking that in London blind and partially sighted people came forward to tell us they had been hit by a cyclist. That is worrying and is the basis of our concern especially as we have started to see an increase in people contacting us about collisions with cyclists. We support cycling and are keen to work with the cycling community to ensure there is greater awareness of the needs of blind and partially sighted people."
Join our new commenting forum
Join thought-provoking conversations, follow other Independent readers and see their replies