Gerry Conlon dead: Guildford Four member and victim of one of Britain's worst miscarriages of justice dies aged 60
In one of Britain's worst miscarriages of justice, he was wrongly convicted of a 1974 IRA attack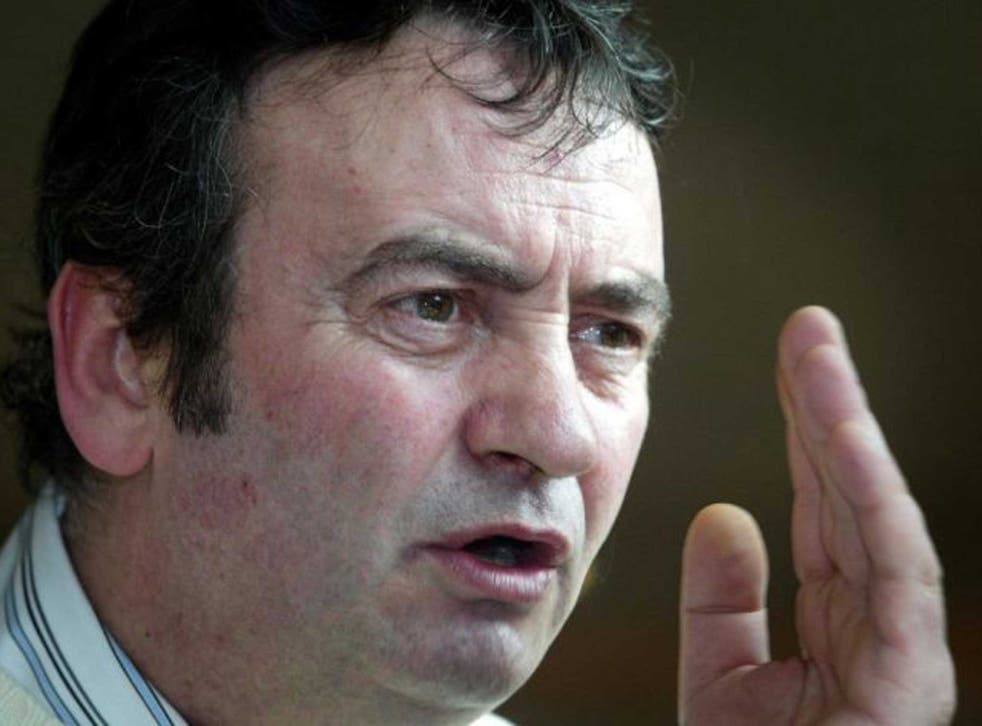 Gerry Conlon, the victim of one of the most notorious miscarriages of justice in British history when he was wrongly jailed for the 1974 IRA attack on a pub in Guildford, died at his Belfast home yesterday after suffering from cancer.
He, Paul Hill, Carole Richardson and Paddy Armstrong – the "Guildford Four" – served 14 years of a life sentence for the attack which killed five people before their convictions were overturned in 1989.
In 2005, the then prime minister Tony Blair issued a public apology for what they had suffered. "I am very sorry that they were subject to such an ordeal and such an injustice," he said.
Mr Conlon's family issued a statement yesterday through his lawyer: "This morning we lost our Gerry. He brought life, love, intelligence, wit and strength to our family through its darkest hours. He helped us to survive what we were not meant to survive.
"We recognise that what he achieved by fighting for justice for us had a far, far greater importance – it forced the world's closed eyes to be opened to injustice; it forced unimaginable wickedness to be acknowledged; we believe it changed the course of history. We thank him for his life and we thank all his many friends for their love."
Alex Attwood, the SDLP Stormont Assembly member for the Falls Road area where Mr Conlon lived, paid tribute to him. "He'd given an awful lot but yet had so much more to give," he said. "What he learned from his time in prison and campaign for release was the importance of not only raging against his own injustice but fighting for those who had also suffered miscarriages of justice."
Mr Attwood added: "He's now with his dad and his mum."
Mr Conlon's father, Giuseppe, died in prison in 1980 after he and six others, including Mr Conlon's aunt Anne Maguire, were jailed for handling explosives. He had been arrested after travelling to England to talk to solicitors about his son. He had one lung, emphysema and had just undergone chemotherapy. All seven convictions were overturned in 1991 after the scientific evidence on which they were convicted was entirely discredited.
His mother, Sarah, who had campaigned tirelessly for her son's freedom, died in 2008 aged 82.
Mr Conlon wrote in 2009 about the personal and emotional battles he endured as a result of his imprisonment and the struggle to prove his innocence. It caused him to suffer two breakdowns, an attempted suicide and he became addicted to drugs and alcohol following his release.
"For the first two years, I still had a little bit of hope," he wrote of his time in prison. "I would hear the jangling of keys and think that this was the time the prison officers were going to come and open the cell door and set us free. But after the Maguire Seven (all also wrongly convicted) – my father among them – were arrested, we started to lose that hope.
"Not only did we have to beat the criminal justice system but we also had to survive in prison. Our reality was that nightmare. They would urinate in our food, defecate in it, put glass in it. Our cell doors would be left open for us to be beaten and they would come in with batteries in socks to beat us over the head. I saw two people murdered. I saw suicides. I saw somebody set fire to himself in Long Lartin prison." The ordeal, he said, "has never left me".
The Guildford Four were convicted at the height of Northern Ireland's Troubles as the IRA carried out a UK mainland bombing campaign targeting pubs. The attack on the Horse and Groom pub in Guildford killed four soldiers and a civilian and injured 65 more.
Following the Guildford Four's release, serious failings were found in the handling of the case by Surrey police. Three British police officers – Thomas Style, John Donaldson and Vernon Attwell – were charged with conspiracy to pervert the course of justice, but were found not guilty.
Mr Conlon's autobiography, Proven Innocent, was adapted into the Oscar-winning 1993 film In the Name of the Father, starring Daniel Day-Lewis, Emma Thompson and Pete Postlethwaite.
Ireland's Deputy Prime Minister, Eamon Gilmore, offered his condolences. "His loss will be felt both within the community in west Belfast and across the world with all those who work in pursuit of justice," he said.
Join our new commenting forum
Join thought-provoking conversations, follow other Independent readers and see their replies