Hear the Bored Baker, his haiku Sainsbury's tale, he explains it all
'I did it with ease/ Yes, I float like a croissant/ And sting like a slap'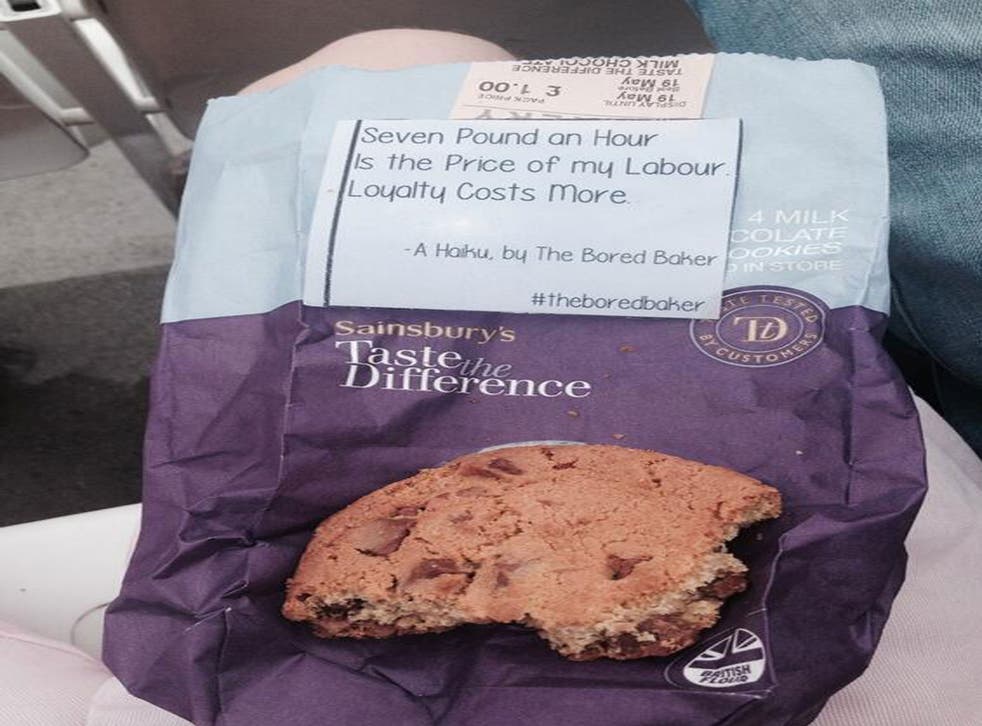 Mystery continues to surround the identity of the 'bored baker', who took to wreaking havoc during his last shift at a branch of Sainsbury's by slipping haiku poems bemoaning his job into packets of Taste the Difference biscuits.
Customers at a Sainsbury's Local branch in Mornington Crescent, Camden, were surprised to find three-line, 17 syllable poems tucked into packets of cookies, all signed off with: "A haiku, by the Bored Baker".
Speaking to The Independent – strictly in haiku, of course – the author refused to reveal his identity. Instead, he said he is a graduate who has been doing "all sorts" since leaving his position at "Sainsbos" which was "the worst", apparently.
In the second round of haiku, the author took issue with Sainsbury's production methods, claiming that all products there are frozen before being baked, including the "beloved cheese twist".
"Not even the twist/ O, that beloved cheese twist/ Is twist by my hand."
The Bored Baker said he managed to slip 50 copies into packets without being caught by a supervisor with "ease", explaining: "I did it with ease/ Yes, I float like a croissant/ And sting like a slap".
However, the whole exercise was not undertaken as a form of protest. When asked if the haiku, one of which discussed a wage and "the price of loyalty" was to make a point about work, pay or conditions as a baker, the response was: "I could protest, but/ Haikus aren't best medium./ I'm less bored now though".
Instead, the anonymous word smith had other motivations, namely: "I did it for fun,/ Cowardly revenge, and some/ better anecdotes."
The poet finished with: "I did fifty packs/ In that lonely pit of yeast/ No-one hears you weep."
Sainsbury's were quick to assure shoppers the person was no longer employed by the company after pictures of the haiku poems discovered by customers began circulating on the internet.
A spokesperson said today: "Our smaller Local stores aren't big enough to accommodate a full bakery so the majority of the product is baked off.
"This is common across retailers, food-to-go outlets and convenience stores, and helps to ensure a consistently high quality range for customers."
Join our new commenting forum
Join thought-provoking conversations, follow other Independent readers and see their replies