'Heathrow 13' expecting to be grounded in jail for protesting airport expansion
In a surprise move last month, Judge Deborah Wright said she planned to jail the protesters after finding them guilty of aggravated trespass
Tom Bawden
Environment Editor
Tuesday 23 February 2016 19:19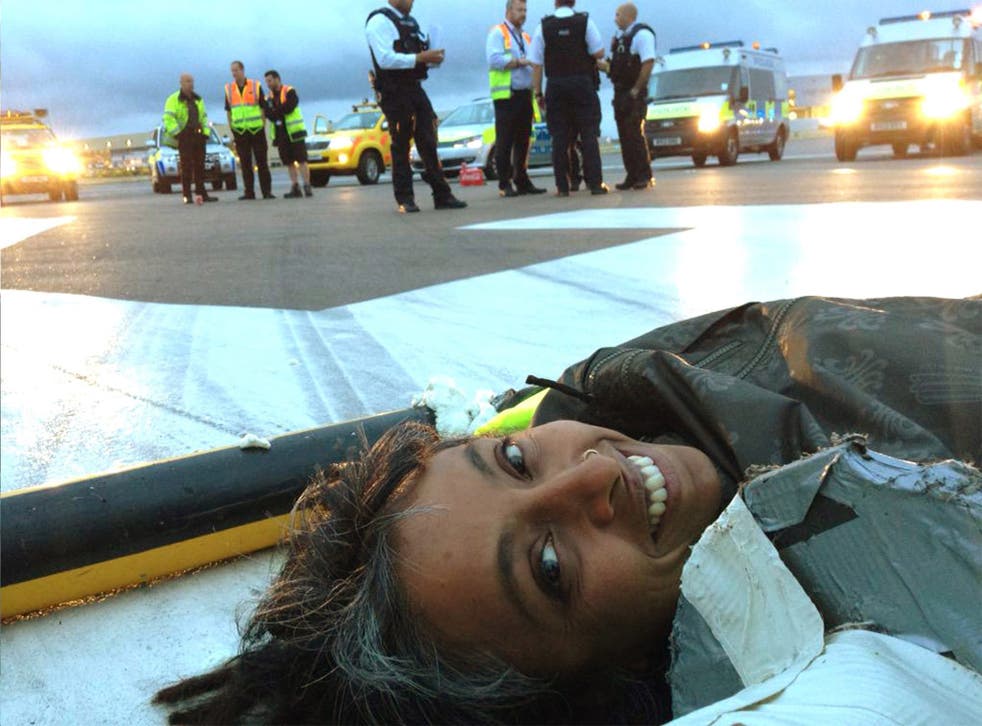 The "Heathrow 13" are steeling themselves to be sent to prison on 24 February for their protest against the London airport's expansion but remain defiant, saying their actions have focused attention on the damage air travel does to the planet.
In a surprise move last month, Judge Deborah Wright said she planned to jail the protesters after finding them guilty of aggravated trespass.
She paid tribute to their passion about the environment – saying they were "all principled people" – before telling them that custodial sentences were "almost inevitable".
The Heathrow protest – part of the Plane Stupid campaign to end airport expansion – saw the group cut a hole in a fence and make their way on to the north runway. The demonstration on 13 July forced the cancellation of 25 flights.
As they prepare to return to Willesden Magistrates' Court today for sentencing, members of the campaign group and their relatives told The Independent of their growing fears about prison, but insisted they were proud of their protest, saying it had significantly raised the profile of the contribution air travel was making to global warming.
"As the day gets closer I become more nervous about the practical stuff – the physical reality of being in prison. I've been warned to be ready for a strip-search and that it might not be a fun experience," said Danielle Paffard, an Oxford biology graduate who helped set up the UK Uncut tax avoidance protest group that occupied branches of Topshop and Vodafone.
Danielle's mother, Marguerite, added: "I feel sad at the moment that she's having to go through this but I feel like she'll survive."
Another parent – Tim, the father of Heathrow 13 member Rebecca Sanderson – said a custodial sentence would smack of "retribution, a medieval desire to punish, which is not appropriate for people of exceptional character and conviction".
Graham Thompson, a Greenpeace press officer and member of the 13, said: "I am nervous. I have never been to prison before so it's an unknown quantity. But we would be much better off than the average prisoner because we would be there for a reason. I feel we have helped to raise the profile on climate change and aviation – we seem to be getting more and more support for our campaign."
If the Heathrow 13 are jailed, this would be the first time environmental protesters have gone to prison for the offence of aggravated trespass since it came into force two decades ago. "As family members we are outraged by this totally disproportionate threat of a prison sentence. If any of these courageous and principled people are sent to prison we pledge ourselves to campaign vigorously to secure their immediate release. It is imperative that we protect the right to peaceful protest for us all," said a spokesman for the relatives.
Green Party MP Caroline Lucas said that jailing the group would represent "a deliberate attempt to put people off taking action... a really important part of democracy".