Hillsborough Inquest: Match commander admits 'far reaching deceit' after lying about the events
David Duckenfield denied he was more concerned with hooliganism than public safety despite having apologised for 'mistakes' during the catastrophe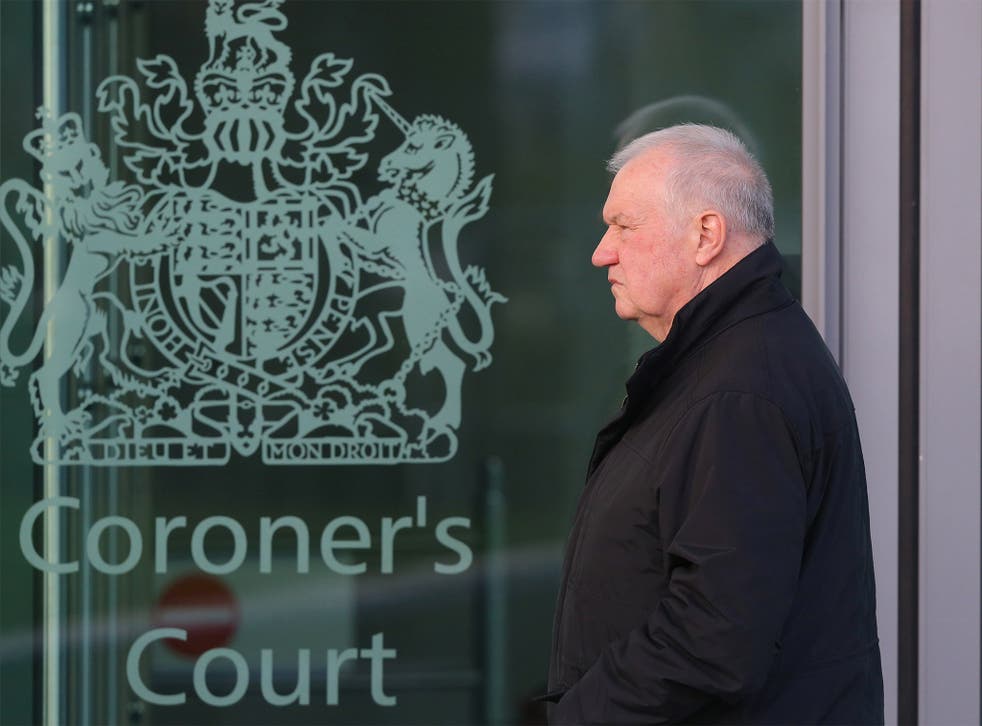 The Chief Superintendent in charge on the day of the Hillsborough tragedy has admitted carrying out a "far reaching deceit" by lying about events for so long after the disaster.
Match commander David Duckenfield also called for police dogs instead of ambulances as fans were crushed to death, the inquest into the disaster heard today.
The retired South Yorkshire Police chief denied he was more concerned with hooliganism than public safety despite already having apologised for his "mistakes" during the catastrophe and lying about it afterwards.
Mr Duckenfield, 70, was cross-examined for a third day by lawyers of the relatives of the 96 people who died during the FA Cup semi-final between Liverpool and Nottingham Forest in 1989.
He finally agreed with Michael Mansfield QC, representing some of the victims' families, having been repeatedly if he was "practising and persisted in a far reaching deceit" in the aftermath of the crush. Police became overwhelmed by fans at the turnstiles as kick-off approached and Mr Duckenfield gave the order at 2.52pm to open gates to let them in but he failed to order the closure of a tunnel which up to 2,000 fans poured straight into.
It was a "blunder of the first magnitude", the inquest jury heard as the tunnel led directly to the already-full central pens on the Leppings Lane terrace. Ninety-six Liverpool fans died in the ensuing crush minutes later.
Hillsborough disaster 25th anniversary: RIP to the 96

Show all 50
Mr Duckenfield has said he at first thought the problem on the terrace was crowd disorder and only realised it was a "medical emergency at 3.04pm".
Mr Mansfield QC suggested Mr Duckenfield could have ordered the 3pm kick-off to be delayed. The exchanges became heated when Mr Duckenfield spoke of Liverpool fans drinking and arriving late for the match.
He said: "If Merseyside Police had been more forthcoming with the knowledge, where the former chief constable Mr Sharples gave evidence to the inquest, that it was common knowledge that Liverpool fans arrived late, have had a drink and expected to get in at the last minute, I might have acted differently, but that knowledge and that intelligence was not available."
Mr Mansfield whether Mr Duckenfield received any information that his officers were having trouble dealing with "hordes of Liverpool fans who were drunk" to which he answered he could not recall.
Mr Mansfield replied: "The answer is no, if you want to be honest about it."
The ex-officer disputed claims that he deceived his own assistant chief constable by failing to inform him that he ordered an exit gate to be opened. Giving his account of a visit to brief senior officials in Hillsborough's boardroom on April 15, Mr Duckenfield said: "All I can remember is a sea of faces and someone asking me how many were dead. I didn't respond because someone jumped in before me. Those are my recollections."
He agreed that he had lied to Football Association chief executive Graham Kelly and two other people by saying "words to the effect that Liverpool fans broke down or forced open a gate".
Mr Duckenfield said the inquests were the "first [opportunity] to apologise fully without fear of seeing anybody misrepresenting what I was saying".
Transcripts of tape recordings made in the police control box where he was stationed showed a subordinate officer calling for police dogs – almost three minutes before ambulances were requested and eight minutes before the fire service were called.
Rajiv Menon QC, representing other families of the victims, said: "You must have asked him to do this. It's a medical emergency. Can you explain that? Why on earth do you need dogs at the stadium?"
Mr Duckenfield said he had "no idea" other than he wanted to create a "secure area" for the rescue operation but was accused of leading and co-ordinating a "woefully inadequate" response to the unfolding disaster.
The retired officer denied that it was "gross negligence" on his part that ultimately caused the death of 96 fans. He also rejected claims that he was involved in "building" South Yorkshire Police's case that drunken fans caused the disaster. He said: "After the disaster I was marginalised and I took no part in anything like that at all."
The inquests continue.
Join our new commenting forum
Join thought-provoking conversations, follow other Independent readers and see their replies