Homeless crisis in UK is 'a test of our basic humanity', Labour says
Opposition calls on Government to take action to prevent number of homeless people reaching close to a million by 2020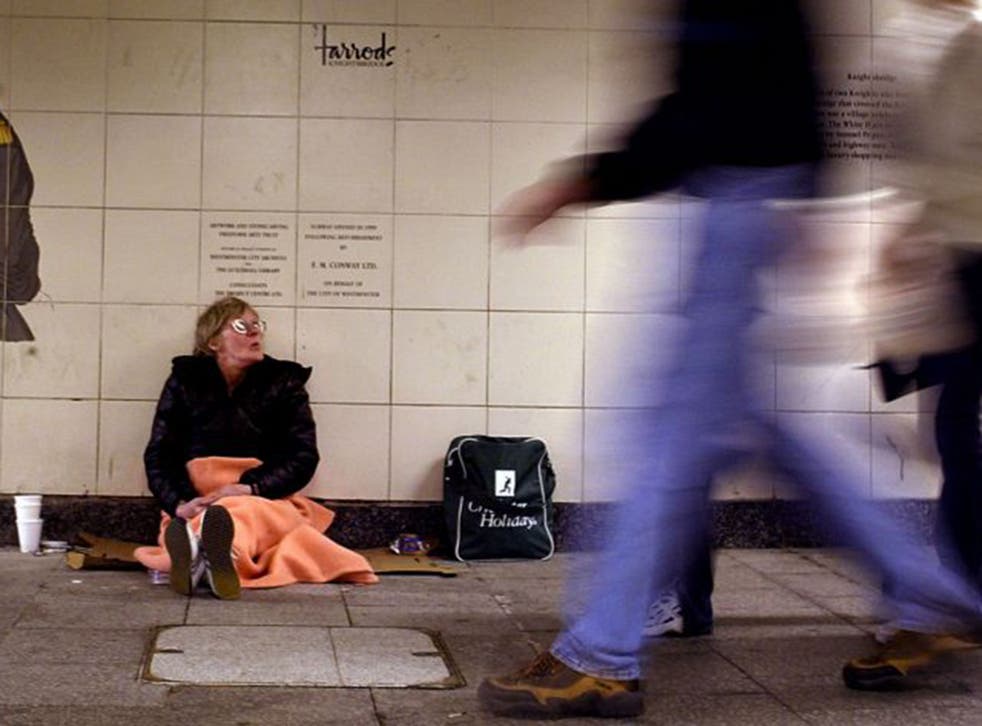 Nearly a million men, women and children are set to become homeless by 2020 unless the Government takes action to address a crisis described by Labour as a "test of our basic humanity".
Speaking ahead of this week's Budget – which The Independent on Sunday can reveal will include a package of measures to tackle homelessness – the shadow housing minister John Healey said the soaring numbers should "shake the Chancellor from his complacency".
According to a broader definition of homelessness used by charities, 275,000 families in England were affected last year – up from 200,000 in 2010. Labour pointed out that if the numbers continue to rise at the current rate, there will be more than 391,000 homeless families by 2020/21.
The latest estimate for rough-sleepers, who are not included in the homelessness statistics, found there were 3,659 individuals on the streets of England on one night in the autumn last year – double the number in 2010.
Assuming homeless families are the same size as the average household, this means that in five years' time more than 950,000 people will be living in hostels and B&Bs, sleeping on the sofas of friends, sleeping rough or otherwise without a home of their own, if the trend persists.
The Treasury refused to comment about the Budget, but one well-placed charity source said they believed Mr Osborne could be "about to do something incredibly good" to address homelessness. "We are incredibly nervous but excited," the insider added.
However Labour listed a string of government policies and other factors since 2010 that it said had contributed to the problem.
UK news in pictures

Show all 50
These include cuts of £5bn to housing benefit support over the last five years, such the bedroom tax, and 45 per cent cuts to financial support for homelessness services. Private sector rents are expected to rise by a 16.5 per cent over the next five years, while the number of council houses has fallen by more than 100,000 since 2010.
Labour also said that over the next five years housing benefit cuts would total nearly £11bn, while council budgets would face 7 per cent cuts, further reducing their ability to help.
Mr Healey said: "This spiralling scale of homelessness shames us all when Britain is one of the richest countries in the world. It is a test of our basic humanity. It should shake the Chancellor from his complacency about the growing homeless crisis and shock him into action. The homeless figures hide personal stories of hurt and hopelessness; thousands of people whose ordinary lives have fallen apart from illness, debt, family break-up, addiction or redundancy."
He pointed to Wales, where the Labour administration has introduced a statutory duty requiring councils to take steps to prevent homelessness. In 2014-15, there were more than 14,100 people without a home, down from 15,800 the previous year.
In Scotland, the number of people applying to be treated as homeless has also fallen, from more than 15,100 in the second quarter of 2010 to about 8,100 in the same period of last year.
The homelessness charity Crisis produced a report in January, which found there were 275,000 cases of homeless families in 2014/15 in England.
It warned: "With recent policy decisions leaving major question marks hanging over the future supply of, and access to, social and affordable rented housing, coupled with deep cuts in welfare that are making access to both rental sectors increasingly difficult for low income households, the question 'who will house the poorest?' is becoming an increasingly urgent one."
Councillor Peter Box, the Local Government Association's spokesman for housing, said there was a "desperate" need for more affordable housing. "As the housing crisis intensifies, councils are facing real difficulties in finding emergency care for all homeless people and to expand the range of accommodation for homeless people, particularly those who are young, vulnerable, or with families," he said.
Angela Barratt, who runs Street Support Salford and Manchester, painted a shambolic picture of the help on offer to people without a home. She said: "It's really an emergency situation because it's just getting worse and worse. The Government needs to put an action plan into place."
A government source did not dispute the figures, but cautioned that "the data in this area is not the best".
A spokesman for the Department for Communities and Local Government said: "Homelessness is less than half its peak in 2003, but one person without a home is one too many. That's why we have increased central government funding to tackle homelessness over the next four years to £139m, and protected homelessness prevention funding for local authorities at £315m by 2019-20.
Join our new commenting forum
Join thought-provoking conversations, follow other Independent readers and see their replies