Homeless people in Manchester sleeping in Victorian-style secret subterranean 'cave'
Dean Kirby explores the shocking conditions in which the city's poorest are living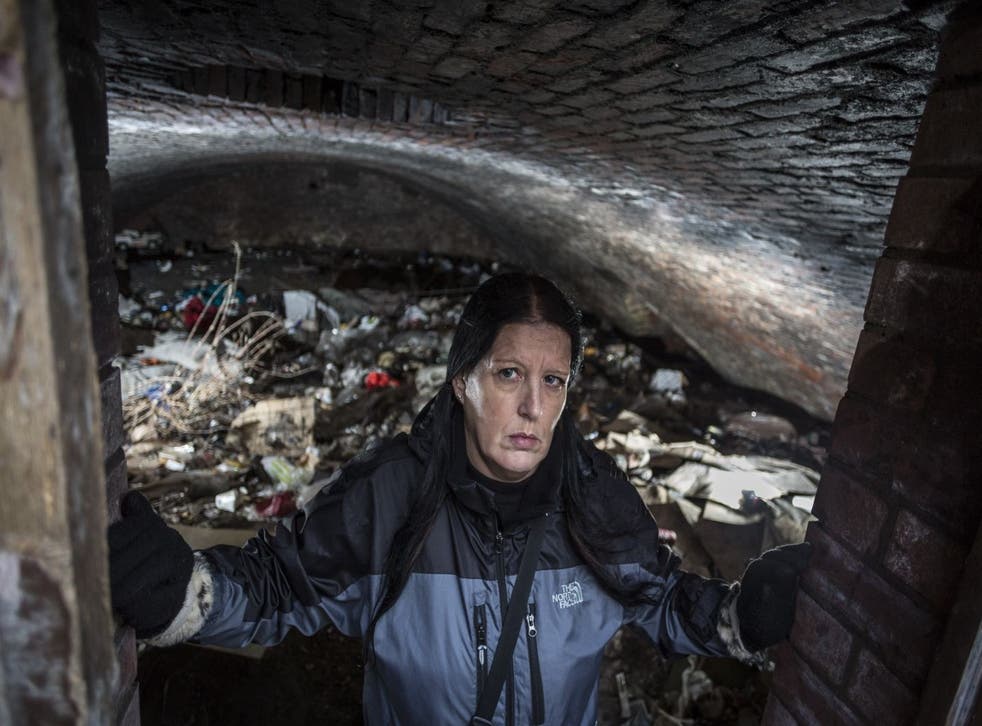 Behind a dark doorway at the heart of one of Britain's biggest conurbations lies a secret subterranean "cave" where homeless men are sleeping with rats in conditions that would have horrified Victorian social observers.
The hidden lair stands within walking distance of the towering glass apartment blocks and brightly lit shops of Manchester city centre.
But the thousands of commuters and shoppers who pass by this narrow doorway each day would be appalled to discover what lies within – and to learn that a number of men are unfortunate enough to call this place home.
The Independent stepped through that doorway on 29 January as campaigners called for extra support to deal with Britain's homelessness crisis. The floor of the pitch-black, brick-lined cave, which stands across the River Irwell in Salford, is covered with the debris of a difficult life – food wrappings, empty cider bottles and rotting sleeping bags. Old clothes and mattresses made from loft insulation can be seen among a foot-deep carpet of rubbish, and beneath your feet crunch dozens of used drug needles. Most troubling of all, in the far corner of the den sits a child's toy police car.
Among the men who have been living in the cave is David Palmer, 38, who has been on the streets since 2008.
"Two of us are regulars there," says David, who sleeps in a tent in one of the cave's deeper vaults. "It's dry and warm in there, but water comes in through the ceiling when it rains and there are needles on the floor and rats. It isn't nice, but there are not enough places for people to go. I've been on the streets in a few places, but Manchester is one of the worst places to be homeless."
The plight of the destitute in Manchester has been a long-running issue and led to a series of homeless "protest camps" being set up last summer in breach of a council legal ban preventing anyone from pitching a tent without permission in the city centre.
Last November, more than 20 tents appeared on land at the University of Manchester at a site that was dubbed the "Manchester Jungle". Rough sleepers were also evicted from another camp known as "the Ark".
Manchester City Council has opened two empty buildings for people with nowhere to stay, and which take people on referral. It has also launched a "homeless charter" backed by the police, charities and the Bishop of Manchester.
Former Manchester United player Gary Neville allowed homeless people to stay rent-free over the winter in a building he plans to develop into a hotel.
Concerns about rough sleepers have been heightened following the death of a homeless man, Daniel Smith, whose body was discovered in a burning tent beneath a railway arch less than a mile from this spot earlier this month.
Two men have appeared in court charged with his murder as friends released balloons in his memory in front of Manchester Town Hall.
Daniel Smith's friend Luke Carter, 20, said: "I really feel for his family and what they must be going through. Daniel was a good lad. He liked nice clothes and having a drink with his friends at the weekend. He didn't have a bad bone in his body."
Manchester has had a growing number of homeless people. New figures show there are about 70 rough sleepers in the city on any given night – believed to be the highest figure outside London.
It is 10 times the figure of seven rough sleepers in 2010, although critics say the government figures underestimate actual numbers.
The number of people sleeping rough in London, meanwhile, has risen from 3,673 to 7,500 over the same period, with David Cameron pledging to make a priority of tackling poverty.
A spokesman for Salford City Council said: "We are committed to providing assistance for the most vulnerable and want to help people off the streets where we can.
"When we are made aware of any site, our outreach staff make contact to offer assistance. We also work closely with our partner agencies to make accommodation and support available where possible.
"However, we also rely on people engaging with the services offered and taking advantage of the assistance which we can give. Unfortunately, some people have refused the help that has been available to them."
Wading deeper into the cave through the rubbish leads to a flat patch of bare earth where the homeless men sleep.
As darkness swallows a thin beam of torchlight, two tunnels can be seen leading down into deeper, darker rooms. Amid the stench of urine turning back towards the exit is a pile of what appears to be fresh human faeces.
Angela Penny Barratt, who runs Street Support Salford and Manchester, regularly visits the cave in the evenings as she walks round the city's streets handing out wet wipes, sleeping bags, torch batteries and other supplies to homeless men.
When she arrives at the cave, she calls out to the men inside before leaving the bags in the doorway, but never steps inside. One night she saw a man and a woman leaving together.
"It's horrible in here," says Ms Barratt, a mother from Salford who has dedicated her life to helping people on the streets, as we stand in the entrance to the cave.
"I found out about it two years ago, but people have been living here longer than that. It breaks my heart when I come here and sometimes I go home and cry my eyes out. They come here because they feel safe, but it's dangerous.
"I don't know how any human beings can survive here, but they do. It's like the Dark Ages, but this is the way people are living in a big city like this in the 21st century. There needs to be more places where they can spend the night."
Join our new commenting forum
Join thought-provoking conversations, follow other Independent readers and see their replies