Sadiq Khan opens emergency shelters as charities warn homeless may die in the freezing cold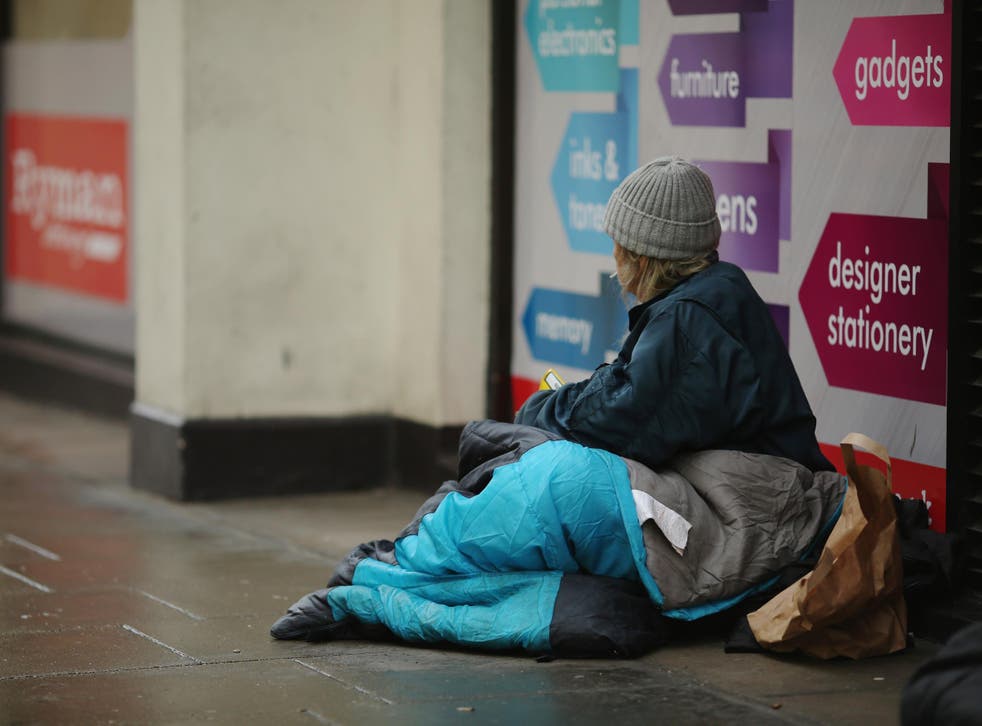 Sadiq Khan has ordered the opening of emergency shelters amid warnings from homelessness charities that rough sleepers might die in the current cold weather.
The Mayor of London's intervention comes as local authorities across the UK implement Severe Weather Emergency Protocols in a bid to save the lives of those sleeping on the streets in freezing winter temperatures.
The protocols, which come into force when local temperatures are forecast to be freezing or below freezing for three days or more, allow for emergency shelters to be set up in community centres, church halls and other public buildings.
As temperatures fell below freezing on Wednesday night, Mr Khan announced that emergency cold weather shelters had been opened in London. He also urged people to help by reporting anyone they saw sleeping on the street to the Street Link rough sleeper support scheme.
"It's freezing out tonight," Mr Khan said. "Look out for your fellow Londoners as the temperature drops."
The Government has said it has invested £500m to tackle homelessness, including prevention funding and £40m for councils to help rough sleepers.
But as the emergency shelters opened in London, Jon Sparkes, the chief executive of Crisis, warned that while cold weather could kill rough sleepers, local services were getting less money to help combat homelessness.
He said: "Snow and freezing conditions can prove fatal for anyone sleeping on the streets. Tragically, the average age of death for a homeless person is just 47. This is a desperate state of affairs, and as homelessness continues to rise, local services are being forced to do more with less."
His warning came as The Independent campaigns with the youth homelessness charity Centrepoint for funds to create the first nationwide Young and Homeless Helpline to assist 16 to 25 year olds facing homelessness.
Centrepoint's research has suggested that as local authorities struggle with austerity cuts, up to one in three young people seeking help with homelessness are currently being turned away unaided by English local councils.
Reacting to the opening of severe weather emergency shelters, Jennifer Barnes, Centrepoint's head of policy and research, said: "It's disgraceful that people are dying on the streets in the 21st Century.
"The cold weather and these tragic deaths bring home the dangers of rough sleeping but this is a year-round problem which all too often slips under the radar. We know this is particularly the case with homeless young people, who will take desperate measures to avoid the danger of spending a night on the streets.
"Emergency interventions in extreme weather are life-saving but focus on the symptom rather than cause. It is incumbent on government to address the core issues, such as overcrowding and a lack of affordable housing options, which can force young people into potentially fatal situations."
The most recent street sleeping statistics, released by the Government in February, showed that the number of rough sleepers in England increased by 30 per cent between the autumn of 2014 and the autumn of 2015.
Unveiling the Labour Party's strategy to eradicate rough sleeping last month, John Healey, the shadow housing minister, called street homelessness "our national shame" and wrote in The Independent: "Britain is too decent and too well off to put up with people sleeping on our streets."
But the deaths of homeless rough sleepers have already caused anxiety this winter.
The causes of homelessness

Show all 7
In Chatham, Kent, a rough sleeper known locally as Greg, was found dead in the town centre in the early morning of 29 December, hours before Medway Council implemented its severe weather protocols and opened an emergency shelter that night.
Greg was found dead just a five-minute walk from where homeless grandfather Michael McCluskey had been found dead in a doorway near Chatham's Central Theatre on Christmas Eve.
Mr McCluskey had reportedly been booked to spend Christmas Eve at a charity-run emergency refuge that opens when the temperature drops to zero.
Kent Online reported that shoppers had walked past Mr McCluskey's body without realising he was dead and after the alarm had been raised, families arrived for the theatre's pantomime to find police and ambulance crews attending the scene.
In Birmingham, Chiriac Inout was found dead behind a pub as temperatures dropped to -6C on 29 November during one of the coldest nights of the year.
As readers of the local newspaper, the Birmingham Mail, deplored how Mr Inout had died "freezing cold and alone", there was further outrage when CCTV footage was released appearing to show people searching through the dying Mr Inout's pockets while others took drugs nearby.
A day later the homelessness charity Shelter released a report revealing that Birmingham was a homelessness hotspot, with 9,560 homeless people in the city, either living rough on the streets or in temporary and unsecured accommodation.
The charity's Birmingham hub manager Vicky Hines said: "Shelter's founding shone a light on hidden homelessness in the Sixties slums. But while those troubled times have faded into memory, 50 years on a modern day housing crisis is tightening its grip on our country.
"Thousands of people in the West Midlands will face the trauma of waking up homeless this Christmas. Decades in the making, this is the tragic result of a nation struggling under the weight of sky-high rents, a lack of affordable homes, and cuts to welfare support."
With wind and rain predicted by the Met Office to sweep Scotland and Northern Ireland on Thursday night and frost and fog predicted in southern Britain, Dan Olney, the coordinator of London's city-wide emergency shelter provision, warned that the current weather could be fatal to rough sleepers.
Mr Olney, of the homelessness charity St Mungo's, said: "Rough sleeping is harmful and dangerous but when temperatures drop, lives are at risk.
"Health problems connected to continued exposure to the freezing cold, including hypothermia and pneumonia, exacerbate people's already poor physical and mental health. It's vital that we get help to people quickly so we can save lives but also, in the longer term, find people permanent accommodation and the space to recover.
"If you are concerned about someone sleeping rough, I would urge people to get in touch via the StreetLink website streetlink.org.uk to help connect someone with their local service as soon as possible."
Join our new commenting forum
Join thought-provoking conversations, follow other Independent readers and see their replies