Homeless shelters experience record demand as government reports decrease in rough sleeping
'I'd say what the government thinks there is, it's probably four or five times higher than that'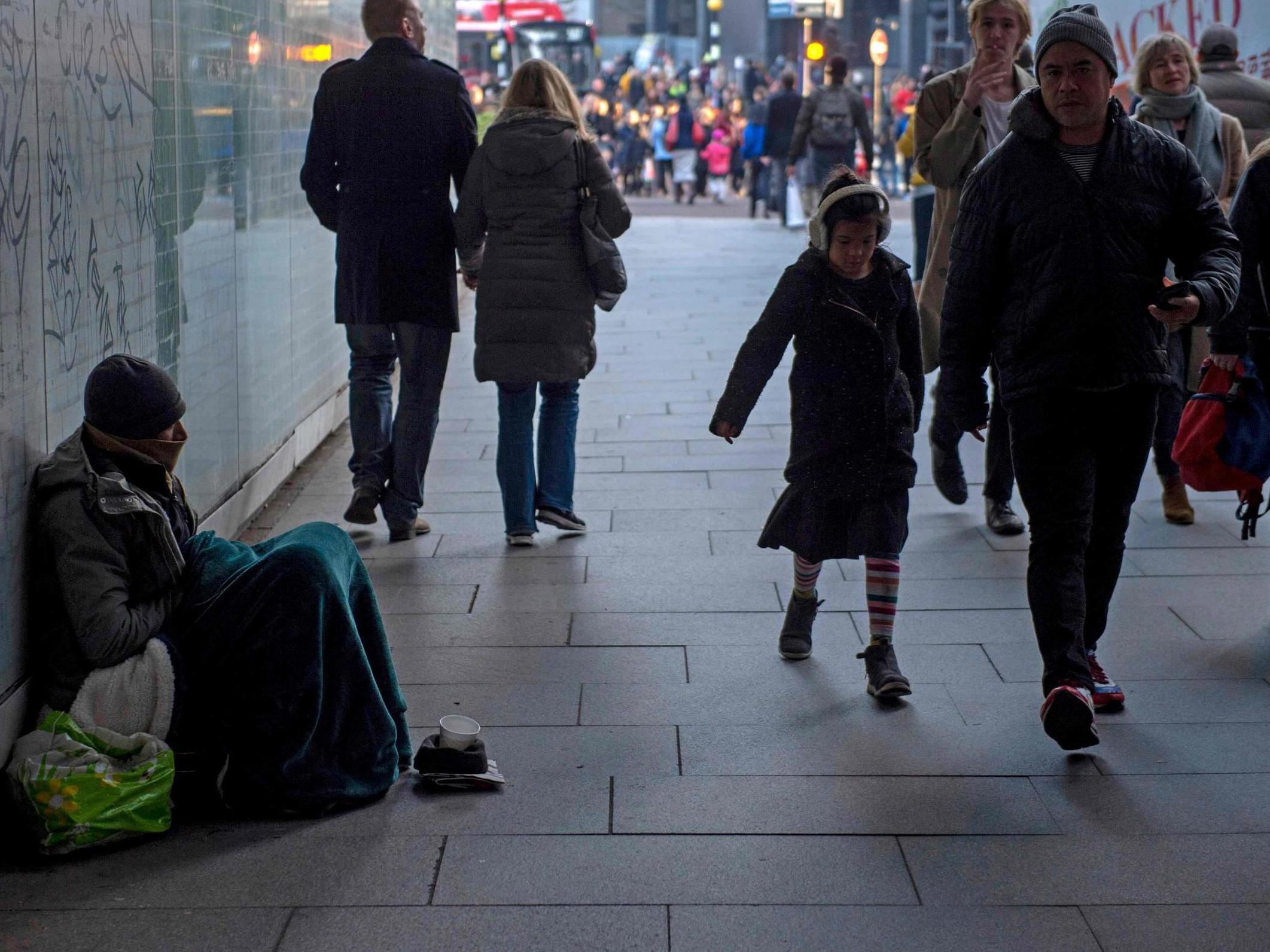 Housing charities have criticised government claims of falling numbers of rough sleepers as homeless shelters across Britain report unprecedented demand.
Communities secretary James Brokenshire said his department's strategy was "starting to have an effect" as official figures showed that, on a "snapshot night in autumn", the number of people sleeping on the street had dropped to 4,677 from 4,751 the year before.
But Jon Sparkes, the chief executive of charity Crisis, said the count was widely believed to be an "unreliable" source which "significantly underestimated" the number of people experiencing the devastation of sleeping rough. Shelters in England, Wales and Scotland contacted by The Independent all reported record levels of demand as temperatures in parts of the country dropped as low as -14C.
On the snapshot count, Mr Sparkes said: "The problem is, these counts and estimates inevitably miss a significant number of people, including those not rough sleeping on that particular night, those hidden from view and who aren't bedded down for the night."
Milton Keynes youth homelessness
Show all 9
Figures published by his organisation in December revealed levels of rough sleeping in the UK – including sleeping on public transport and in tents – had doubled in five years, rising by 20 per cent to 24,000 in just 12 months.
Glass Door, which runs shelters in four London boroughs, saw its waiting list grow 45 per cent to 960 people last year.
Edinburgh's main shelter provider, the Bethany Christian Trust, reported demand at its highest level since it opened in 2016, up 20 per cent year on year, while Wales's leading homelessness charity, The Wallich, also said more people than ever before were asking for help.
In Northern Ireland, local charity the Simon Community said it was experiencing a homelessness "crisis" with more people registering as homeless, more individuals sleeping rough and an increase in homelessness-related deaths.
In addition, national charity Streetlink has referred 12,955 rough sleepers to local authorities – 52 per cent more than last year – since the start of December, while the YMCA, which offers 9,100 beds in England and Wales, said demand was rising and it was being forced to turn people away.
Government data published for the first time in December showed nearly 600 homeless people died last year in England and Wales, marking a 24 per cent increase over the last five years.
Peter, from Inverness, who is currently sleeping rough in London after he was forced out of supported accommodation in December, said he and many others intentionally keep themselves hidden at night for their own protection, meaning they would likely be missed from the counts.
"A lot of my friends sleep away where nobody can see them where it's quiet and obviously they don't get seen by authorities and don't get recorded, so I'd say what the government thinks there is, it's probably four or five times higher than that," he said.
A report by St Mungo's last year warned that the true scale of female homelessness was likely to be significantly worse than official records show, as women hide to avoid being attacked and often feel unsafe when accessing predominantly male homelessness services.
The report warned that this drives many to hide themselves in concealed locations, such as wendy houses, empty garages and public toilets – which in turn leads to them being omitted from administrative datasets.
Polly Neate, chief executive of Shelter, said: "Women may avoid sleeping in a visible spot in case they are attacked. Others may ride buses at night rather than bed down as they feel safer.
"It is useful to have these numbers to track increases over time but ultimately they aren't the full picture of homelessness and can underestimate the problem."
Separate figures given to The Independent by Liam Byrne, Labour MP for Birmingham Hodge Hill, show a considerable rise in rough sleeping in the West Midlands.
The findings, gathered by the MP through House of Commons library research, parliamentary questions and freedom of information requests, show that across the region, rough sleeping has surged by 226 per cent between 2010 and 2017 – with a fivefold rise in Birmingham.
Support free-thinking journalism and attend Independent events
Demanding action, Mr Byrne said: "People are literally dying on the pavements. Yet the government thinks it's okay to wait until 2027 to end homelessness. This is totally unacceptable when what we need is emergency action today."
While the official figures suggested a 13 per cent rise in London, a mayor-backed report on rough sleeping also released today by the Chain database found the number was 25 per cent higher this winter than the same period last year.
Nearly half of the 3,289 individuals recorded were sleeping rough for the first time.
However, communities secretary James Brokenshire insisted the numbers had fallen.
"The number of vulnerable people sleeping on our streets has now fallen for the first time in eight years," he said.
"I am pleased to see our strategy to end rough sleeping, backed by a record investment of £100m, is starting to have an effect and there are particularly encouraging results in those areas funded by our Rough Sleeping Initiative where numbers have fallen by almost a quarter.
"But while these figures are undoubtedly a step in the right direction, I do not underestimate the task ahead in achieving our ambition of eliminating rough sleeping altogether by 2027.
"Councils have used the new funding to create an additional 1,750 beds and 500 rough sleeping support staff, who are working tirelessly to support people off the streets and into recovery.
"I am clear we need to go further than ever before to build upon today's results and sustain momentum as we move towards ending rough sleeping."
Join our commenting forum
Join thought-provoking conversations, follow other Independent readers and see their replies