Hospitals still allowing private parking firms to prey on visitors with penalty fines
Companies given incentives to impose fines in defiance of minister's warning
Lewis Smith
Monday 16 February 2015 01:48 Comments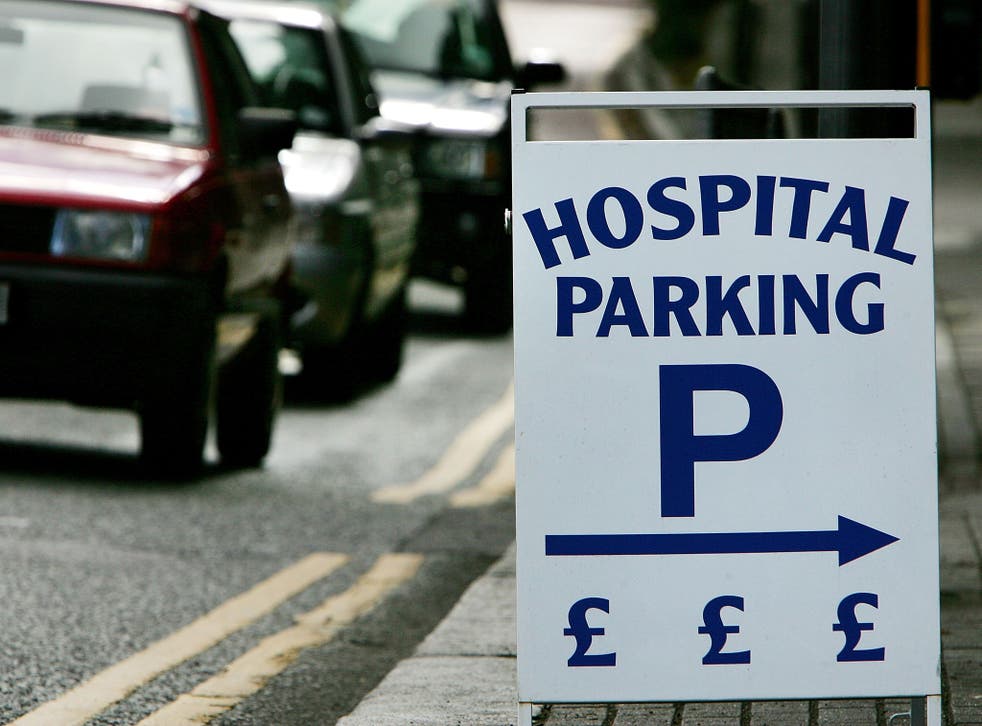 Dozens of NHS hospitals are breaching guidelines by allowing private parking companies to keep a slice of the money they raise from penalty tickets issued to patients and relatives, an investigation has found.
The arrangements – which effectively give the companies an incentive to hand out penalty notices to hospital visitors who breach parking rules – are still in place despite a pledge by the Health Secretary, Jeremy Hunt, pledging to crack down on hospital parking charges.
In August, Mr Hunt said that hospitals should operate pay-on-exit parking regimes – rather than pay and display for a fixed time period – and should waive fines if visitors or patients overstay through no fault of their own.
The Department of Health guidance also states there should be no incentive for private firms to fine people who stay in hospital car parks.
But Channel 4's Dispatches used Freedom of Information legislation to establish that 55 of the 156 health trusts in England and Wales are paying some or all of their revenue from parking tickets to contractors. Four of them had "ignored the guidance" issued by Mr Hunt by negotiating new contracts since August to provide money from parking tickets to their private contractors.
The Department of Health told the programme it was "disappointed to hear that some trusts are not following the … hospital parking guidelines". It recognised that "contractors should receive income to cover the normal costs of providing parking services", but it stressed that charges "must be applied reasonably".
The Welsh Government announced in 2008 that hospital car parking in Wales would become free of change. Since 2011, all but four hospitals in Wales have stopped charging for parking. Those that require payment have been told to abolish charges once their contracts with private parking firms expire.
The Dispatches investigation also found that the total number of parking tickets issued to motorists in the UK by private companies has increased fivefold in the past five years, helped by with the introduction of vehicle recognition cameras.
Automatic Number Plate Recognition cameras have enabled private companies to monitor motorists' compliance with parking rules without even the need for wardens. The moment a car overstays a ticket can be issued because the companies get access to DVLA ownership records.
With fines averaging £125 – but they can be as high as £300 – public anger at such companies is rising and in the past year alone the number of people seeking advice on the issue from the Citizens Advice Bureau's website had tripled.
Five years ago 500,000 tickets were posted to motorists for parking on private land, such as supermarket car parks, but by 2014 this had risen to 2.5 million – with more than £100m in penalties being demanded from motorists.
The British Car Parking Association, the industry organisation that acts for most parking enforcement companies, said it had a code of practice which insisted that members treat motorists in a "professional, reasonable and diligent way".
UKPC, one of Britain's biggest parking companies, told Dispatches it had a "rigorous training programme" for its wardens and said: "There is, of course, nothing wrong in encouraging wardens to work hard to issue tickets to drivers who have parked in breach of the terms and conditions."
'Dispatches: Secrets of the Parking Wardens' is on Channel 4 at 8pm tonight
Register for free to continue reading
Registration is a free and easy way to support our truly independent journalism
By registering, you will also enjoy limited access to Premium articles, exclusive newsletters, commenting, and virtual events with our leading journalists
Already have an account? sign in
Join our new commenting forum
Join thought-provoking conversations, follow other Independent readers and see their replies