How to mind your frozen peas in queues
Or, is it just plain rude to chat on a phone while at a shop till? Matthew Bell consults the public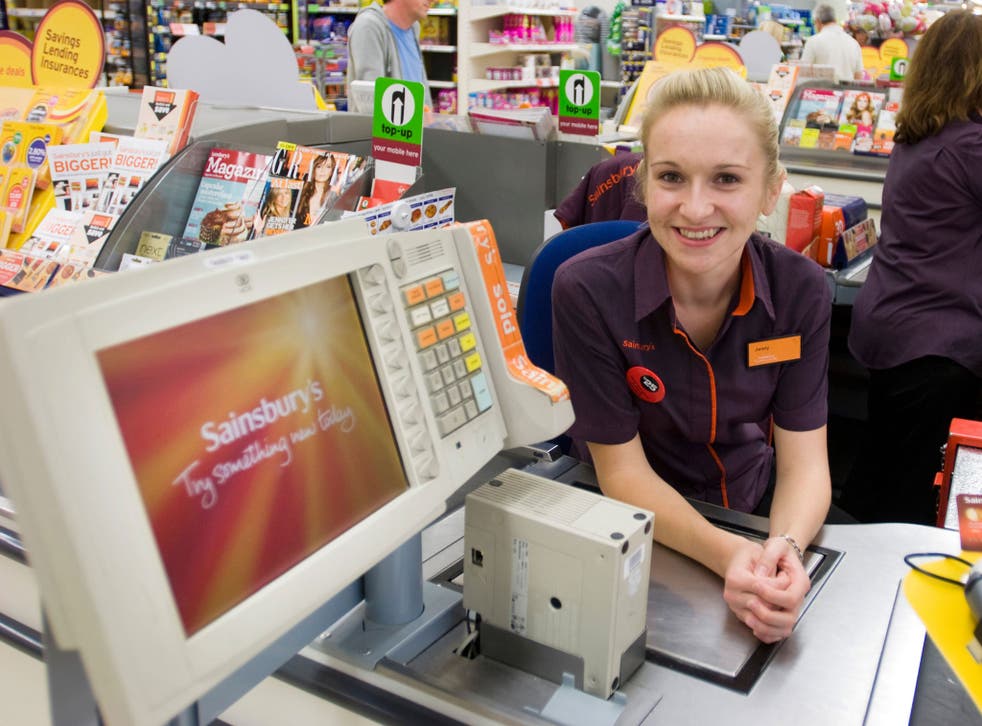 Sorry, I'll be with you in a moment, I'm just on the phone. Right, where were we? Oh yes – going to hell in a handcart. Ever since Jo Clarke, 26, was refused service at a Sainsbury's checkout for talking on a mobile phone, the debate over mobile etiquette has raged. Was the staff member right to put her foot down? Or was she over-reacting? Bolshy cashier or rude customer?
What we do know is that this debate is not going away. More phone calls are now made on mobiles than on landlines, and 92 per cent of the population owns a mobile. There are now 83 milllion active mobile phones in the country, a third more than the actual population. But are we really all glued to our handsets?
To find out, The Independent on Sunday conducted a highly scientific piece of research, observing the practices of people at the checkout over an hour on a hot Friday afternoon. Do customers engage in conversation? How much eye contact is there? Does anyone smile?
Supermarkets aren't keen on strange men loitering around the tills. After 10 minutes at the Tesco Extra in Brent Park, on London's north circular, we were moved along. So, off to Sainsbury's in Chiswick, which is better set up for people-watching, with a series of benches by the check-out for the tired and burdened.
From here, we monitored five tills over an hour, processing a total of 110 customers. Only one woman, in her 40s, stayed on the phone while being served. She only acknowledged the cashier when she said hello, replying with a "Hi there".
Personal music systems were more prevalent. Five customers arrived at the checkout wearing headphones, of which only one, a woman in her 30s, removed them altogether before being served. Two customers removed one earphone while being served, and two customers left them both in for the duration of the transaction. Of these, the woman in her 40s was completely oblivious to the sound of a bag of shopping falling off her heaving trolley.
The most noticeable finding was the lack of eye contact, from both cashiers and customers. Only about 20 per cent of those monitored seemed to make eye contact, though it was hard to establish for sure. An even smaller proportion, about one in 10, appeared to engage in any kind of conversation beyond the perfunctory, though almost all said hello.
Two checkout staff said they were pleased a colleague had finally refused to serve. Customers were split, with half saying mobile conversations were part of life, while others said it was only acceptable "if it's an emergency".
"I have done it in the past but I always apologise to the person at the counter and feel very guilty," said Emma, 23. "It's not always easy to get people off the phone, and if it's someone who is babbling away, you can get locked in your own world."
Sonia, 25, took a more pragmatic view. "If they're on the phone, they're on the phone. It's not against the law." But her grandmother took a firmer line. "I would be upset if I was [serving] at the till. I think it's very rude."
One former checkout worker, Matthew, pointed out that in some local shops, it's the staff who are on the phone. In the end, the consensus seemed to be that most people know it's rude, but some people will do it all the same. One man, when approached for his opinion, immediately reached into his pocket. "Sorry," he said, "I'm just on the phone."
Check-Iquette
Do Say hello; smile; make eye contact; put a divider behind your shopping, instead of assuming the next person will do it; have your wallet ready, instead of acting surprised when they want payment.
Don't Read their badge and call them by their first name (creepy); text, speak or have anything to do with your phone; leave your headphones in, unless it's a vital point in the tennis, then one in only; rush off and get something you forgot at the last minute; have a hissy when you can't open the bags.
Join our new commenting forum
Join thought-provoking conversations, follow other Independent readers and see their replies