Immigrants being restrained during deportation 'with little justification', says prisons watchdog
Detainees bound for up to 17 hours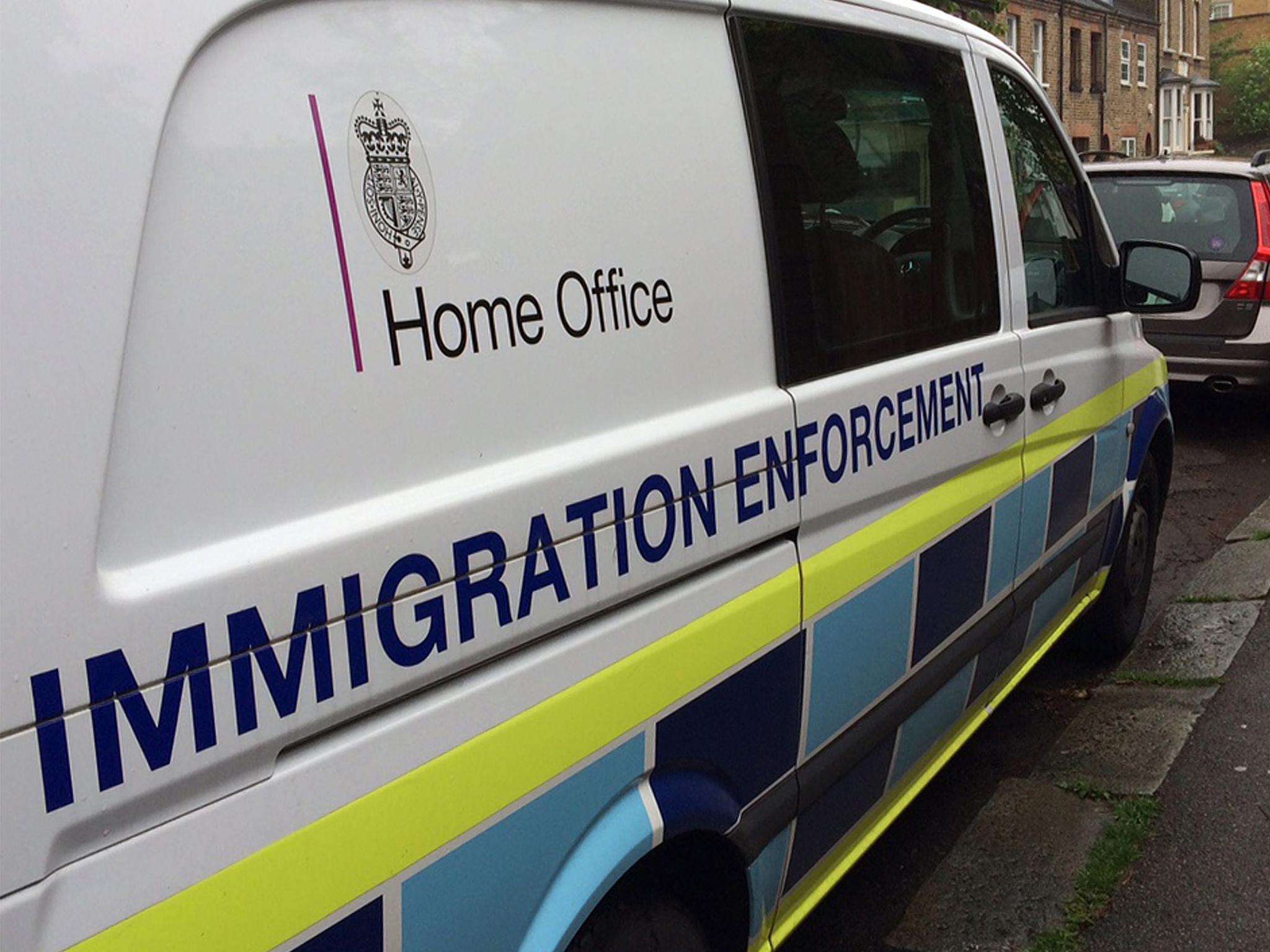 Immigrants being deported from the UK are being strapped into restraint belts "with little justification", according to a highly critical report on the use of chartered flights for forced removals.
Ministers were warned earlier this year about immigration officers' "excessive" use of the devices, which hold arms clamped tightly to the body, but the prisons watchdog said the Home Office and its contractor Tascor had responded with "complacency".
Practice was "still poor", said HM Inspectorate of Prisons, which found immigrants were being restrained for up to 17 hours.
The inspections were carried out on flights to EU states, which transfer asylum seekers to "responsible" countries within the EU under the Dublin agreement. Those member states will then make a final decision on their claim.
Inspectors raised concerns about the use of restraint after observing forced removals on a charter flight to in January this year.
Peter Clarke, HM Chief Inspector of Prisons said: "During that removal, nearly all detainees were placed in waist restraint belts for the entire journey, usually without justification.
"We raised these concerns with the Home Office and its contractor, Tascor, shortly after the inspection."
They then observed a March operation in which 74 staff forcibly returned 23 people to France and Bulgaria "to establish what, if any, action had been taken to address the concerns that we had raised", Mr Clarke said.
He continued: "We found that practice had improved but was still poor.
"Many detainees who presented little or no obvious risk were placed in belts, with little justification, and stayed in them for very long periods."
While there were some examples of good practice, inspectors observed 13 of 23 detainees remain in waist belts until they reached their destinations, which took up to 17 hours.
"This seriously marred an otherwise generally efficient operation, in which inspectors saw some good practice", Mr Clarke said.
"Escort staff have a difficult role to perform, but there can be no compromise on their duty to treat detainees in a dignified and proportionate way while they are being removed from the country."
The prison watchdog used human rights-based criteria and the chief inspector said it was "not a regulator inspecting against self-generated policies".
"Regrettably, the Home Office responded to the evidence presented in our first report with an ill-informed defence. It soon became clear that senior managers were unaware of the shortcomings in their own internal assurance mechanisms," he said,
"The complacency of this initial response has latterly been replaced with an acceptance of the evidence and an assurance that things will change. We will judge in due course whether this more constructive approach leads to better outcomes for detainees."
The new report recommends staff only using force on such flights "as a last resort".
"Any use of physical force, waist restraint belts or handcuffs should be planned and sequenced, and limited to situations where it can be justified," the document says.
"Restraints should be removed at the earliest opportunity. Escort staff should behave in a professional, calm and measured way at all times."
Earlier this year The Independent heard how 27-year-old Opelo Kgari, a Botswanan national who has lived in the UK since she was a child, was strapped in a waist restraint belt as part of the deportation process, despite not trying to resist removal.
"I was already stripped of all dignity, so you just kind of go with it," she said. "But you just feel… like you're not even a person anymore. They don't even treat you like a person, it's like you don't matter to anyone. And the whole time my mum was saying that's my baby, don't treat her like that."
Responding to the prison watchdog's report, a Home Office spokesperson said: "The dignity and welfare of all those in our care is of the utmost importance, and the latest HMCIP report observed that staff were polite in their direct dealings with detainees.
"The use of force must be justified and proportionate and only used as a last resort. Physical force and the use of waist restraint belts or handcuffs, should only be used after a thorough assessment of risk, and in consideration of each individual's personal circumstances. Restraints should be removed at the earliest opportunity.
"We are already taking the opportunity to review use of restraints during escorted removals with Mitie Care & Custody, as they take over the new escorting contract."
Join our commenting forum
Join thought-provoking conversations, follow other Independent readers and see their replies