Ineos accused of putting national security at risk after refusing to pay for counter-terror measures at Grangemouth refinery
Leaked Government document from 2011 warned 'the vulnerability of Ineos refinery ... increases the risk of a successful terrorist attack' against another oil installation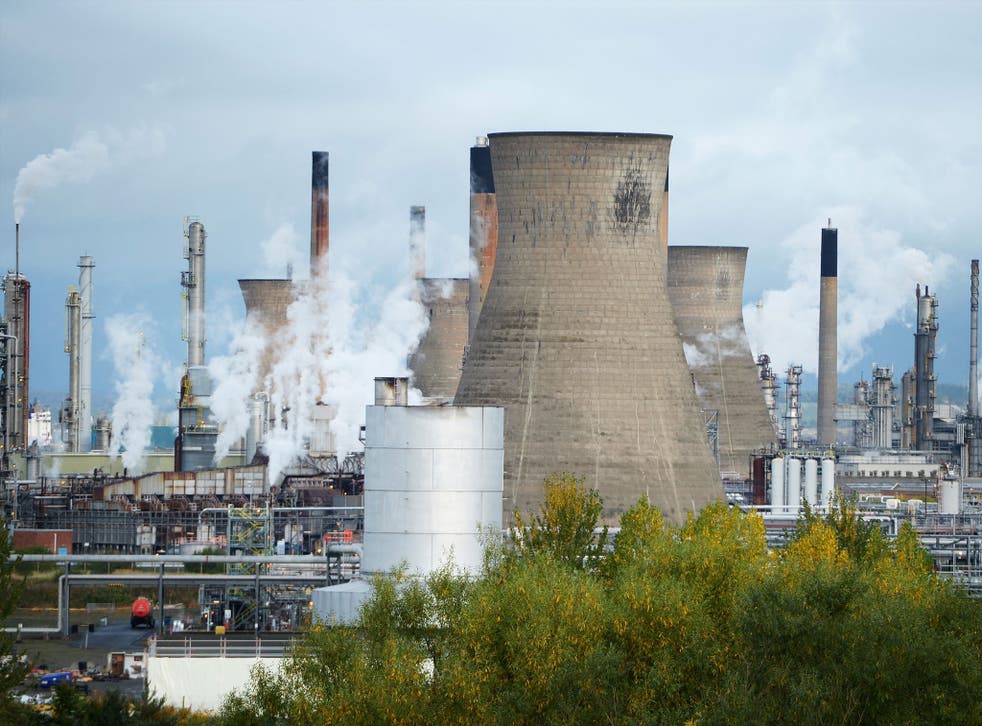 Ineos, the company that runs the massive Grangemouth oil refinery, has been accused of putting national security at risk after refusing to pay for counter-terrorism measures recommended by a branch of MI5.
The plant, which handles about 40 per cent of the total amount of oil produced in the UK, was described as "critical national infrastructure" (CNI) in UK Government documents seen by The Sunday Herald newspaper and Greenpeace's Energydesk news website.
The files show that in 2010/2011 the Centre for the Protection of National Infrastructure (CPNI), a part of MI5, had recommended Ineos should spend between £4m and £6m on security improvements, such as "improved perimeter fencing, CCTV and alarms".
However, the company then shocked officials by refusing to do so.
Greenpeace UK said the "apparent disregard for national security" shown by the company was "deeply alarming" and suggested it was yet another reason to encourage the development of renewable energy instead.
Ineos pointed out the documents were about seven years old and said there had been "significant changes" since then.
The leaked Government document said: "As with all CNI assets, Ineos at Grangemouth have received security advice from CPNI on proportionate security mitigations.
"Ineos have, however, declined to take up these recommendations (costing between £4m and £6m) because they do not see themselves as the direct beneficiary, cannot afford these measures and are restricted on non-regulated expenditure as part of their debt agreement.
"This is the first and only example to date of a CNI owner/operator deciding not to act upon CPNI's recommendations."
A note suggesting how officials should negotiate with the company said they should argue that it is "important that such critical assets have proportionate counter-terrorism protection", but also recognise this must be "proportionate to all parties – including yourselves (Ineos)".
It said the threat of a terrorist attack on energy installations at the time was deemed "possible but not likely".
"Nevertheless, the vulnerability of Ineos refinery (which supplies steam and other utilities to the adjacent oil and gas processing plant at BP Kinneil) increases the risk of a successful terrorist attack against BP Kinneil, which could impact oil and gas production through the Forties Pipeline System," the document added.
The officials considered trying to force Ineos, which turned over $35bn in 2015, to pay for the extra security, but decided they were not legally able to do this.
Using taxpayer money was also not thought to be a good idea as this would "potentially antagonise" other private firms who had already paid for similar improvements and could also set a precedent that would allow other companies to take the same stance in the future.
But a senior member of staff at Ineos had clearly expressed his opposition to the idea that Ineos should pay.
"We do not believe he [the Ineos staff member] will appreciate being pushed hard on this point," the document added.
John Sauven, executive director of Greenpeace UK, condemned Ineos and suggested renewable energy was less vulnerable to terror attacks.
"Such apparent disregard for national security from a major petrochemical company is deeply alarming," he said.
"According to the documents, Ineos's approach was unprecedented. Such behaviour suggests that this company was not prioritising the health and security of our communities.
"It's time to back industries that can deliver clean, renewable power without threatening our safety or climate. Investment in clean technologies, like ever-cheaper offshore wind and battery storage, will reduce emissions and provide security, economic growth, skilled jobs and fair bills."
He also pointed out that Ineos owned a large number of fracking licenses in the UK.
"With the Scottish Government set to decide on the future of fracking in Scotland this year, they should ask themselves if they really want to open the door for a company like Ineos to frack the Scottish countryside," Mr Sauven said.
Ineos did not respond to requests for comment, made on Sunday, from The Independent.
However an Ineos spokesperson told Greenpeace Energydesk: "We cannot go into detail on our security arrangements at our sites, some of which is confidential for obvious reasons.
"However, I can say that the safety and security of each of our sites around the world is our highest priority.
"Our sites vary considerably in terms of their size, composition and location and so the security arrangements, which are reviewed on a regular basis, are specifically developed to take into account the specific risk and situation of each facility."
"We work closely with local and national authorities and emergency and security services in shaping and monitoring our security arrangements and procedures, which are tested regularly.
"The document you are referring to dates back almost seven years to 2010. There have been significant changes at the Ineos Grangemouth site over the intervening years."
Join our new commenting forum
Join thought-provoking conversations, follow other Independent readers and see their replies