Israeli-owned drone manufacturer shut down by pro-Palestine protesters
The Instro Precision factory in Kent was occupied by campaigners
Jonathan Owen
Tuesday 17 February 2015 19:22 Comments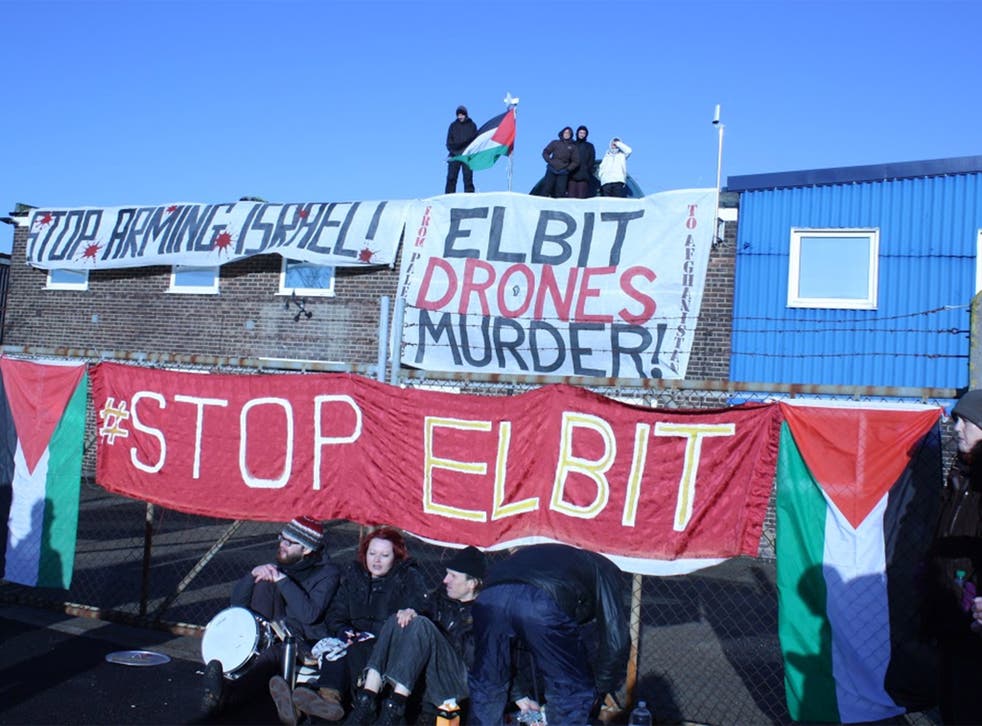 A British defence firm owned by Israeli drone manufacturer Elbit Systems was shut down today after four pro-Palestinian protesters occupied the roof of a factory in Kent, and another chained themselves to the fence outside.
The occupation began at 5am this morning, when a group of protesters managed to scale the fence and get onto the roof of the building in Broadstairs, where they hung banners protesting at the company's involvement with the Israeli military.
Instro Precision, a British subsidiary of Elbit Systems, specialises in systems for "target acquisition". Elbit is the sub-contractor on Britain's fleet of Watchkeeper drones, and has been targeted by campaigners for its role as the main supplier of the weapons to the Israeli military – used to kill Palestinian civilians in Gaza, according to campaigners. Camera systems like those made by Instro Precision are also supplied by Elbit for use in drones flown over Afghanistan, as well as in the wall which stretches across Gaza's West Bank.
One of the protesters, Emma Parsons, said on behalf of the Stop Elbit Campaign: "Israel can only carry out its massacres of Palestinian people because companies like Elbit are allowed to operate in the UK and because the UK government allows the arms trade with Israel to continue."
This comes just months after nine protesters staged a sit-in at another of Elbit's British subsidiaries, UAV Engines Ltd, in Staffordshire, and closed it down for two days last August. A prosecution against the protesters was dropped last month after the company refused to divulge details of its exports to Israel.
Instro Precision, which describes itself as "a well established and experienced supplier of precision military equipment with proven design expertise and demonstrable track record" did not respond to requests for comment; and Elbit Systems refused to comment on the protest.
Around 30 police spent the day at the demonstration, which involved around 20 people. In a statement, a police spokesperson said: "Kent Police is currently monitoring a reported protest taking place at the Pysons Road Industrial Estate in Broadstairs. As with all such events, the primary role of Kent Police is to facilitate peaceful protest, which is lawful, whilst also ensuring public safety and minimising any disruption. Resources will be deployed as necessary and appropriate."
No arrests had been made as of this evening.
In pictures: 2014 Israel-Gaza protest in London

Show all 12
Register for free to continue reading
Registration is a free and easy way to support our truly independent journalism
By registering, you will also enjoy limited access to Premium articles, exclusive newsletters, commenting, and virtual events with our leading journalists
Already have an account? sign in
Join our new commenting forum
Join thought-provoking conversations, follow other Independent readers and see their replies